There are so many perks to selling on eBay! One of those perks is that it is a global platform giving you access to buyers across the globe. Therefore, selling items on eBay means that you can enjoy a global target market, allowing you to target your listings to customers in the UK, Canada, US, and any other country in the world.
Sounds good, right?
You bet it is!
But here's the catch: it can be confusing for a new eBay seller to manage the different currencies on eBay. The eBay site typically lists the prices of items in currency that are accepted worldwide, such as the Canadian Dollar, US Dollar, Euro, or other currencies.
What about those who live in some other countries? How do you make it easy for them to convert prices and make it easy for them to manage the payment for their orders, especially if they don't have the Dollar or Euro as their primary currency in use.
As a buyer, it is also important to know how to change the billing currency so that it makes it easier to pay for your orders.
Fortunately, we created this guide on how to change currency on eBay to help you out. This guide will guide you through the steps on how to customize the currency settings on your eBay account, whether you are selling or buying from eBay UK, Canada, US, or elsewhere.
Keep reading to find out the answers on how to change currency on eBay.
How to Change Currency on eBay: An Overview
Here's the good news: you can change currency on your eBay account. First, you must sign in to your account on the eBay site or eBay app.
The currency displayed on eBay will be based on the specific marketplace you are using. For example, if you are using eBay.com, the listings currency is in USD. If you are shopping from eBay UK, the currency displayed is GBP, and so on.
However, eBay gives users advanced options to edit the currency settings on their account. The next section will show you the steps to change currency on eBay.
Step-by-Step Guide on How to Change Currency on eBay
If you want to see the listing prices on eBay in your preferred local currency, follow these steps.
Step 1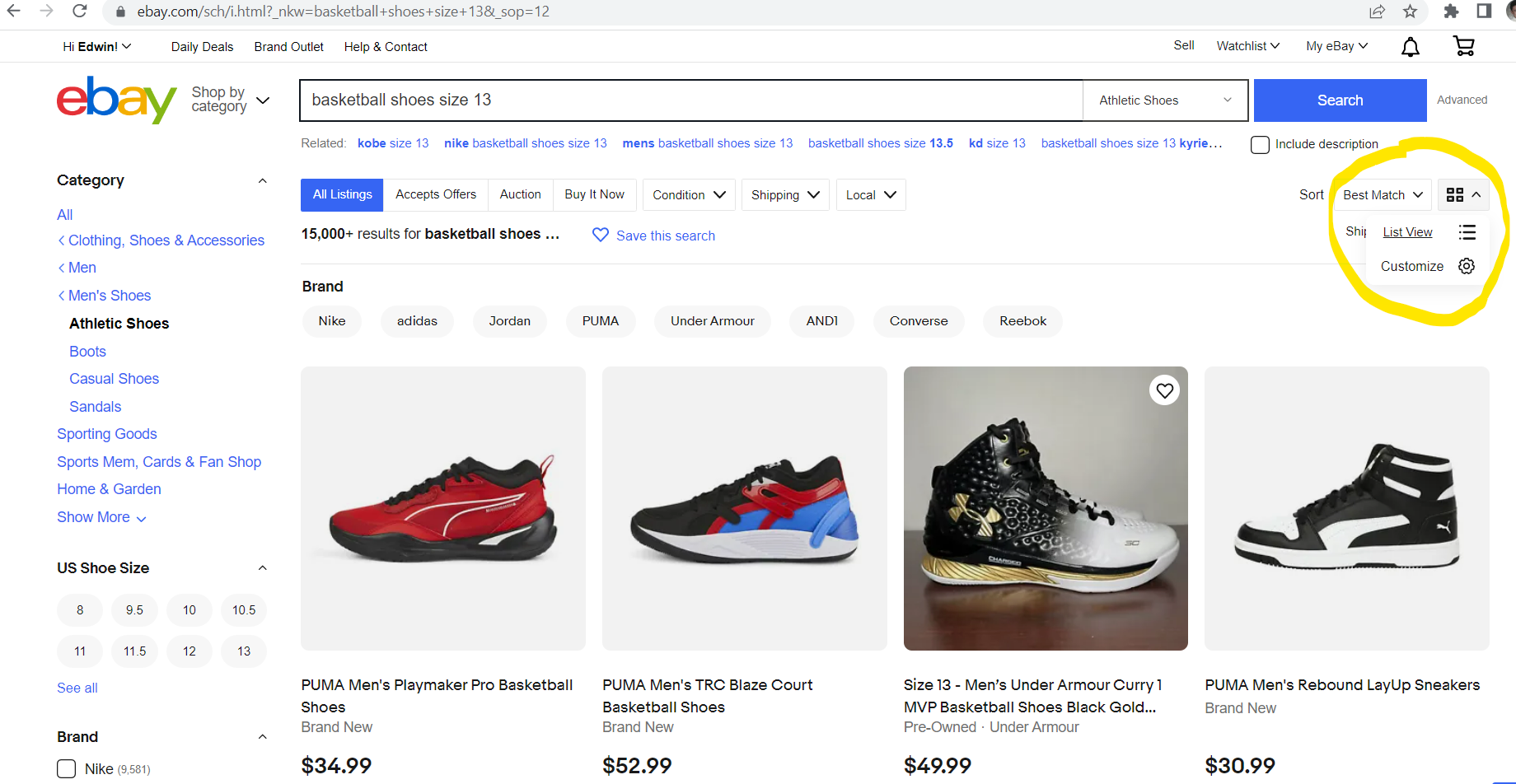 Go to the eBay site. Search for any item. On the search results page, look for the triple horizontal lines right next to 'Best Match.' You can find it right above your shipping address.
Step 2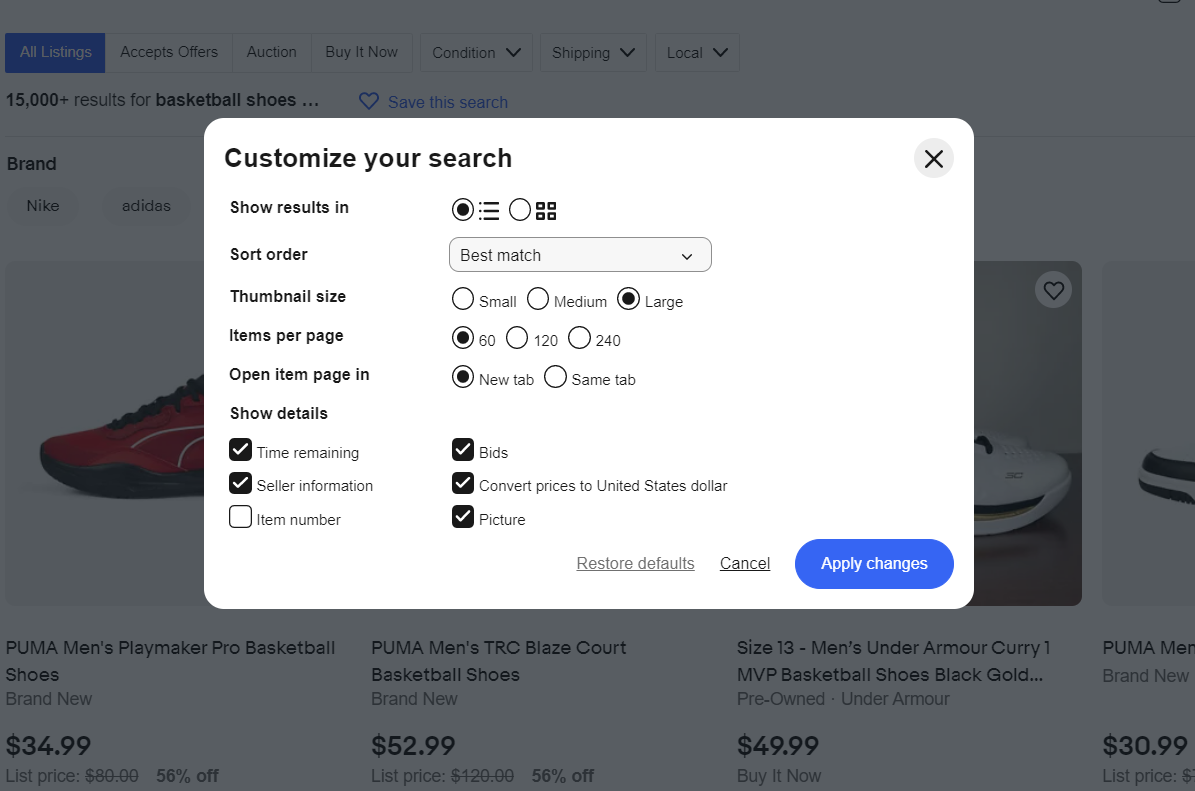 Once you click the triple horizontal lines from the search results page, there will be a drop down menu. Choose the Customize option in the drop down menu.
Step 3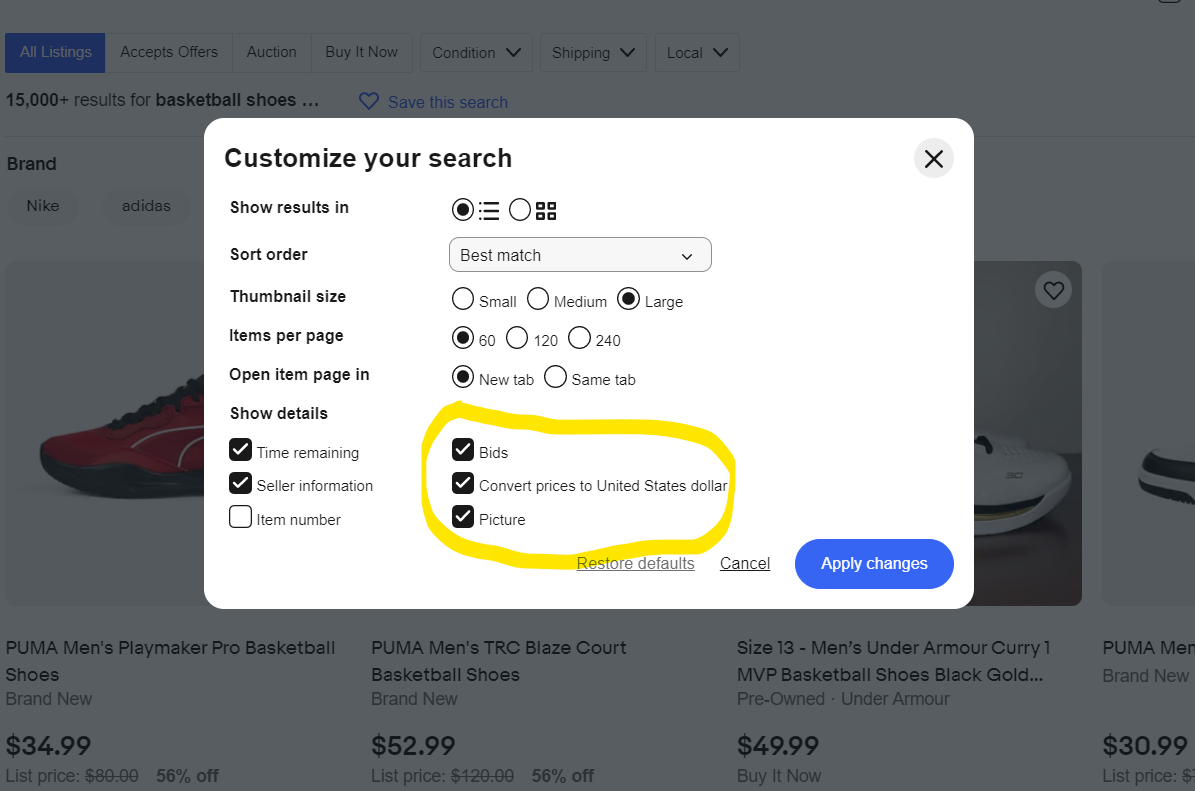 When you view dropdown menu, you have a few options. Click on the box right next to the 'Convert prices to the United States dollar' option. If you are happy with your selection, click 'Apply changes' to update your currency settings. This will automatically save any changes you made to your eBay account for future transactions.
Additional note: The option here is automatically generated by eBay based on the detected location of your eBay account. Therefore, the currency available will be customized to the local currency of your country.
Additional Tips When You Change Currency
Before you make any changes to the currency settings, there are a few things that you need to know. Here are important reminders update the currency on eBay.
It is important to log into your eBay account first. This will ensure that any changes you made will apply to your account and future transactions.
If you are new to eBay, you will be asked to input your country of residence. This information is useful because eBay uses it to generate products that are relevant to your geographic information and for providing you with currency options for the product listings. If you want to change currency, it is important to update your shipping addresses on eBay, as well.
It is possible to add multiple addresses on eBay. These advanced options are helpful for buyers and sellers who frequently travel and move to different locations. Therefore, you can adjust the currency settings on the eBay site to suit your preferences. You can do this directly from the search results page and update the currency displayed on the upper right corner of the page. Select the appropriate option to convert prices in your preferred currency.
If you are a seller, all bids and transactions of a product listing will take place in the currency that you've chosen for that particular product. Therefore, you must be careful in choosing the currency because it could result in lower outlay of funds if you take into consideration the currency value once it is converted (and also taking into account any conversion fees).
The conversion rate of the currency value as shown on eBay is not the actual amount you'll pay in your local currency. The conversion rate shown on eBay is based on the 'mid market rate,' which is generated from the bank rates and the average purchase rate for a given listing. Therefore, you will know the actual amount converted once it shows up in your billing (if you're using a credit or debit card for the payment).
The Bottom Line
Did you find this article helpful?
Hopefully, we have provided you with the information you need on how to change currency on eBay. As a global e-commerce platform, eBay is doing its best to provide many options for its global users to ensure that their needs are addressed. When it comes to currency and payment options, you have the option to adjust the displayed currency so you can use it to determine if an item is worth buying or not.
If you still have questions on how to change currency, you can contact the eBay customer support team directly for any specific concerns. They are available 24/7 and will respond to your needs to ensure that you can improve your user experience on the eBay site.
PRO TIP: Are you new seller on eBay? Check out this comprehensive guide by ZIK Analytics
FAQs on How to Change Currency on eBay
Does eBay do currency conversions?
Yes. The default currency is converted into the local currency. eBay automatically detects the location of your account and the eBay marketplace you're using (such as eBay UK or Canada).
How much is eBay currency conversion fee?
If your eBay account is registered in the US eBay site, the currency conversion charge by eBay is 3%.
What currency should I use on eBay?
If you are using eBay in the US, the automatic currency listed on the item is US Dollar. It is the default currency setting. If you are using the site in another eBay marketplace, such as eBay UK or eBay Canada, it will automatically convert prices from the US Dollar to Canadian Dollar or GBP.
Can I pay in a different currency on eBay?
You cannot pay using a different billing currency. Your payment must be in the same currency as the product listing.
Instead, the conversion of the listing price is done at checkout. From there, you can pay for the converted amount using your preferred payment method and in your local currency. There might be additional charges for the conversion of the currency value, which depends on your chosen payment method.