Are you looking for a profitable side hustle idea that can generate extra income for you? Then, your search is over!
Getting an easy-to-do online side hustle can be a daunting task since there are several side hustles to pick from and millions of side hustlers are also on the lookout. Nonetheless, I've got you covered; I'm about to show you an online business model you can do on your own schedule and also earn $1000 per day!
The side hustle idea I'm talking about is dropshipping on eBay! You might be familiar with it and may hold the opinion that dropshipping is no longer viable or profitable, but it still works!
Hey, it worked for me and it can work for you as well. In this guide, I'll walk you through some proof that this business model still works and a step-by-step process on how you can earn money by dropshipping on eBay. Let's get started!
Article Overview
How I Started my Dropshipping business
What Is eBay Dropshipping?
Benefits Of Dropshipping On eBay
How I made $1000 per day dropshipping on eBay
Step-by-step Guide On How To Discover The Perfect Product To Sell
How Can You Get Started On eBay Dropshipping?
Conclusion
FAQ
How I Started my Dropshipping business
Just like you, I was looking for side hustle ideas to make extra money in my spare time and then, bumped into dropshipping on eBay. I started dropshipping, working only two or three hours a day, and after a few months, it escalated that I had to hire a virtual assistant who now manages 90 percent of the workload.
I just put in a few hours, less than two hours daily into this side hustle business during my free time while focusing on other things. Moreover, the great thing about Dropshipping is that you can work on your own hours from anywhere in the world as long as you have access to the internet.
Let's look at some proof to show how much money sellers make by dropshipping on eBay.
Here's one of my stores' earnings in the last 31 days;

I have made 63 thousand pounds by dropshipping on eBay.
Let's look at my daily earnings;

Now you can see that I have earned over 1 thousand pounds just in the store which is more than a thousand dollars!
Dropshipping on eBay is a great side hustle idea to make money online and you don't need to spend extra cash on advertising or inventory.
Additionally, your traffic comes from eBay itself, which is a huge advantage. You only need a huge demand and low competition product that you can source from a supplier with a significant profit margin. So how do you start? First, you need to understand eBay dropshipping.
What Is eBay Dropshipping?
eBay drop shipping is a popular business model that allows a merchant to use eBay as a platform to buy products from a supplier, list them for sale, and resell them at a high-profit margin. It is also known as Sourcing; interestingly, you don't need to hold the products in inventory or handle deliveries yourself physically.
Here's how dropshipping on eBay works; Once you create your store, list your supplier's products, and make a sale, you'll order the products from your supplier, who takes care of the delivery directly to the customer, and you keep all the profits to yourself.
For instance, you buy a mat at $10 from your supplier, then list it on eBay at $25. Once you get an order and all transaction processes are completed, you will profit from $10 to $15, depending on the shipping fee.
Benefits Of Dropshipping On eBay
Dropshipping on eBay can benefit sellers looking to start a business or make passive income. Here are some of the benefits of dropshipping on eBay:
Dropshipping Requires Low Financial Risk
Dropshipping on eBay is a cost-effective option for launching an online business because it involves little to no upfront investment in inventory or warehousing. This means you can start selling on eBay without financial risk, making it a great side hustle.
There's A Wide Selection of Products
With drop shipping, there's spare room to offer a broader range of products without having to stock and manage inventory. Also, you can adapt quickly to changing customer demands and offer new trending products.
Dropshipping Saves Time And Money
Since you won't have to manage inventory or handle shipping, eBay drop shipping will save you time and money. So you can focus on other aspects of your business, such as marketing, customer service, and building relationships with suppliers.
It's A Flexible Business Model
Dropshipping allows you to work on your own time from anywhere with an internet connection, making it a flexible and location-independent business model. So you can effectively run your business from home or while on vacation.
Dropshipping on eBay is an easy and affordable side gig that helps you maximize your time and make money online.
Now, let's go over practical ways in which I was able to generate a lot of income with this business model.
How I made $1000 per day dropshipping on eBay
The key to a successful dropshipping store on eBay is choosing a niche and researching products in great demand. You need to discover products with a high-profit margin and low competition.
Ways To Find Good Products To Dropship On Amazon
Use The Zik Analytics Tool
If you need to know the right products to sell, the Zik Analytics tool provides data on successful listings, sell-through rates, and successful sellers so you can draw your product inspiration.
You can check for products under the 'Category Research' section and further check the 'Research Tool' section for more information about the product.
Check Google Trends
Google trends will give you seasonal trends and real-time data to validate the demand for a product over time. It provides sellers with insight into the popularity of a particular product or niche.
Additionally, you can determine whether there is a demand for a particular product or niche, which is crucial in deciding what products to resell. For example, if you are considering selling a new type of gadget, but the search volume for that product has been consistently low over time, it may not be profitable.
Find A Supplier With A Good Profit Margin
As a drop shipper, you purchase products from your supplier or wholesaler and then sell them on eBay at a higher retail price. The simple difference between the supplier and retail prices is your profit margin.
If you choose a supplier with a low-profit margin, you may not be able to sell products at a high enough price to make a profit. On the other hand, if you choose a supplier with a high-profit margin, you will have greater leeway in determining your retail prices and can earn more profit.
A great profit margin also enables you to reinvest money in your company for marketing, advertising, or growing your product line. It helps you develop your side hustle business and raise your earnings.
Additionally, a significant profit margin allows you to reinvest profits into your business, such as marketing, advertising, or expanding your product offerings.
Step-by-step Guide On How To Discover The Perfect Product To Sell
We'll go over to Zik Analytics under Category Research for any high-demand product to sell. There are several categories here to choose from.

Let's search for slippers to see if they're an excellent product to sell.
The category research gave us 100% successful sell-through rates.
Let's go to Google trends and search for slippers;
In the last 5 years, we can see an excellent growth trend in selling slippers. This data shows there's going to be a high demand for November-December.
Let's go to the Zik Analytics research tool again to confirm the demand. Search Slippers;
There is over a 4000% sell-through rate for this product!
Let's consider the top sellers of the  product;
The first two sellers here list branded products— but I would avoid selling brands with drop shipping because of strict policies on eBay, competition, and high cost, which can affect profit margin.
However, the third seller has sold over 200 times in the last 30 days and 870 times in total items sold for $24.
Let's check for this product on AliExpress in the Zik Analytics item finder. You can choose another supplier, but I'm focusing on AliExpress to get my supplier.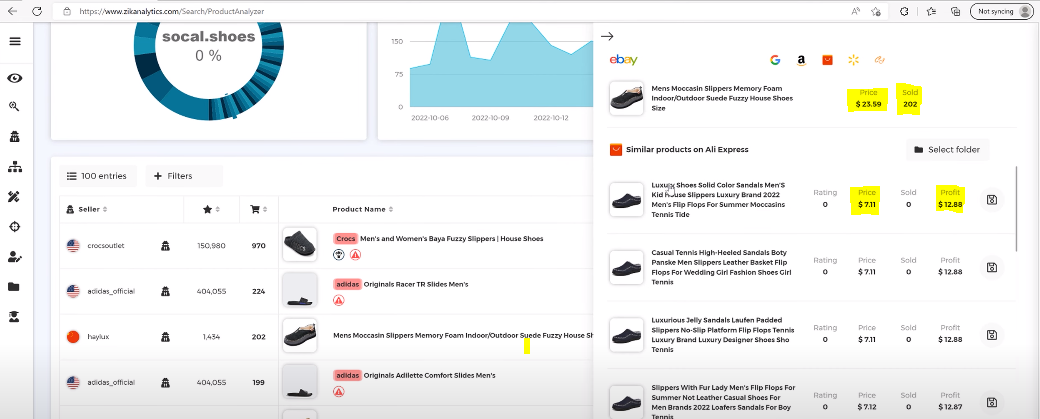 Here, the seller buys the product for $7 and sells it for $24. That's a profit of $13!
You can also scan the seller in Zik Analytics to see how much money he's made over the last 30 days.
The seller has made almost $14,000 with 55 successful listings. That's good money for a side hustle business.
Here's another seller from the United States;
He has made over $120,000 in the last 30 days with an over 600 percent sell-through rate. That's huge!
You can also get product inspiration from the sellers' listings to begin dropshipping on eBay.
Let's consider a German international seller;
This seller has made $40,000 in less than 30 days with an over 200% sell-through rate.
Also, let's filter out these sellers by drop shippers only so I can show you how much these drop shippers make on eBay.
This drop shipper has been making over $211,000 in the last 30 days!
Undoubtedly, Dropshipping is a great side hustle. While it isn't a full-time job, it can bring a full-time income. You can start small and then grow your business to make more money.
How Can You Get Started On eBay Dropshipping?
Set Up Your eBay Store
Start by getting your eBay store ready. Create an eBay account using your personal information, then select the "selling" option under the "my eBay" tab.
Then, list your products with clear descriptions, high-quality images, and competitive prices. Use relevant keywords to make your listings more visible to potential buyers.
Furthermore, configure your payment options, Payoneer preferably, and establish your shipping, payment, and return policies.
eBay has some policies that have restricted dropshipping from other marketplaces like AliExpress, however, you can establish your store policies in the Business Policies section to align with that of your supplier. It will help your customers know what to expect and secure your store or eBay account from suspension
Source Items From Your Supplier
Once you can source high-demand products with excellent profit margins from your supplier, it's time to go for the bag!
To also get research product ideas, go to eBay to find top-rated sellers as your source of inspiration and copy the seller's name
Then, head on to the Zik Analytics competitors' research tool and paste it to access all the necessary information you need to find good products to dropship.
Deliver The Order To Your Customer's Shipping Address
Let's say you list slippers as your product, and you get a purchase, your supplier will deliver the product directly to your customer's address.
However, communicate with your customers promptly and track shipments to ensure excellent customer service.
Take Your Profit
If you dropship slippers from AliExpress at $7 and list it in your store for $24, you'll make a $14 profit— after deducting a $3 shipping fee for every sale you make.
Interestingly, selling this product 200 times over in 30 days is almost $300— $100 daily.
Now, if you sell 10 other similar products, that's earning a thousand dollars every day!
Conclusion
There you have it! My simple blueprint on how I generate daily revenue dropshipping on eBay.
Undoubtedly, eBay's dropshipping business has become a recession-proof side hustle to keep making money online, and you can be sure to scale up to more than $1,000 a day. Moreso, it's flexible and easy to manage.
The key to success in eBay dropshipping is conducting in-depth product research and finding a supplier with a significant profit margin. Thanks to Zik Analytics, you have the tools you need at your fingertips!
Additionally, with low risk and a high potential for profit, this side hustle is definitely worth exploring! And once your business starts growing, you can own multiple stores and test different products, suppliers, and business strategies to see what works best for your business.
FAQ
Is It Safe To Dropship From AliExpress To eBay?While eBay restricts dropshipping from other marketplaces, you can safely dropship from AliExpress to eBay without risking account suspension. You just have to take the necessary precautions.
Conduct your product research and choose reliable suppliers with the help of Zik Analytics features. Also, follow eBay's policies and guidelines, provide your business policies, and communicate with your customers to provide excellent customer service. Then, you can minimize the risks and maximize your chances of success as a Dropshipper.