What is the true cost of selling on Amazon FBA program?
If you're new to the Amazon FBA program, you probably asked yourself this question at least once. Starting an Amazon business is promising, but you have to know that leveraging the popularity of the world's largest e-commerce platform does not come for free. To make a profit by selling on Amazon, you have to know the associated Amazon FBA fees.
Amazon FBA fees are the main source of confusion for anyone looking to jump into this platform. If you are going to join this massive ecommerce platform, you want to make sure that you can make a profit.
This guide walks you through the different FBA fees that you have to consider so you can maximize your profit potential.
New Changes to Amazon FBA Fees in 2022 & 2023
Whether you sell through the Amazon FBA program or an FBM seller, there are fees that you must pay to sell items on Amazon. As of April 2022, Amazon fulfillment fees has a 5% increase. We are yet to see what changes will occur in 2023
The 5% increase will cover the fuel and inflation surcharge. This fee increase applies to most products sold through Amazon, such as apparel, non-apparel, dangerous items, and items of all sizes. This fee is applicable to all units that are shipped via the Amazon fulfillment centers. The surcharges are subject to change without prior notice.
Amazon FBM vs FBA Fees
There are two business models for entrepreneurs selling via Amazon. The first one is called Amazon FBA or Fulfillment by Amazon Program. As the name implies, the Amazon seller must list the items on their store and then ship the products to the Amazon fulfillment centers. Amazon employees will handle the storage and fulfillment of orders from your shop. Hence, the products will be shipped directly from the Amazon fulfillment centers.
On the other hand, FMB means Fulfillment by Merchant. The Amazon seller will list the products on their store. The seller will also handle the processing and shopping of orders to the customer.
Amazon Fees for FBA and FMB Sellers
There are various categories of FBA fees that Amazon sellers must know about. Take note of these different fees so you can determine how much profit you can make through the platform.
Referral Fees
Referral fees are the commission that you must pay toward Amazon whenever you successfully sell an item through the platform. There is a minimum referral fee of 15% for each item sold.
The Amazon referral fee is not paid upfront, though. The referral fee is taken from your account once the sale is completed. To give you an idea, here is a list of the corresponding referral fees that Amazon sellers must pay, depending on the different product categories. Another important thing to note about referral fees on Amazon is that the platform will deduct the applicable minimum referral fee per product or the referral fee percentage (whichever is higher).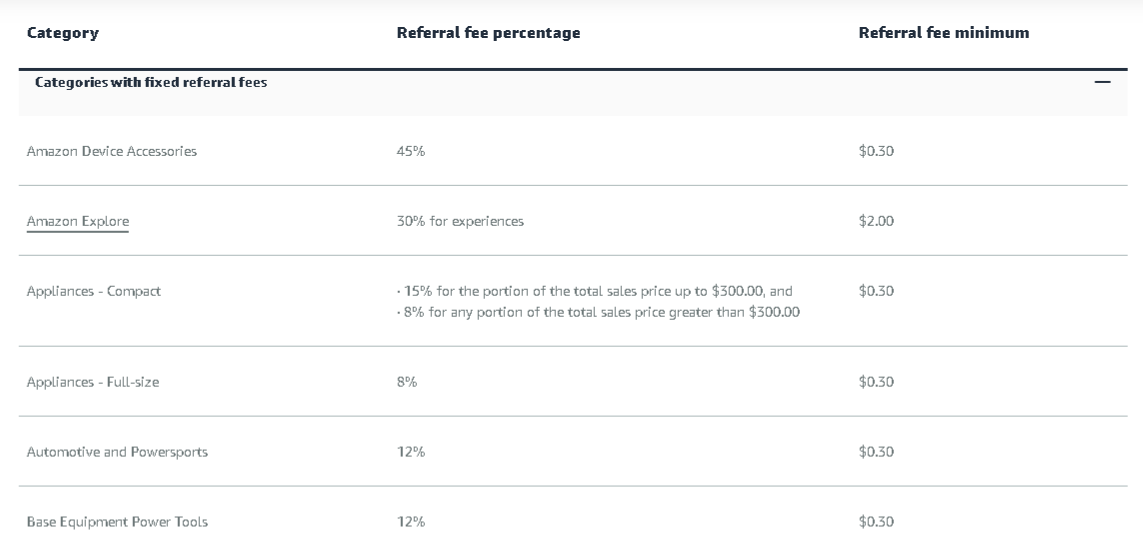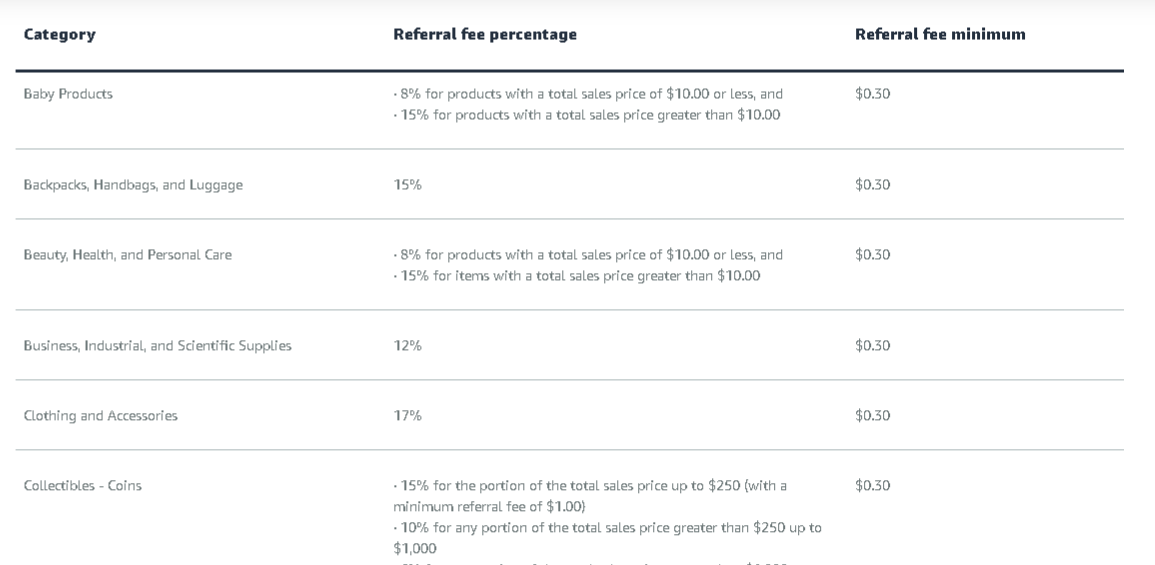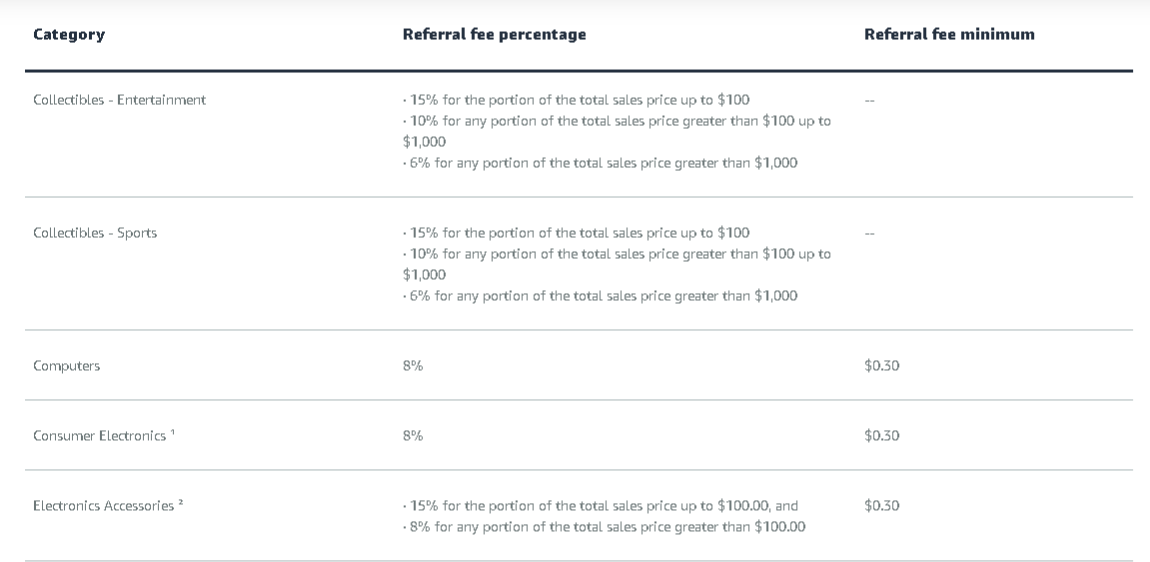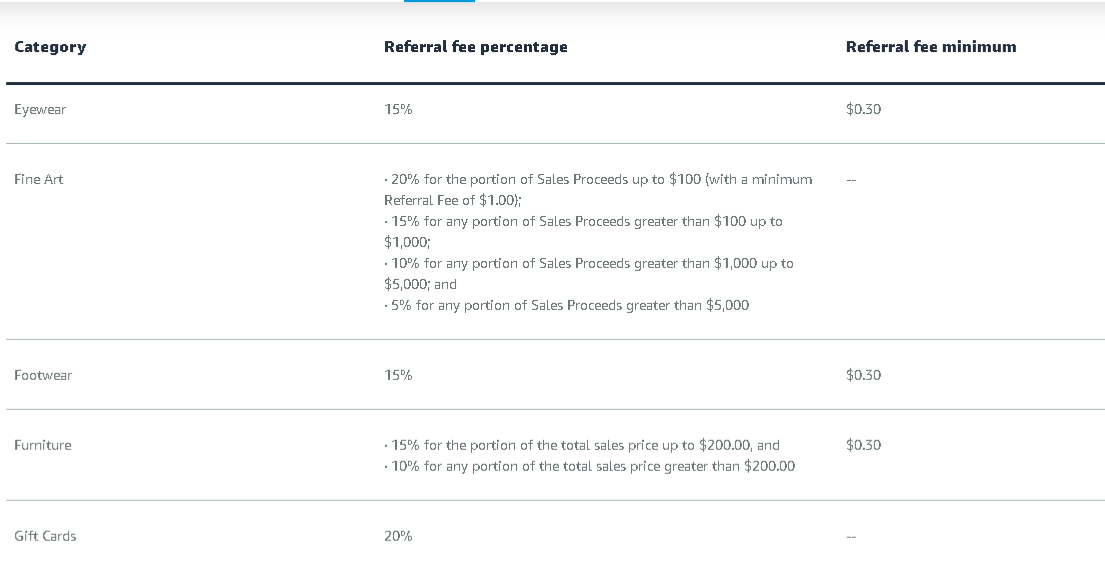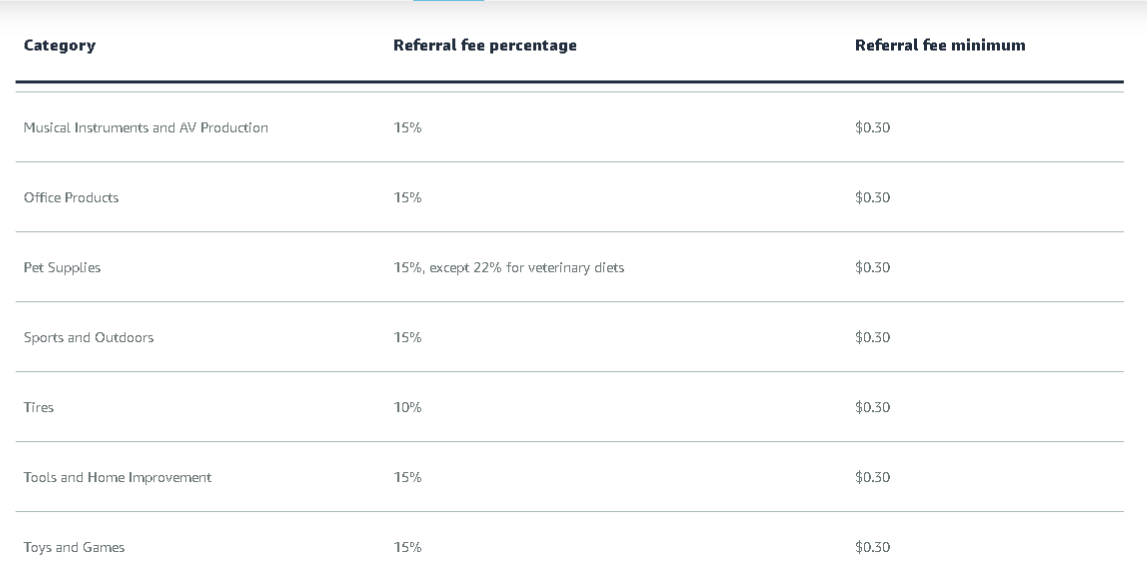 Another factor that you must consider about Amazon FBA fees is the type of account you register for in Amazon. There are two membership categories: individual and professional.
The Amazon sellers account that you signed up for will entail different Amazon FBA fees. If you have an individual account, you must pay a flat fee of $0.99 for every item sold. Therefore, you won't have to pay a monthly subscription fee on your account. It works like a referral fee wherein you will only be charged for the fee after a sale is made. You won't have to pay for upfront fees.
On the other hand, you must pay a monthly subscription fee if you own a professional account. The monthly fee for professional accounts is $39.99. This amount is deducted from your account balance on Amazon.
Refund Administration Fees
There is another type of fee that Amazon sellers must take into account when setting nup their online store. This type of fee is charged to the seller account whenever a buyer requests a refund of a product bought from your store. The seller that had been paid for that sale will be charged the fee in order for Amazon to process the refund.
The refund administration fee is $5 or 20% of the refunded amount, whichever is higher. The fee is immediately taken from your Amazon account balance (or billed to your credit card).
Exclusive Amazon FBA Fees
The above fees are covered for the FBA and FBM Amazon sellers. For this section, it is important to cover the FBA fees. These fees are ones that only those enrolled in the Amazon FBA program qualify for. Therefore, you don't have to pay any of these fees if you are not part of Amazon FBA.
FBA Fees
One of the perks to being an Amazon FBA seller is that you don't have to worry about the cost of packing and shipping orders to your customers. The Amazon employees will handle this for you. You don't have to pay storage fees to warehouses for storing your products since it will be stored in Amazon fulfillment centers.
To cover for these costs, Amazon charges you with the FBA fees. The actual charges on your account will vary according to the size and weight of the product.
How Do You Calculate FBA Fees?
The Amazon FBA fees refer to the cost of the convenience of sending your products to an Amazon fulfillment center and for the Amazon employees to package and ship your products on your behalf. The cost of the FBA fees will vary based on the following factors:
• Product weight
• Product size (based on actual dimensions)
• Product category
• Channel where the product is sold
When you are selling via the Amazon FBA program, there are two FBA fees that you must pay for. The FBA fees are explained below:
1. FBA Fulfillment Fees
The FBA fulfillment fees is the amount that you pay to Amazon on behalf of their staff fulfilling (packing and shipping) your order. The service fee involves finding your item from your inventory, packing the item, and shipping the item to the customer. It also covers for the customer service provided by the Amazon employees, such as responding to customer queries about the status of product shipment or wrong orders, etc. The FBA fulfillment fees are calculated per unit.
2. Monthly Inventory Storage Fees
The monthly storage fee paid to Amazon is another cost that you must consider when joining the Amazon FBA program. This cost covers the storage of products in the Amazon warehouse and fulfillment centers. The monthly storage fees will be based on a per cubic foot calculation. The more space you rent, the higher your FBA storage fees.
As mentioned above, the size and weight of the product plays a huge factor in determining the Amazon FBA fees for the products you sell.
A standard sized unit is anything that weighs less than 20 pounds (with packaging). It should not exceed the dimension of 18 x 14 x 18 inches. Meanwhile, an oversized package is that which weighs over 20 pounds (with packaging). An oversized unit measures more than 18 inches on its longest side.
FBA Storage Fees
The FBA storage fees cover the benefit of using the Amazon fulfillment center for storing your products. Therefore, you don't have to pay a higher, long term storage fee on commercial warehouses to store your items. Amazon can store those products within your inventory for a monthly storage fee.
There are two categories of FBA storage fees: monthly and long term. Let's look at the main differences with these types of storage fees.
1. Monthly Storage Fees
The monthly inventory storage fees is charged by Amazon to your account for every end of month that you have items left in your inventory. This fee covers for the ability to use the Amazon fulfillment centers for storing your items. The FBA storage fees uses volume measurement based on your unit size and it also varies based on time of the year.
For example, the monthly storage fees from January to September are $0.75 per cubic foot for standard sized items or $0.48 for oversized items. On the other hand, the storage fees go up from October to December. The standard sized items are now charged $2.40 per cubic foot for standard items and $1.20 for oversized items.
2. Long Term Storage Fees
The long term storage fees are another type of the FBA storage fees you must know as an Amazon seller. Amazon performs inventory cleanups for every 15th of the month. This inventory cleanup will enable Amazon to determine if there are products that have been in the Amazon warehouse for over a year (or more than 365 days).
If there are any items that fulfill this criterion, the Amazon seller will be charged with a long term storage fee of $6.90 per cubic foot or $0.15 per item, whichever is higher.
You can expect these fees to go up during the busy holiday season. Hence, many Amazon sellers offer discounts and promotions to their customers to entice them to buy the remaining items in their inventory and to avoid paying these storage fees on the Amazon warehouse.
Amazon FBA Fees on Non-Amazon Products
If you want to use a multi-channel fulfillment for your online store, it is definitely possible to use Amazon FBA program for this. Many online sellers, Amazon sellers included, opt for this route to expand their reach and maximize earnings.
It is possible to enroll in the Amazon FBA program using other channels aside from Amazon. However, you must know that FBA fees still apply for these products. The downside is that the FBA fees will be higher using this particular model.
Again, Amazon calculates the FBA fees based on the size of the product and the number of units per order. Obviously, the fees will be higher for larger products and for more units per shipping. Amazon also offers various shipping options:
• Standard shipping – 3-5 business days
• Expedited shipping – 2 business days
• Priority shipping – Next-day delivery
Meanwhile, FBA shipping costs will vary based on whether you have standard or oversized items. You will also be charged extra if your items contain lithium batteries. The additional cost is worth $0.11 per unit.
The Bottom Line
Many new sellers are intimidated by the various fees associated with being an Amazon FBA seller. However, the Amazon FBA fee, shipping fees, and fulfillment fee are all part of your investment for being able to sell your products through the biggest ecommerce platform on the web.
The main lesson here is to use try and get as many items as you can sell through the Amazon FBA program. The high sales volume can make up for the various referral fees that are charged on your account so you can still make a decent profit for those items.
FAQs on Amazon FBA Fees
What is included in Amazon FBA fees?
The FBA fees charged to Amazon sellers are used to cover the cost of storing your items in the Amazon fulfillment centers, as well as the services provided by the Amazon employees. Sellers can utilize the fees to maximize the efficiency of running their business under the Amazon FBA program since they will take care of picking out the items from your customer orders, packing them, and shipping the products. The customer service also includes access to support from Amazon staff.
Do FBA fees include shipping to Amazon?
The FBA fees cover the cost of shipping your products to the customers who ordered them. However, you will be responsible for shipping the items to the Amazon fulfillment centers where the employees can process them. It is also important that your packaging meets the Amazon packing standards.
How can I lower my Amazon FBA fulfillment fees?
If you want to reduce your FBA fulfillment fees, there are three things you must do. First, you have to keep an eye on your inventory. Make sure that you don't have too many products in the Amazon warehouse, or else you could be charged for the items that had been sitting in the inventory for too long.
Another option is to maximize your FBA fulfillment fees by selling items that cost over $15. Amazon fulfillment fees are based on the size and weight of the product, not its price. Therefore, it makes sense to store items that cost $15 or more if it has the same weight and size as a product that is worth $1.
The final tip is to try bundling lower cost items, if applicable. You can sell them as a bundle and offer unique deals to your customers.
How do I check my FBA storage fees?
To know about your FBA storage fees, go to the Inventory Dashboard on your seller account. Scroll down to the FBA inventory age box. You will be able to see the corresponding storage fees on the items in your inventory.
Is Amazon FBA a good side hustle?
Selling on Amazon FBA is a good option if you understand the different FBA fees involved. It is also important to conduct a thorough product research so you can maximize your fulfillment and storage fees because of the high profit margin.
What is the success rate of Amazon FBA?
According to Amazon, the FBA sellers have a success rate of 25%. If you know how to find the right products and you market those products well, you can earn a good profit off of this program even with the fulfillment costs.