Sometimes when you have similar products with a few variations, it is better to sell them in a single listing. For example, if you are selling a T-shirt in five different colors and offering three different sizes then instead of putting up each T-shirt (for e.g a small-sized green T-shirt) as one listing, you can give the customer different customization options on a single page. This creates one listing with all possible T-shirt colors and sizes!
In this article, we'll discuss the intricacies of variation listing, why the method is so powerful, the different ways you can create variation listing, and much more. We will also look at the eBay categories that currently allow variation listing, and provide a step-by-step procedure on how you can create your desired listings.
WATCH: Too Long to read the article? You can watch this video instead!
eBay's Powerful Variation Listing
If you offer products in multiple colors, patterns, and sizes you have an easy way to connect them. This unique, interconnected web of products is known as a variation list. As a business owner, you may sell similar products that have varying colors, dimensions, lengths, and depths. eBay's variation lists allow you to give unique properties to these products.
You can change prices, quantities, discounts, and more based upon the variations. This also helps customers find products that match their tastes. It is an added bonus to rack up some points on the client satisfaction scale.
The Benefits of Variation Listing
Variation listing has a lot of benefits for you as an eBay seller. A few of them are as follows:
Save money!
If you use one listing to sell multiple items, you'll have to pay for one insertion fee only but will get all of your products out there in the market. The different pictures you will upload for each product are all going to be free of cost.
Save time!
Instead of wasting your time on listing each product as a separate listing, you'll save everyone's time by adding different options on one listing.
Increased visibility!
A multi-variation listing may appear higher in search results. The usage of this feature is not only preferred by eBay itself but will also help your business in reaching more customers.
More chances of the product selling!
Most customers don't have their exact desired product specifics in their mind when they are online shopping. So it's always a good idea to give them variations in one place so they can weigh all their options.
If they don't see a specific item in the color they want in the listing, they will think that your eBay store does not have that specific item and will look somewhere else. Hence, adding variation detail betters your chances of selling more items.
Higher in search results because of sales history!
If one variation from your listing sells, the whole listing will be boosted and will appear higher in the search results. So when there is a sell in the listing, the entire listing gets promoted and your sales will increase.
Seemingly low prices that'll catch the customer's attention!
If your prices for one variation item are lower than the others, that item will show up top in the search results. As a result, the customer will already have your listing open when he/she changes the variation and the price changes as well. There are going to be more chances of them making a purchase now.
Adding Variations to your Listing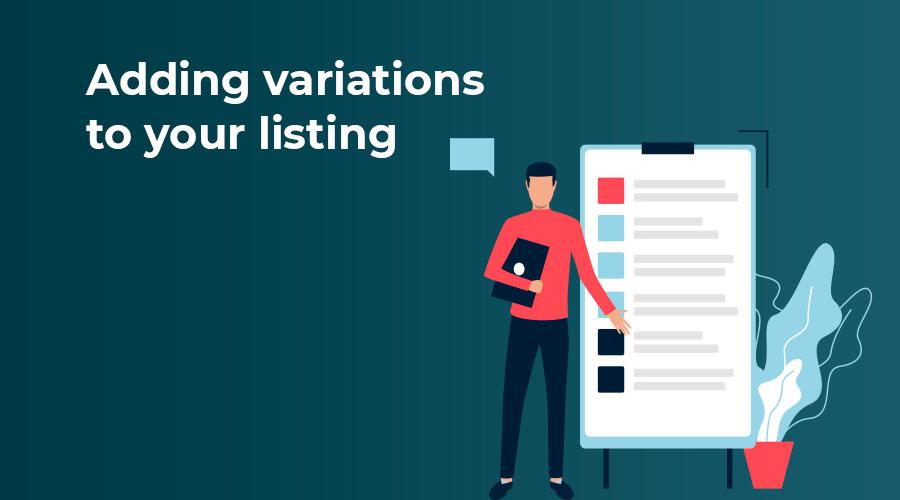 Depending on what type of item you are trying to sell you can choose a variation listing method to sell multiple items in one listing. eBay has made the process very simple and even beginners can create these listings without much hassle. Follow the below steps to create a variation listing for your next line of products.
Identical Items:
For identical items, create a new listing item as usual.
Write down the title, select a category and type the description for it and then add relevant photos.
Click the fixed price tab, and enter a price in the "Buy It Now" field.
Input the total number of items you're selling in the Input field.
Select shipping and payment preferences, fill in any remaining information, and then click continue to review and confirm your listing.
Variations of the same item:
Create a new listing as usual and check if your product's category has the option to allow variations. Not all categories allow variations at the moment.
Click on the "Create variations" button to create a new variation. If you don't see the button even though the category is supported, switch to fixed-price listing as "Auction Listings" are not currently supported.
Select the appropriate variation detail (for e.g size for clothing) and then list down all the options for it (e.g small, medium, large).
You can also add custom variation attributes by clicking "Add".
You can also create custom options for each attribute by clicking on "Create your own" under the options section.
Insert details applicable for the items listed in each field and click Continue. The eBay website displays all of the variations of the items that could be sold.
Be sure to add photos (you can add up to 12 for one listing!), enter price and quantity for each variation, fill in the remaining information, and complete your listing!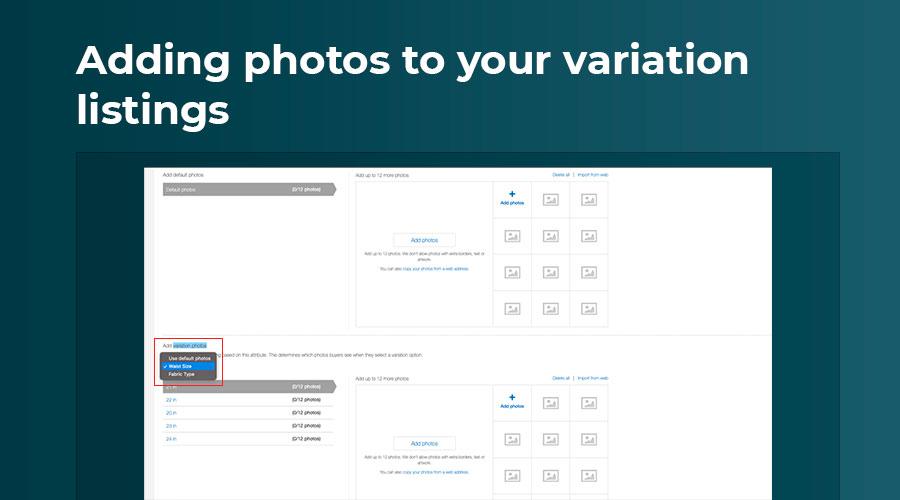 Tips and Tricks
Putting up multiple listings for the same product is not going to be beneficial at all because the eBay system will not show identical listings from a single seller in a search result.
Selling identical items individually is better than selling them in bundle listing because you're more probable to get higher bids for individual products.
A set of products (for example the Lord of the Rings series) is considered one item.
Types of Variations you can Add
There are a number of variations you can add to your listings, but here we're mentioning a few of the most common ones.
Number of items:
For identical items that you're selling for a fixed price, just indicate the number of products you have in stock on your listing page.
Sizes:
For products that you want to sell in different sizes, you can add variations in the existing listing for that product.
Colors:
If you're selling multiple items in different colors, use this feature to add up to 30 colors for one product.
Width:
For products that are in different widths, you can also use this feature.
Material:
To give your customers the luxury of selecting the type of material they want for the item, you can add a variation for this as well. For example, you can give customers the option of buying a red dress made of silk or chiffon!
Categories you can add Variation Listing in on eBay
A few of the categories that offer this feature on eBay for now are:
Baby
Clothing, shoes, and accessories
Crafts
Health and Beauty
Home and Garden
Jewelry and Watches
Pet Supplies
Sporting Goods
eBay motors apparel and merchandise
You can check the rest of them on eBay's official site. We hope to see more options in the near future.
FAQs
Here are a few questions that might have crossed your mind while reading the article.
What is a bundle listing?
Bundle listings represent the related products that you bundle into a single listing, like smartphones, headphones, and cords.
The Bundling term refers to the aggregation of various products into an offer and selling them separately. In cases where the bundle contains primary items as well as accessories such as camera cases and other lenses, use the name of the primary item.
Can you add variations to an existing eBay listing?
You don't have to create a new listing from the start if your original listing was not created with the variations feature. You can add variations to the existing listing but once you are done editing it, it will be posted as a new listing with a brand new Item ID, but all of the product information will remain there.
How many items can I sell at once on eBay?
All new sales will increase in a period ranging from 0 to 5,000 dollars per month. You could sell 10 of them for an annual value of 500 dollars. These are the standard limits for any new seller on eBay.
Can you combine eBay listings?
If your products have a few differences, like color or size then you can combine them in the form of a single listing.
Final Thoughts
There are a lot of ways to boost your sales on eBay, variation listing being one of them. The feature is not only going to increase your profit but is also going to make it easier for you to manage your listings in a more organized way and help the customers have a more diverse shopping experience.
Happy and fulfilled customers lead to a happy and thriving business, and while the whole process of variation listing might have seemed daunting at first, we hope that this article has helped you to realize the importance of this feature for your business!