Selling on eBay is a profitable business model for your online business. The secret to becoming one of the top eBay sellers is to identify the most in-demand products to ensure that you can generate plenty of digital sales. One of the most common products now available from a web store is a digital good, such as in the form of digital textbooks, digital trading cards, and more. If you want to build a thriving business on eBay, you might be curious what the eBay policy is with regards to goods on eBay.
Indeed, digital products are one of the most consumed products in the 21st century. But in the eBay marketplace, they can be a bit tricky to sell. It is important to note that eBay does not prohibited the selling of electronically delivered items. However, the eBay policy is very stringent in the types of digital products you can sell.
This guide will walk you through the process of selling digital products on eBay so you can maximize your digital sales and to avoid legal trouble (along with the risk of account suspension).
Am I Allowed to Sell Digital Items on eBay?
Yes, eBay does allow selling digital goods on its marketplace platform. It is important to understand what digital goods mean to help you determine what type of products you can sell.
According to eBay, digital goods or products are any content that you can download through a website transferred via email. The main requirement by ebay for selling digital products is that the digital content you are selling should be legally owned by you or is your intellectual property right. You can also sell a digital product if you legally purchased it and hold ownership rights to that product. Otherwise, you could face legal trouble for copyright infringement. Make sure you do not violate this basic requirement so you can make money selling digital items on your eBay site.
Selling of digital codes and movies is also prohibited by eBay due to piracy concerns. This policy is also designed to discourage purchasing pirated digital content. If you are going to sell movies or codes, it is important to sell the physical disk that goes with the product.
Step-by-Step Guide to Selling Digital Products on eBay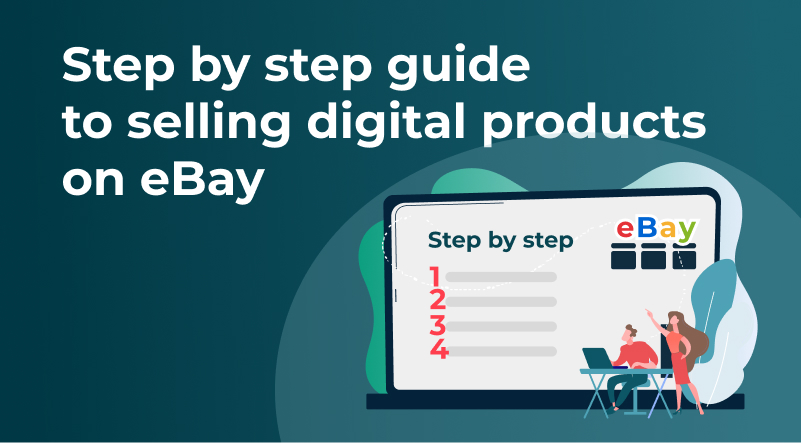 Now that you are familiar with the eBay policy on selling digital goods, and you are sure that the digital item you want to sell is eligible, you can move on to the next step: creating your listing on the eBay site.
Step 1: List the digital goods in the correct category
Selling digital goods is allowed on eBay (for the approved digital items), as long as you list it under the correct category. You must list digital products under the Information Products category > Everything Else category > Classified Ad format.
The Classified Ad format is different from the traditional Buy it Now or auction selling format on eBay. In a Classified Ad, the personal details of the potential buyers will be sent directly to the eBay sellers. The rest of the transaction can be performed outside of eBay. Meanwhile, eBay sellers are not allowed to contact potential buyers or share information that is not related to the completion of the digital sales.
Sellers who want to sell digital products using this format won't get the feedback option for the sold items.
For sellers who do not wish to use the Classified Ad format, you can sell digital goods via eBay but first you must be one of the approved digital product sellers. To become a pre-approved digital seller, you must be verified on Paypal. You must also disclose to the buyers that their purchase won't qualify for the Money Back Guarantee policy on eBay. Local pickup is not allowed for digital goods and the product must be delivered online only. It is also important that your digital goods on eBay won't cause damage to the buyer's computer.
When you are an approved eBay seller, you will be able to list digital goods on eBay outside of the Everything Else category.
Step 2: Writing the description for digital goods on eBay
When listing the digital products on eBay, you must clearly and explicitly state that you are the legal owner, intellectual owner, or have the permission to sell the product on the owner's behalf.
Make sure to include proof of your copyright ownership without divulging your personal details as part of protecting buyers and to guarantee that the digital products are legally acquired. This is a proactive step when selling a digital item on eBay because it eliminates the possibility of your listed items being questioned by eBay.
Step 3: Specify the delivery of the digital products
There are several tools and services available to ship or deliver digital products and to avoid fraud risk. Make sure to choose an automated distribution and fraud screening services for this.
Whatever your chosen method of delivery might be for the digital content, it is important to specify that in the item description. That way, your buyers will also know what to expect when they enter into the transaction. You must be extra cautious when sending a download link for digital copies of products you sell via eBay. You wouldn't want to damage someone's computer in the process.
Is it Worth Selling Digital Items on eBay?
Unlike the traditional auction selling format that is straightforward, there are many strict prohibitions with the digital good category on eBay. You must have intellectual property rights before you can sell digital content. However, the complications of the selling process are well worth it because the digital goods category is one of the fastest growing categories on eBay. There are several consumers looking for digital items online and you can leverage the popularity of eBay as an ecommerce platform to earn passive income off of it.
Yes, selling digital products is worth it. It is only complicated at the beginning as you navigate through the complexities of the eBay policies. Once you are familiar with eBay's stated goal and policies on the selling of digital items, you will be on your way to maximizing the potential for boosting your digital sales with these products.
The above are the current policies for eBay if you want to sell digital products. Make sure to always be informed should there be any changes to these policies in the future.
Final Thoughts Before You Sell Digital Products
Use the information above to guide you if you are interested in selling digital products on eBay. There are specific policies in place to govern your listings so make sure to follow the rules closely to avoid being suspended when you sell digital goods that violate the policies. If in doubt, you can always contact the eBay support team to help you build a thriving business.
If you follow the policies closely, you could easily generate passive income if you sell digital products since they are one of the most coveted items on eBay right now.
FAQs on Selling Digital Products on eBay
What is the best digital product to sell on eBay?
There are various options for digital products and digital goods you can sell on eBay. If you want to maximize your profit, here are some of the most in-demand digital items: eBooks, software programs, digital photos, domain names, digital textbooks, digital trading cards, video tutorials, electronic tickets, digital art, and music (ones you produced or created yourself).
Can you sell a PDF on eBay?
A PDF file falls under the digital goods category on eBay. You may sell digital goods like a PDF file on eBay as long as you own the copyright to the content within the PDF file. If the PDF is a book, then you must be the author of that book before you can sell digital content via PDF format.
Can you sell in game items on eBay?
The popularity of online gaming virtual items have led many eBay sellers to consider selling them as a digital product. However, the selling of online gaming virtual items is prohibited as per eBay's policy on selling digital goods.
Any digital items that belong to an online game are the copyright ownership of that game. When you sell digital content that is linked to a game such as a digital currency, accounts, or in-game items are a violation of the terms of services for that game. Therefore, you are not allowed to list those items in your eBay online business.
What am I not allowed to sell on eBay?
Digital products on eBay are not the only ones that are strictly regulated. Some digital goods are not the only restricted products on eBay as you are also not allowed to sell weapons (such as knives and firearms), lock-picking devices, hazardous materials, items linked to illegal activities, pornographic content, embargoed goods, and drug (or drug paraphernalia). You are also not allowed to sell explicit photos on eBay.
You can check eBay's policies to know more about restricted products on eBay and avoid the risk of account suspension.