Fact – your choice of ecommerce platform can make or break your online business. In today's digital landscape, where online shopping is the norm, ecommerce tools are more critical than ever.
And while there is no shortage of ecommerce platforms, choosing the right ecommerce software solution for your business can be daunting.
The most popular and arguably obvious choice of ecommerce store for many is Shopify. But it's not the only reasonable option out there. One name that has been buzzing in the past few years is osCommerce.
Both have tremendous upside for online businesses but have their own challenges. Which one is the best ecommerce platform for your business?
Read more and find out…
Article Overview
Shopify vs OsCommerce: Side-By-Side Comparison
Vendor Comparison
Shopify vs osCommerce: Pros and Cons
Shopify vs. osCommerce: Ecommerce Features
Shopify vs osCommerce: Design Customization
Oscommerce vs Shopify: Pricing
Marketing & SEO
The Takeaway
Shopify vs OsCommerce: Side-By-Side Comparison
Shopify is the most popular option for online businesses of any type, shape, and size. It is packed with all the features you need to build an online store, from ecommerce features, SEO features, basic templates, website builder, a blogging platform, and more.
Shopify's features are more than enough to get you started.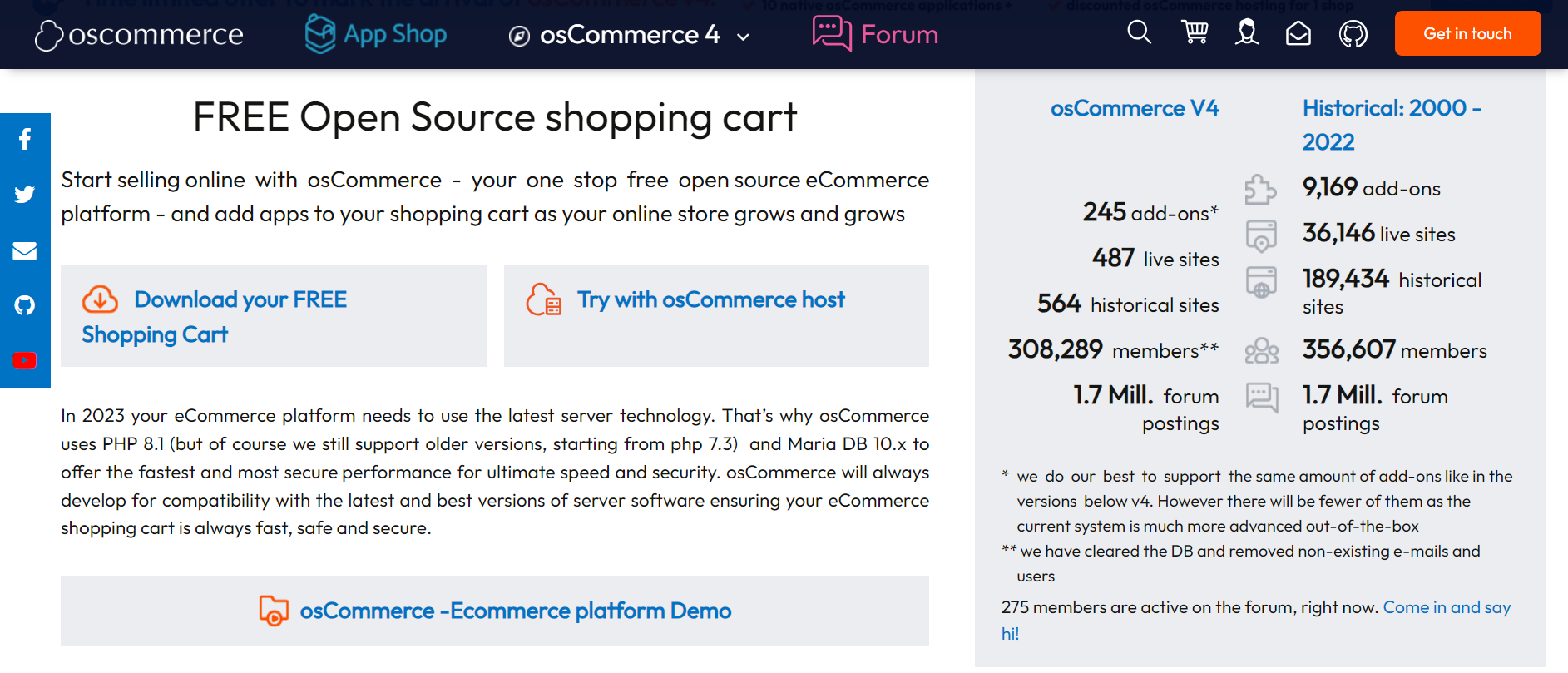 OsCommerce is a lesser-known ecommerce platform, but it has gained popularity in the past couple of years. This self-hosted allows users to manage their web hosting needs, including backend tech, patches, etc. It has plenty of customization features that attract customers to build unique online stores.
Vendor Comparison
Both platforms offer features for easy and convenient selling of products. They offer customizable carts and powerful plugins and add-ons to help businesses set up their stores.
Shopify, however, takes pride in its platform as an all-in-one shop. Users don't need to purchase an SSL certificate and hosting separately vs Shopify, like usually would in an open open-courseware.
osCommerce, on the other hand, is an open source ecommerce platform that currently supports thousands of websites from all over the web. As a self-hosted system, users are responsible for many aspects of their online store. But this also means more customization options.
Shopify vs osCommerce: Pros and Cons
What better way to compare these two platforms than to have their pros and cons compared, right? While both tools have appealing points, they will not be perfect for everyone. The right one for you depends on many factors, primarily your preference, experience, budget, etc.
Shopify Pros and Cons
Pros
The most popular service online store platform with its unique features
Extremely flexible, with lots of options for add-ons
Manage security and updates on your own
One of the very few selling platforms that support selling through multiple channels
Premium templates integrations, with lots of free stuff
User-friendly, drag and drop functionality has everything you need on the back end
Cons
Costs can add up quick, depending on the add-ons and apps you use
Lots of amazing add-ons mean more things you need to study
Transaction fees can add up
osCommerce Pros and Cons
Pros
Customizable experience
The online business store is easily scalable, thanks to open-source environments
Strong osCommerce community and support
Quality and good-looking template
Continuous improvements on open-source code
Users can choose their web server hosting and security options
Cons
Open source software also means handling site updates, maintenance, hosting, etc.
Requires work on the backend
Prone to errors
Shopify vs. osCommerce: Ecommerce Features
While you need to consider the initial and ongoing cost of the platform, price doesn't matter much if you get what you paid for, right? The right ecommerce tools can make a difference in how you build and run your online business, from workflow support, reports, team processes, sales management etc.
Shopify's features are comprehensive, if not complete. It has everything you need to build a business store from scratch and start selling.
Compared to other selling platforms, they can cater to all sizes and types of businesses and have a wide array of payment gateways. This is easily one of the strong points of Shopify that attract customers, which can help you build your customer accounts. Editing options include HTML and CSS adjustments for your pages.
Another notable feature of Shopify is the free and premium templates. They range from the very basic template to advanced features. Aside from the usual PayPal and credit card payment options, customers can also use global currencies.
Moreover, Shopify comes with reporting and analytics for users' convenience and a content management system for email marketing and blogging.
Other Shopify capabilities include:
Affiliates program
Automatic tax calculation
Customer data
Domain name purchasing
Dropshipping functionality, including fulfillment options
Free and premium themes
Manage abandoned carts and recovery
Merchandise display
On-site search tool
Social media environments
Social media integrations for multi-channel selling
SSL certificate
Website design and content
Etc.
 osCommerce Features
OsCommerce comes with unique features, such as the feature to add product attributes. This alerts users when they are low on stocks and is a tool to help manage newsletters.

Like Shopify, it also comes with many add-ons, so you can easily adjust and customize your site to suit your needs, all without worrying about what you are allowed to do. You can also start building for free since the software is free to download.
And while it may not be as easy as pre-built site solutions that come with drag-and-drop functions, it is still intuitive and easy to use.
If you want to build and launch easily and quickly, this could be the thing for you.
Some of the notable features of osCommerce include:
Accounting extension and tax handling
Add-ons and plugins for all your needs
Advanced customization
Cache-control, database control
Currency settings, language selection options
Customer accounts and management
Easy modifications
Fully-featured security checks
Inventory management and order processing
Product catalogue management for unlimited products
Review and testimonial management
Special offers and voucher codes
Strong community
Tons of product categories and options
Shopify vs osCommerce: Design Customization
Shopify is easy and enjoyable to customize, thanks to its drag-and-drop builder function. While the platform is not a true drag-and-drop builder compared to other ecommerce sites, it is easy to work on.
Plus, they have provided plenty of keyboard shortcuts for your convenience. Moreover, starting with this platform is extremely easy, thanks to its wide selection of themes.
OsCommerce, on the other hand, doesn't provide the same design and customization function. It provides a basic template for small businesses to start their online store. However, that's pretty much it regarding your storefront quality. This, of course, is not a big deal if you have web development experience or a developer in your team.
The same story goes with their front-end editing; the open source platform's technical support is non-existent. The upside is there is no monthly, monthly or annual fee either. So if you have some experience in web development, customization should be easy for you.
Oscommerce vs Shopify: Pricing
In terms of pricing, there is no winner between the two, as each person's budget and needs differ. Nevertheless, Shopify's price is $29 monthly (for Basic Shopify). They also have other bundles priced at $79 (Shopify), $299 (Advanced), or even up to $2,000 (Plus). They also have a lighter and more affordable bundle perfect for startups and small businesses at $9 per month basic Shopify.
OsCommerce, however, is entirely free to download and use, like most open source platforms. However, this doesn't mean that you no longer have to shell out money for your online store, as you need to pay for your hosting plan (monthly or yearly to pay), domain name, security, maintenance, third-party add-ons, and more. Not to mention the design and template options.
Marketing & SEO
Aside from offering a shopping cart functionality for businesses, Shopify and Oscommerce also provide marketing and SEO tools to help store owners take their ecommerce site to the next level.
Even if you are limited by the available and built-in features on Shopify and Oscommerce, you can leverage third party integrations to maximize what you can do, marketing-wise. For example, you can employ a product research tool for Shopify that helps you see what products are trending and what your competitors are selling (and making money from). It removes the guesswork of your marketing and research aspect to ensure you can get the best results for your online store.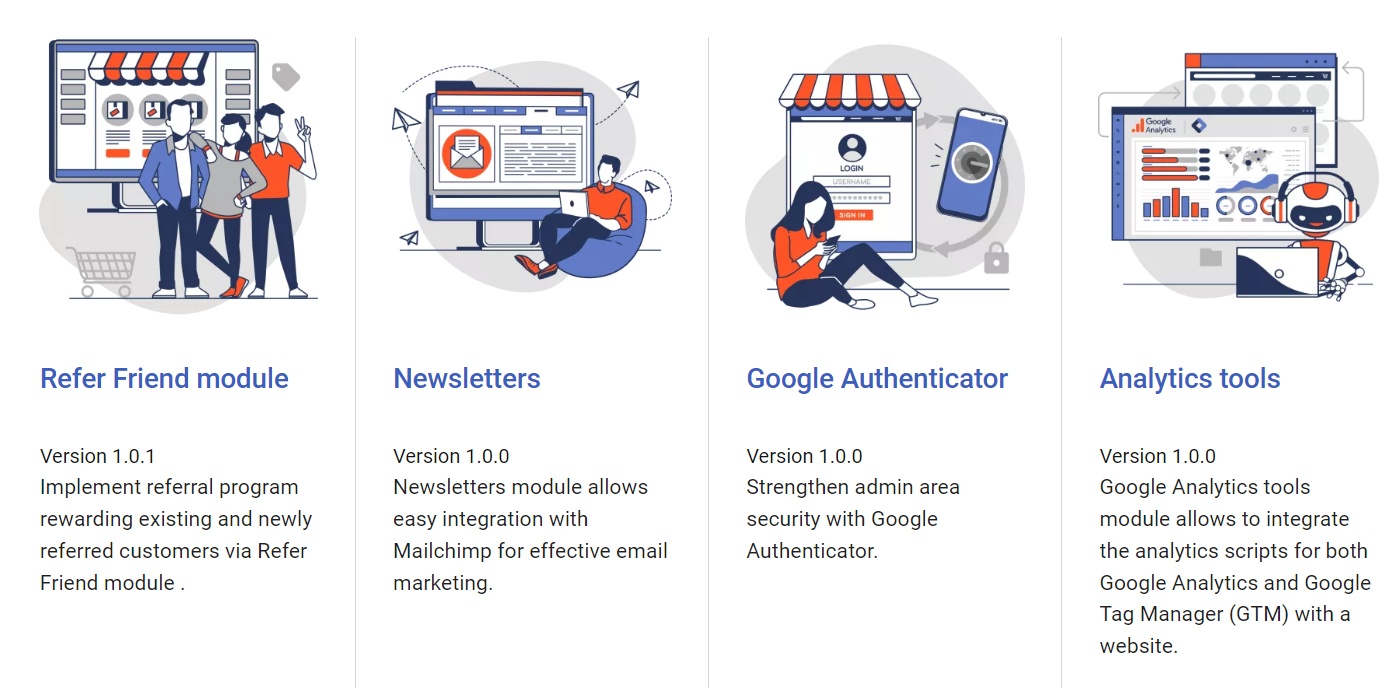 Meanwhile, Oscommerce allows you to integrate third-party apps that allow you to add client reviews on your website, promotions and discounts, newsletters, recovery for shopping cart, etc.
The Takeaway
Shopify and osCommerce are like apples and oranges; they differ in many ways. Both have their benefits. The latter's open source system makes it highly flexible. And if you have no problem integrating that with PHP or MySQL functionality, then it's an excellent choice. You can start your ecommerce store from scratch without breaking the bank.
Shopify takes care of everything for you. They take away the hassles and stresses of building an ecommerce site. It simplifies the process and provides plenty of options for your and your customers' convenience.
Want to review our other Shopify comparison articles?
Check out our comparisons of Shopify vs: