There are a number of challenges dropshippers may face at the start of the business venture. Finding a reliable and affordable dropshipping supplier is among them. Dishonest suppliers are a dime a dozen and the genuine ones seem rarer to find. Your success as a dropshipper depends heavily on the suppliers you choose.
If you haven't found your niche or product, you can use ZIK Analytics to search for trending products on eBay. ZIK Analytics allows you to carry out niche research, product research and competitor research all in the same tool.
You can either choose to dropship directly from retailers or wholesalers. Wholesale suppliers have a number of advantages over retailers, in terms of pricing, quality control, and delivery. But retail suppliers allow you a much wider range of products and access to trending products.
In this article, we will walk you through the process of finding dropshipping suppliers in your niche, list the 10 best dropshipping suppliers in 2022, and show you how to choose the best dropshipping suppliers for your store.
How to Find Dropshipping Suppliers 
According to Torchbankz, 84% of retailers say finding a reliable supplier is one of the major challenges in starting up their business.
There are a lot of reliable suppliers out there. You just have to put in the time and effort into finding them. Finding a trustworthy supplier that no one else in your niche is using can be a great way to differentiate your store and product offerings.
Here are ways to find dropshipping suppliers for your store:
Google Search for suppliers in your niche.
Search for keywords such as "become a dealer dropshipping" or "become a seller dropshipping." Or, search for anything similar. This will give broad results that aren't niche-specific.
To find suppliers for your product category, specify your category in the search box. For example, "become a smartwatch dealer dropshipping." Basically, the search term + your niche.
The next step is to make a list of suppliers you think are the right fit for your business from the search results. After that, find out more detailed information about them. Get in touch with the ones who really interest you.  You can choose to contact the less interesting options to keep your options open.
It is recommended to conduct detailed research about a wholesaler before making an arrangement with them. You can then sign up on their webpage and get in touch with them. You may have to look past the first page of Google for this one
Trade Shows
Trade shows are periodic events held by participants in an industry to discuss and showcase recent developments. Trade shows can last for several days and often include exhibitions, networking events and workshops. Trade shows can be vital in finding wholesale suppliers and manufacturers. You can find great product offers and build lasting relationships with people in the same industry.
You can find upcoming trade shows by searching for them on Google. Wholesale Central also lists local trade shows on their website.
Supplier Directories
Supplier directories are  a convenient way to find suppliers for your store. Wholesale dropshipping suppliers in a directory are usually arranged into different categories based on their niche, product type or market. The suppliers are vetted and checked to see if they meet the directory's guidelines.
Some wholesale supplier directories are completely free to use while others charge you a monthly or annual fee to use. One of the emerging free supplier directories is Dropshipping.com Supplier Directory. They list 2000+ pre-vetted suppliers, with contact info and the essential supplier overview to help you make your decision. Wholesale supplier directory saves you a lot of time looking up and researching suppliers.
How to Find the Right Suppliers for Trending Products on eBay using ZIK Analytics
Instead of finding suppliers for a niche or product category, you can choose instead to find suppliers for specific products that are hot and trending with ZIK Analytics. This allows you to gauge demand and control inventory to prevent overstocking.
The following are the steps you need to take to find suppliers for trending products:
Search for your product category on eBay
Note the top-selling products and check out the retailers selling them.
Open ZIK Analytics and click on "Competitor Research"
Type in the Seller's name
You will find the store's sell-through rate, active listings, overall sales earnings and the brands that sell best on that store.
You can search for wholesale suppliers for that product on Google
Then, you can match the top sellers' active listings with products from the suppliers.
10 Best Dropshipping Suppliers 
The following are different dropshipping vendors from which you can source your store's retail items. The list contains both wholesale and retail suppliers for you to choose from.
SaleHoo
The first company on this list is not really a vendor but a wholesale directory. Founded in 2005 and based in Christchurch, New Zealand, SaleHoo is one of the largest wholesale international directories on the Internet. SaleHoo serves over 100,000 retailers, mainly in the United States, Australia, Canada, and the United Kingdom.
SaleHoo's wholesale directory lists more than 8,000 pre-vetted suppliers and about 2.5 million products. The suppliers are from all over the world and there are no geographical restrictions. The large directory allows you to find products in different, popular niches and import them directly to your store.
If you are a retailer on either eBay, you can give SaleHoo a try. It costs an annual fee of $67 to use and comes with a 60-day money-back guarantee. It does require you to contact suppliers and liaise with them directly and may be better suited for more experienced dropshippers.
AliExpress
AliExpress is an e-commerce platform owned by the Alibaba Group. Aliexpress has millions of products that ship around the world. Most of the sellers on Aliexpress operate from China and source their items from manufacturers in the area.
Aliexpress is completely free to use. There are millions of affordable products in different categories, from electronics to cosmetics.
The majority of merchants selling on AliExpress are based in China and source their products from the region. It is open to people around the world for free. AliExpress ships to over 200 countries. Delivery time varies and can range from two weeks to over a month.
AliExpress also allows you to order products directly without contacting the sellers, making the process easier and a lot smoother. The major disadvantage of AliExpress is that shipping can take a long time and this can serve as a drawback to retailers that have already picked up steam. That said, beginner dropshippers can find Aliexpress attractive because of its cheap prices and product diversity.
Alibaba
Alibaba.com is the largest B2B platform for wholesale trade worldwide and has over 100 monthly users. Similar to AliExpress, Alibaba.com is a subsidiary of the Alibaba Group. But, Alibaba is strictly a business-to-business (B2B) platform and is geared towards connecting you with the suppliers of the items you are after. Items are sold in bulk and orders can be fulfilled via dropshipping.
Alibaba's mostly Chinese suppliers offer a wide range of different products. Products are sold at wholesale costs which can improve your profit margins. It is also possible to arrange for private-label or white-label products on Alibaba. Integrations with Shopify and other e-commerce platforms are also available.
Suppliers on Alibaba are strictly vetted but there is still the possibility of being defrauded. So, do apply due diligence while choosing a supplier. Alibaba is completely free to use but just like Aliexpress, shipping can run a little slow unless you are willing to pay for air freight.
Doba
The second supplier directory in this list, Doba was founded in 2002. Doba is based in the United States and charges you a service fee of $60 per month ($720 per year) to provide access to its curated list of suppliers.
Doba provides you with a convenient, centralized platform for finding suppliers, ordering items, and managing stock. Doba allows you to place orders and list items in your store directly from its interface. Integrations with Shopify, Amazon, eBay, Woocommerce, etc, are available.
Pricing is a bit on the high side, compared to other options. But if you're looking for an easy-to-use platform and don't mind paying a bit more, Doba is likely excellent for you.
Wholesale Central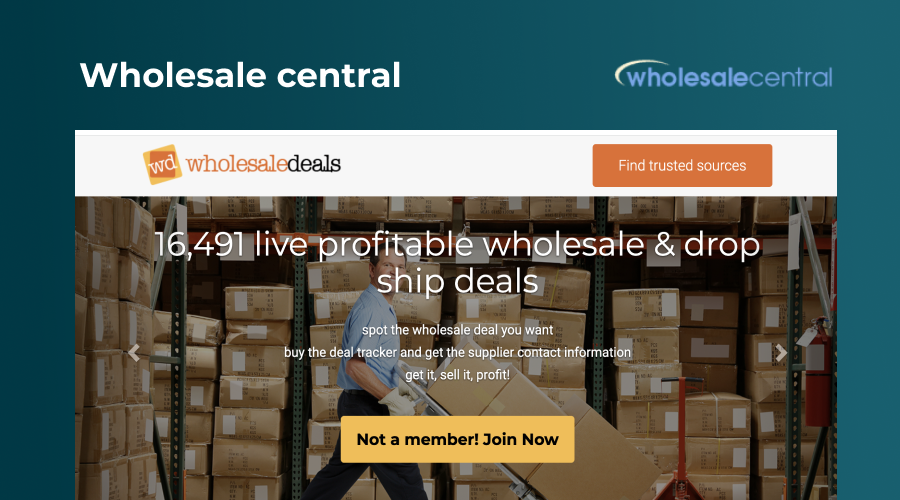 Wholesale Central is a wholesale supplier and product directory that costs nothing to use. They instead charge suppliers for them to be listed. Suppliers are also vetted before being added to the directory. You can search the directory by product or supplier and the website will provide a list of results that match your search query.
The directory is open and free to access by anyone. However, it is somewhat limited for dropshipping and few of the vendors offer dropshipping services. You can also find upcoming tradeshows on the website. You can choose to sign up for the Wholesale Central Buyer's Network (for free) and receive added benefits.
Wholesale Central does require you to deal directly with suppliers and offers no integrations or automation. It may be a better option for more advanced sellers who are comfortable doing everything manually.
Inventory Source
Inventory Source is an inventory and order management solution that provides you with a supplier directory of over 200 pre-integrated suppliers. It allows users to sync inventory with suppliers and  upload products automatically to their retail stores.
Inventory Source is based in the US and offers a convenient and easy-to-use platform for dropshippers. Inventory Source not only provides you access to their supplier directory, they also allow you to add and manage your own suppliers.
Products are available from top brands in trending niches. Also, Inventory Source integrates with eBay, Amazon, and Walmart.
However, Inventory Source charges extra per supplier. The basic plan allows you to integrate with one supplier for $99 per month while the plus plan is charged at $149 per month for two integrations. The supplier directory is free to use.
Worldwide Brands
Worldwide Brands was established in 1999 and offers a large selection of authorized wholesale suppliers and wholesale manufacturers in their directory. They also provide training material for beginning dropshippers.
Worldwide Brands offers over 16 million products in various niches, from home decor to pet supplies. Worldwide Brands doesn't require monthly or yearly subscription for access. Instead, one-time payment of $299 gets you access to the directory forever.
Wholesale Brands advertises that all the suppliers have been vetted and proven to meet its guidelines. This means that suppliers in the directory are reliable and can be trusted. However, user reviews say that the prices the suppliers charge are too expensive.
Wholesale2B
Wholesale2B is an inventory and order management system that provides you with a supplier directory. Wholesale2B provides you access to over 1 million dropship products. It is integrated with several e-commerce platforms and digital stores.
You can access the directory for free. But, dropshipping requires you to pay a service fee and Wholesale2B charges a different subscription fee per platform. Wholesale2B's customer service isn't the best and complaints can take over a day to get a response. Also, the prices from some suppliers can be quite steep and reduce your profit margin. That said, Wholesale2B may be a great way for you to get started with dropshipping.
National Dropshippers
National Dropshippers is a dropshipping service that is based in New Hampshire, US. The company partners with vendors around the country to make dropshipping faster and easier.
Shipping and delivery is quick, due to the company's established network of suppliers. National Dropshippers allow you to test the service for 7 days free before paying. The membership plans are flexible, compared to other options and this allows you to choose the plan that fits you best. There are monthly, quarterly, semi-annually, annually and lifetime plans.
National Dropshippers however lacks the integrations provided by other services. Also, there are a limited number of products available to sell.
Sunrise Wholesale
Sunrise Wholesale offers over 15,000 products in different categories. Founded in 1999, Sunrise Wholesale has a large variety of product categories, including electronics, toys, gardening, etc.
The service is only available in the US and Canada and is integrated with several e-commerce platforms. They ship to customers within a week.
Sunrise Wholesale has a 7 day free trial. After which, membership cost $49 per month. However, inventory is a little limited, compared to other options and you can't ship products outside the United States and Canada. If your store is based in the US or Canada, Sunrise Wholesale can be a great option.
Want to browse more dropshipping suppliers? Check out this guide by Wifi Hustlin
Conclusion
Whether you're just starting out or you are an experienced dropshipper, carefully considering your supplier options can help you increase your profit margins and increase customer satisfaction. The right supplier can make all the difference in your dropshipping business. To ensure scalability as operations grow, it is also important that your supplier integrates with your ecommerce platform.
With ZIK analytics tool, you can reduce the time and effort spent on research and find the wholesale suppliers that are the best fit for your niche and product type.
FAQ
How Do You Spot Fake Dropshipping Wholesalers?
They sell to the public: No real wholesale supplier will sell to the general public. If a supplier sells to the public, they are most definitely fake and you shouldn't bother wasting your time listening to whatever reasons they may have. Most wholesale suppliers usually have checks in place to confirm that they are selling to actual businesses.
They don't want to give samples: It is common sense to ask your supplier to send you samples before making a deal with them. This lets you examine the quality of the item and lets you confirm the legitimacy of the supplier. Fake suppliers may refuse to provide samples and give you several excuses to stall for time. If a supplier does this, they are most likely fake and you should look for other options.
They are 'middlemen dropshippers': This is another scam run by fraudulent suppliers where they claim to be real dropshipping suppliers but they actually mediate between you and the real wholesalers. This leads to an increase in the prices you pay on products and cuts into your profits. You can do some online research to find out if a supplier is the real deal or a sham by looking into details like their business license, factories, facilities, etc. The pricing is also a dead giveaway. If you can get better prices somewhere else or you find that the supplier's offer is too close to the retail price, you should probably work with a different supplier.
They don't provide multiple contact details on their website: The lack of multiple contact details including physical addresses, email addresses, and telephone numbers on a supplier's website is a definite red flag.
How do you Confirm if a Supplier is Genuine
Check feedback: On marketplaces such as AliExpress, you can see previous reviews about a vendor. Negative feedback by several buyers should cue you to avoid that vendor. Keep a lookout for reviews that mention fakes or counterfeits.
Research: You should always find out as much as possible about a supplier. Check to see if they are in any reputable directory. Try to find out if they have been associated with scams in the past. You can even ask manufacturers if they work with the supplier.
Ask for samples. This is a good way to vet a supplier and check the quality of their stock.
The following are some questions to ask yourself before agreeing on a business deal with a supplier:
How do they deal with defective or returned goods?
Exactly how long does it take for a customer's order to be fulfilled?
The company's customer service? (You can test this yourself if you'd like.)
Do they insure purchases?
Is there any safeguard against fraud?
Do they have great online reviews and testimonials?
How do Dropship Suppliers Handle Returns?
Customers who express dissatisfaction with product quality, delivery time or return policies can be addressed directly by the seller in standard ecommerce.
However, dropshipping is a business model in which the supplier is largely responsible for the product, but the store owner is still responsible for communicating directly with customers.
This leaves dropshippers with little choice but to hope that their suppliers will address issues while also assuring customers about a situation that is entirely out of their hands.
When the dropshipper communicates back and forth between the customer and supplier, there is also a delay in communication. Communication grinds to a halt if one responds slowly, and the problems take longer to resolve.
These early bad reviews, especially if they're publicized, could spell the end of your business before it's even begun.
You'll have to check with each dropshipper to see what their policies are on this. To return an item, you will often need to get a return merchandise authorization (RMA) from your supplier, which aids the process of your customer shipping the product back to their address.
Make sure you also have all other item information on hand to help the customer support process go as smoothly as possible.
Once the item is shipped and received, the supplier will refund you and you refund the customer. Beware of extra fees from your dropshipper, including a restocking fee.
Return merchandise authorization (RMA) from your supplier is often required to expedite the process of returning an item from your customer. Make sure you have all of the product information you need to assist customers in a timely manner.
You will receive a refund from the supplier once the item has been shipped and received, and you will refund the customer. Dropshippers often charge additional fees, such as restocking fees, so be on the lookout for this.
Is International Dropshipping Profitable?
International shipments can quickly spiral out of control, and getting accurate quotes on shipping fees, customs, and duties for hundreds of countries can be a daunting task. To process an international order, dropshippers must deal with more paperwork. There are suppliers who will charge an additional fee, and then there are those who won't. However, it might be profitable if you have done your due diligence with the supplier beforehand and considered your profit margin.