Launching an eBay store business is exciting and scary at the same time. If you have done your research well enough, your eBay business is off to a great start. There are over 1.3 billion active listings on eBay and quite a few online sellers, too. Therefore, eBay might be a popular platform to sell online but with it comes a great amount of competition.
What do you do to excel in dropshipping?
If you are interested in growing your business of dropshipping products, you must be able to identify the hot products to list on your eBay online store. The quality of the products and their popularity will determine whether you will become successful in your dropshipping business or not.
Using eBay research tools is one of the most successful strategies you can employ to outperform your competition to help you appear higher in the eBay search engines. You can take the guesswork out of the equation when you find a reliable eBay product research tool like ZIK Analytics. Find out why it is important to turn to research tools to find product ideas and hot selling items on eBay so you can make a steady stream of passive income.
Mistakes to Avoid When Searching for an eBay Product to Dropship
If you are new to eBay or building a dropshipping store, you could easily commit some of the common pitfalls in finding a particular product to sell on your online store.
The first and most common mistake (especially newbies) is to choose a product based on your personal opinion or experience with the niche. For example, you choose an eBay product on the fitness niche because you are passionate about fitness and staying healthy. On the other hand, you miss out on the hot products on eBay because you are not interested in the niche.
This approach is a major no-no when choosing an eBay product to sell online. Focus on performing a product analysis on your product research tool, such as total sales, sell through rates, historical sales, quantity sold, and average product price. When you use the sales data as your guide for choosing the best and hot products to add to your dropshipping business, you can expect to enjoy a significant profit margin from your sales. On the other hand, choosing products based on your gut or personal opinion would mean that you have no actual basis for choosing that eBay product; hence, you won't know if it would actually sell.
Another common mistake that eBay sellers commit when choosing top selling products is failing to optimize their own listings. You need to use relevant keywords on the eBay product listings, add a product description, and price your product competitively. Performing keyword research is something that you must do when for your eBay listings to generate a high amount of traffic to your product listings.
It is also important to price your products accordingly to ensure that you are not pricing the best selling products higher than your competitors. If you do, they will most likely buy from another dropshipping store, which erodes the effort you've done at finding the top selling items.
Methods for Finding Top Selling Dropshipping Products on eBay
The first step to ensure success in your dropshipping eBay business is to do market research. There are many free product research tools that you can find out there. However, a premium software for your eBay store is a worthy investment. An eBay product research tool like ZIK Analytics offer advanced insights and sales data that you can use to determine if a particular product is going to generate you lots of sales and profits.
Reliable eBay product research tools such as ZIK Analytics can help you examine sales trends that will inform your decision on whether a product or niche will boost your total sales. It is an extensive multi product analysis tool that has the information you need about hot products that buyers are looking for or are willing to pay for.
The best method to use for finding the best products to add to your eBay store is known as reverse engineering. Instead of looking for products directly, you can look at other dropshippers to see what they are selling and how those products are doing for their business. Taking this approach will save you a great deal of time finding products because you know that a demand for that product already exists. You will also be able to perform a competitor analysis wherein you assess other dropshipper's pricing strategy and how it translates into actual sales.
You can employ the reverse engineering method for finding the best eBay product to sell online for both the product research and category or niche research. Below is a step-by-step guide on how to use the ZIK Analytics, one of the best tools for this purpose.
Product Research for Dropshipping products
The first thing you need to do when looking for products to sell online via eBay dropshipping is to launch the eBay research tool. With ZIK Analytics, you can proceed to the Product Research section. Make sure to choose the correct settings for your search to find the most relevant product ideas for this particular search query and other related queries.
You can start with a niche and then you will find several products generated for you by the product research tool. You can narrow down your search results to dropshippers so you can see which items they have listed on their eBay store. The search results from the eBay product research tools will include but are not limited to the following:
Sell through rate
Active listing
Quantity sold
Revenue
Successful eBay listings
Average product price
Other sales trends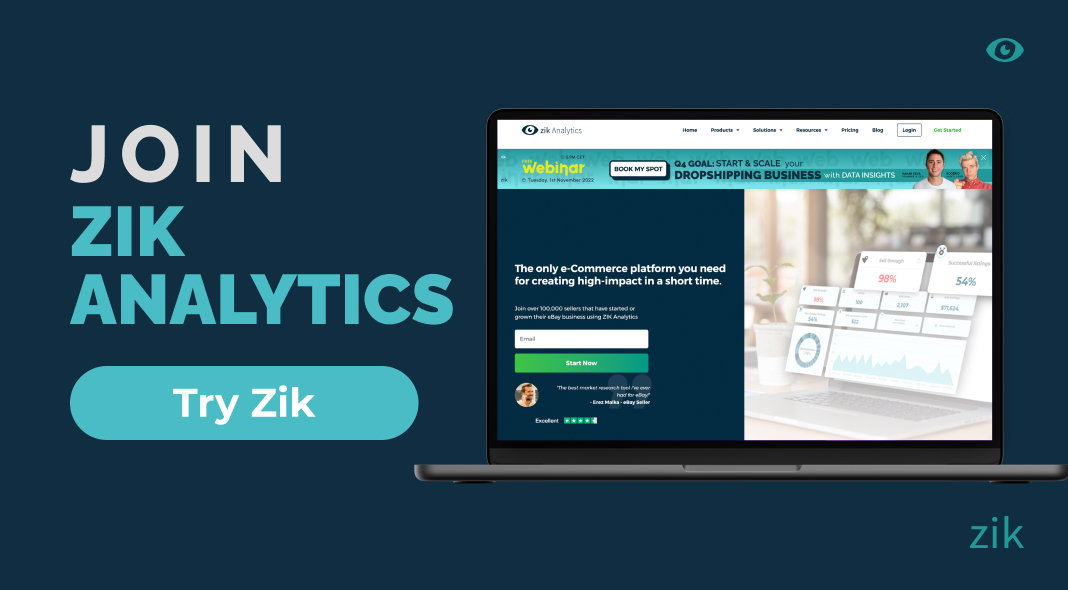 In addition to the information above, you can also get more information about each seller. First off, make sure you have filtered out the dropshippers from the sellers list so you can optimize your product research. Check out the location of the seller, the feedback for the dropshipping seller, the sales performance in the past 30 days, and product information.
From the dropshipper's profile, you will be able to see their best selling products. You can look for high demand products and look into their sales performance to help you determine if that would be a good product to have on your online store. The high demand products are the ones that have at least five sales in the past 30-day period, or those with a competition rating of no more than five to ten. There is a balance in finding products to sell online between those that customers want to buy and those where only few sellers on eBay have listed on their shop.
You can also further investigate about each of the top products that your competitors are selling. Use the Item Finder button on the research tool so you can find the product on Aliexpress (or any other dropshipping supplier websites). This will enable you to compare the average product price offered by the supplier versus the listed price of the competitor.
Using the method above will enable you to calculate the average profit margin for that product, which will in turn determine if it is a profitable product to add to your dropshipping business. Make sure to consider the eBay fees and the shipping costs when creating the price strategy for the product. Therefore, you will be able to tell exactly how much you can earn per product sold. At the same time, you want to make sure that you can keep your product pricing competitive. Even if a product is high in demand, you won't be able to make sales out of it if buyers can get it for a much lower price from your competitors.
The final tip to consider when using the reverse engineering method for finding hot products to sell on eBay is to never choose products without adequate sales history. If you do, you could potentially risk not making enough sales for your online business. Picking the hot products that are already generating sales for the online sellers can put you in the best position to grow your eBay store.
Niche or Category Research
Aside from finding hot products to sell, you can also use ZIK Analytics as a competitor research tool. It will pull essential data from eBay about top selling trends and average price for top products.
You can also use this tool for finding the most profitable niche or categories of products to add to your eBay store.
Again, you can use the market research tool to find dropshippers who are doing well on eBay to analyze their sales data. You can pick out top keywords and categories to input on the research tool so you can see how well the products under that category are doing.
For example, as you analyze the performance of one dropshipper's profile, you see that they are selling plenty of gardening supplies such as a shovel, rake, trowel, and gardening gloves. Based on the sell through rates for these products and historical sales data, you input the keywords "gardening" and "gardening supplies" in the search bar. The search input will generate useful data that will give you product ideas and sales performance about the products within that niche or category.
You can see the total sales over the last 30 days, as well as lifetime sales for the product. Therefore, the research tool allows you to look at the short- and long-term selling trends for the niche. It is important to examine the short- and long-term sales performance for the niche because you want to make sure that you can generate a consistent number of sales for the products on your eBay store. You don't want to make a quick and one-time earning. Your goal is to find hot products that will get a high level of demand now and for a sustainable period. This is important when choosing a niche with the help of a market research tool like ZIK Analytics. The goal is to ensure sustainability for your online business.
When examining these products, you will also be able to generate keyword ideas that you can incorporate into your eBay product listings.
Conclusion on eBay Dropshipping Product Research
If you are getting started with your dropshipping eBay business, you can find a free tool to help you out with product analysis and research. However, if you want to identify the top selling items on eBay, you have to invest on a paid market reader tool that offers a comprehensive analysis and market research.
The market research tool like ZIK Analytics enables you to pull out the data within a matter of seconds, which saves you a significant amount of time from doing the product research on your own. A reliable eBay product research tool will inform you about the top selling trends for product ideas. These research tools will also give insight into the average price for these products so you can calculate your profit margin.
FAQs on Product Research for eBay Dropshipping Business
Is dropshipping on eBay a good idea?
Yes. Dropshipping products on eBay is a potentially lucrative business model – if you know how to identify the best selling products. It is also important that you are smart about competitor analysis and pricing strategies to ensure you make enough profits.
What is the best dropshipping product research tool?
There are several product research tools available for eBay. ZIK Analytics is one of the top-rated market research tools to help identify the top selling items and categories for your online store.
What is product research on eBay?
A product research tool on eBay helps you identify the top selling items and categories on eBay marketplace so you can add them to your dropshipping store. The more sales data available, the better you can determine if it is worth adding a product to your online store.
How much can you make from eBay dropshipping?
It depends on how you choose your products and your pricing strategy. However, many eBay sellers have been able to make a living out of their dropshipping eBay business.
How do you analyze a product for dropshipping?
You must use a product research tool on eBay to analyze the sales data for that eBay product. You can also use the same approach for product analysis for different categories on eBay. A product research software is a handy dandy tool that will give you an advantage over other dropshippers.
How do I track trends on eBay?
Within the eBay seller hub, you can access essential metrics report about the top trends on eBay. These trends include the "most searched for" items and the "most watched" items. Make sure to keep an eye on these trends as it can inform you on what items or categories are going to experience high demand from customers on eBay.
However, it is also important to invest on paid eBay product research tools so you can get more insightful data that are not available in free tools.
What is a good sell through rate on eBay?
When researching products for your eBay store, it is important to understand what the data means. Sell through rates are one of the most critical data that you must analyze during your product research. A sell through rate of 80% is the ideal. The average sell through rate is anywhere from 40 to 80%. Anything that falls within that range is a good product to consider.
Is it good to have watchers on eBay?
For eBay experts, watchers is a good metric but it is not the best measure of success for your online dropshipping business. Watchers do not always translate into sales. Make sure to focus on actual data wherein sales were completed, which is what historical trends are for. But do not dismiss watchers either as it is an opportunity for you to make conversions.