Dear eBay sellers! We all know that being an eBay seller is not just about selling products from eBay, it is also about avoiding eBay VeRo violations and the intellectual property rights of other sellers. When it comes to avoiding Vero violations, it can be hard to keep up with them as there are many types of rules ranging from trademark infringement, and misusing brand names and logos to selling unauthorized copies and much more.
This can be confusing and challenging for many drop shippers to follow and keep up with to continue to create legally compliant listings and profit as an eBay seller. This is why Zik analytics has made this article to provide dropshippers with all the effective strategies to avoid VeRo violations by going through each eBay official policy concerning its Verified Rights Owners Program.
It also makes you, the dropshipper aware of the eBay VeRo program and how it's meant to protect intellectual property rights. On top of this, Zik Analytics provides its customers with automating VeRo checks, which no other dropshipping software does for its customers.
Firstly, what is the Verified owner's rights program? According to the eBay definition, the verified owner's rights program is the ability of "owners of intellectual property rights and their authorized representatives to report eBay listings that may infringe on those rights." In other words, it is a policy that wants to ensure that no one is stealing information from others and gives the seller the ability to protect your brand.
An important thing to know is what VeRo products are. VeRo products are items that are protected by their intellectual property rights owners due to the Vero program. The Vero program was established.
The eBay Vero list is all the registered product brands that a drop shipper can sell from. What is important to know is that it does not mean that you cannot get a VeRo violation if the brand you are selling is not listed on eBay's Vero list. This is because there are a variety of ways of reporting to the VeRo program. So not all the brands have to be registered.
Trademark Violation
There are many reasons for getting an eBay VeRo violation. Thus, we first need to know the meaning of each violation in order to avoid VeRo violations. Firstly, the most common violation is trademark infringement. A trademark infringement occurs when a seller's terminology, logos, symbols, and phrases that he uses to identify himself to his customer are copied by another seller. Copying another drop shipper's trademark is a violation because it confuses customers because they don't know which seller is who. So make sure you do not mistakenly have the same trademarks as other sellers.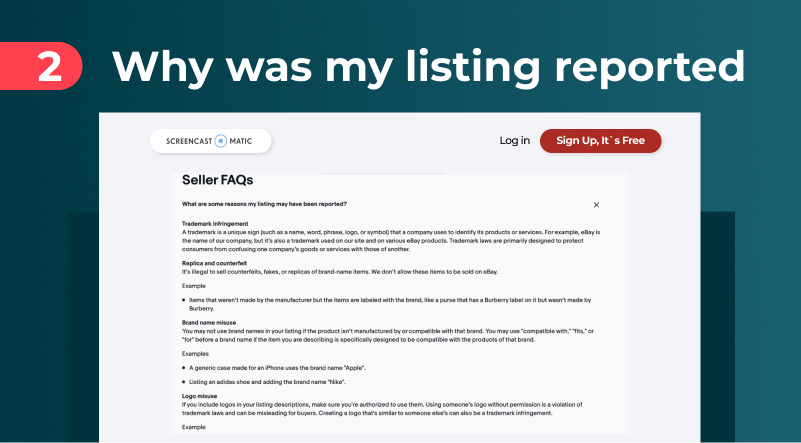 Counterfeit and Replica's
A second violation is a replica or counterfeit. This means selling products that are not produced by the manufacturer, but the name of the product indicates that it is. So, for example, a purse with the name Burberry but is not made by Burberry is a VeRo violation. On top of this, it is a serious violation because you can get a lawsuit filed against you.
Brand name issues
The third violation is brand name misuse. Brand name misuse is when you use a brand name for a product in your listing descriptions when the product is not manufactured by or has any relationship with the brand you are naming it after. However, you may use the words "compatible," "fits," "conform" and "for" after mentioning the brand's name if the item that you are describing is explicitly designed to work with it. For example, if you are selling an iPhone case, you cannot name this product in listings as an "iPhone case." You have to name it "case for iPhone 6" or "case compatible with iPhone 6."
Logo Misuse
The fourth type of violation is logo misuse. This happens when you use the logo that someone else uses without their authorization in your description.
Warranty issues
The fifth type of violation is a warranty, which is a pretty rare violation to get, but it still needs to be explained. The warranty on a product violates trademark law. An example of this is when you do not tell the potential customer if the manufacturer's warranty also includes the resale of the product.
Infringement Issue
Next, we have copy infringement. A copyright is a legal protection that authors have created software, music, photographs, and books that have been published or unpublished. Thus, copyright protection and laws are meant to avert other sellers from utilizing the work of others without their permission. Examples of this are using images from "websites or internet searches" and text that is copied from advertisements and other websites without permission. So it is important that if you really want to use someone's rights, then contact the intellectual property rights owner.
Safety related issue
When it comes to the safety of its online customers, eBay takes this subject with the utmost seriousness. This means that there are selling restrictions for dropshippers. This is because eBay does not want to put children or people in general at risk. Among the types of products that eBay prohibits sellers from selling are adult items (sex toys), alcohol, art, gift-giving, weapons such as firearms and knives, food, and more. All in all, avoid selling such products by checking the eBay website to look at the selling restrictions.
This is why Zikanalytics 2.0 is here to help you identify products in your listings that you are not allowed to sell and thus will get you a violation. This means that if there is a red alert sign below the first word of your product description, it means that you need to double-check the product. To avoid receiving a red alert, simply change the production description, for example, by removing the word "gun."
In conclusion, it is important for dropshippers to avoid getting eBay VeRo replica-styled eBay suspensions and violations due to not infringing on trademark or copyright laws by copying logos or terminology of another seller in your listing descriptions. Second, you are not permitted to sell counterfeit or replica-styled goods on your eBay listing. Third, you may not use the same name as a brand-name item if your product has no direct relationship to it. You can also not use the same logo as someone else without their proper authorization. Last but not least, you have to make sure as a seller that the buyer is aware of the warranty. The product has the same warranty despite being
Thus, if you are looking to be a successful drop shipper and you want to have a free eBay VeRo checker now is the time to check out Zikanalytics which will tell which product in your listing you should not sell. Zikanalytics is the only dropshipping software company that offers its customers an automatic VeRo check. On top of this, it is important to not get entangled in all these violations such as
FAQ
What happens if you get a VeRo on eBay?
If you get an VeRo on eBay, eBay will send you an email justifying why one of the products in your listings was removed. Furthermore, it will send the information needed to contact the rights owner's contact information.
How do I check my VeRO items on eBay?
To check your VeRo items on eBay you must go to the VeRo participants profile, where you will find the people and brands who's products are marked as VeRo products and thus are protected by the eBay VeRo program.
What is an eBay VeRo violation?
An eBay VeRo violation is a warning coming the eBay that one of your product sin your listings has violated a policy. This will be in the form of an email sent to you and explaining to you why you violated its policy. In terms of punishment, eBay can cancel your listings, hid your listings from search results all the way to suspending your account for some time or even permanently.
Does eBay have a VeRo list?
Yes, eBay has VeRo list at eBay.com where you will find all the brand names listed in alphabetical order at the very bottom of the page called: What is the Verified Rights Owner Program.