There are times when you need to block buyer on eBay. Maybe you've had bad interactions with them. Maybe they're a competitor of yours and you don't want them to be able to purchase your listings. Or maybe they've even committed fraud of some sort.
In any case, eBay gives you the ability to block eBay buyers. In this post, we're going to lay out both the what and the how of blocking users on eBay. This step-by-step guide will show you how to ban a buyer on ebay.
What Happens When You Block An eBay Buyer?
First, let's make sure we're all on the same page regarding what happens when you block eBay user.
When you block an individual eBay user, they can no longer bid on your listings, buy from you, or contact you regarding any of the listings you've posted.
You can also block all eBay buyers from a particular state or even an entire country if you wish. This can be particularly useful if you're trying to manage selling costs and only want to sell in particular geographic regions.
Want more tips like this? Check out beginners guide to selling on eBay.
For example, you might not want to ship anything overseas. You can ensure that only people in your home country can see your listings.
Or maybe you live in the lower United States and don't want to ship to Alaska or Hawaii. You can block those particular states from buying from you.
How To Block an Individual User On eBay 
First, let's talk about how to block buyer on eBay. If you have a single person (or group of users) that you want to block, you can enter their usernames and eBay will block them from your listings.
Step #1: Login
The first step is to login to eBay. Go to the homepage and click on the "Sign In" text.
Step #2: Go To The Block Bidders Page
Next, go to the block bidders or buyers page. This is where you will enter the usernames of those whom you want to block.
Step #3: Enter the Usernames Of Those You Want To Block
Next, you're going to enter the username(s) of the buyer you want to block. To find the username of a buyer, you can do at least two things. If they're an eBay seller as well, you can click on one of their listings and see their exact username.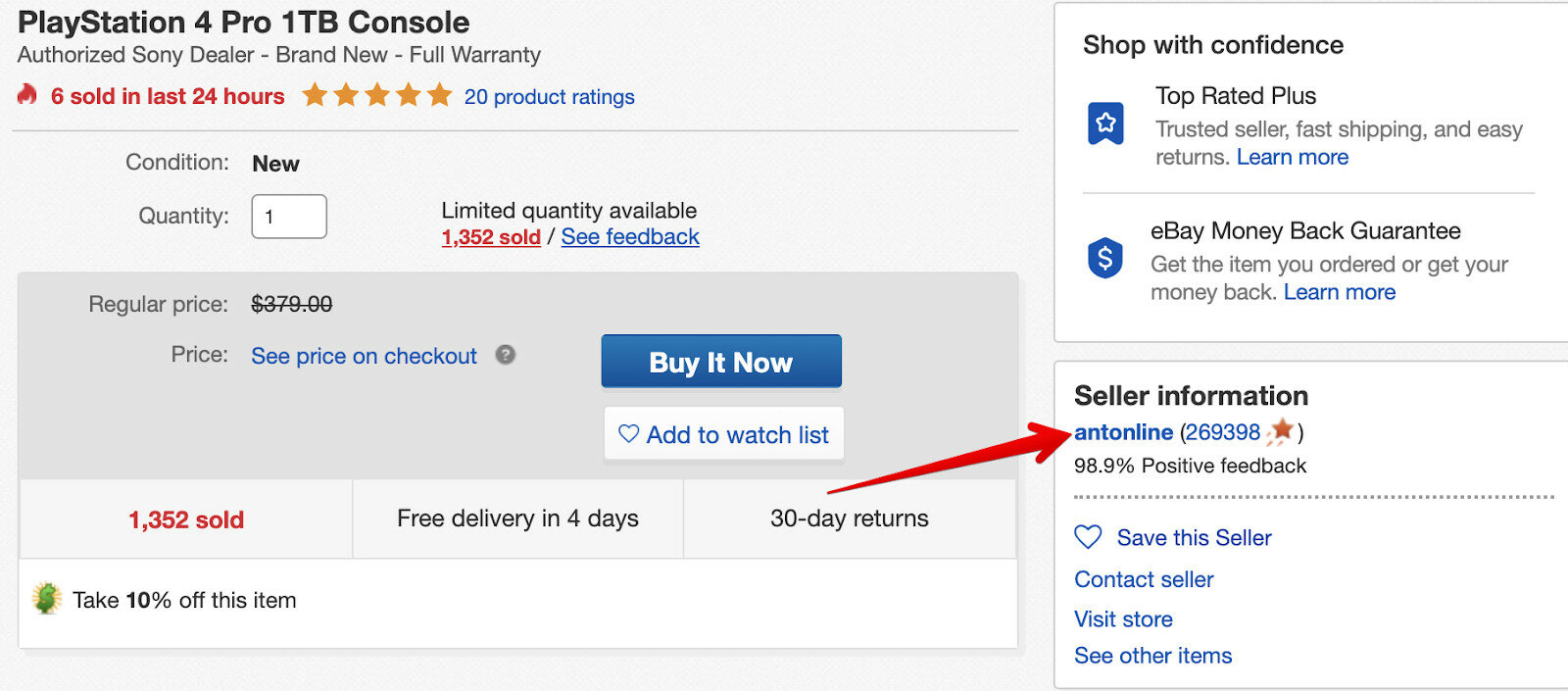 Alternatively, you can go to the eBay search page and enter a username or email. If you can't remember the exact username, you'll be shown close matches so that you can find the exact match. If you search by email address, you'll be shown exact matches.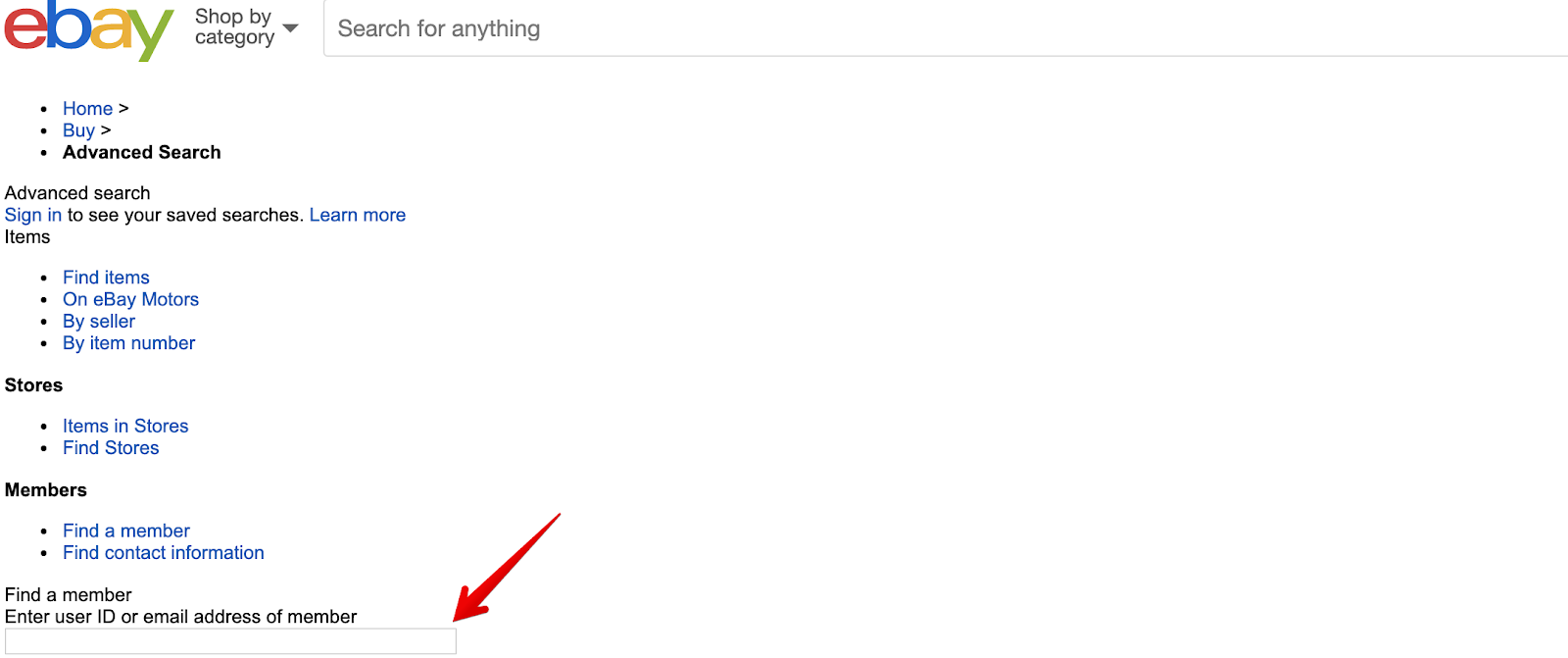 Once you've identified the username or email address of the buyer that you want to block, you simply enter that name into the "Block Bidder/Buyer List". You can enter up to 5,000 individual usernames or email addresses in the block list. Each username should be separated from the others by a comma.
For example: "JohnDoe123, JohnSmith123, [email protected], etc."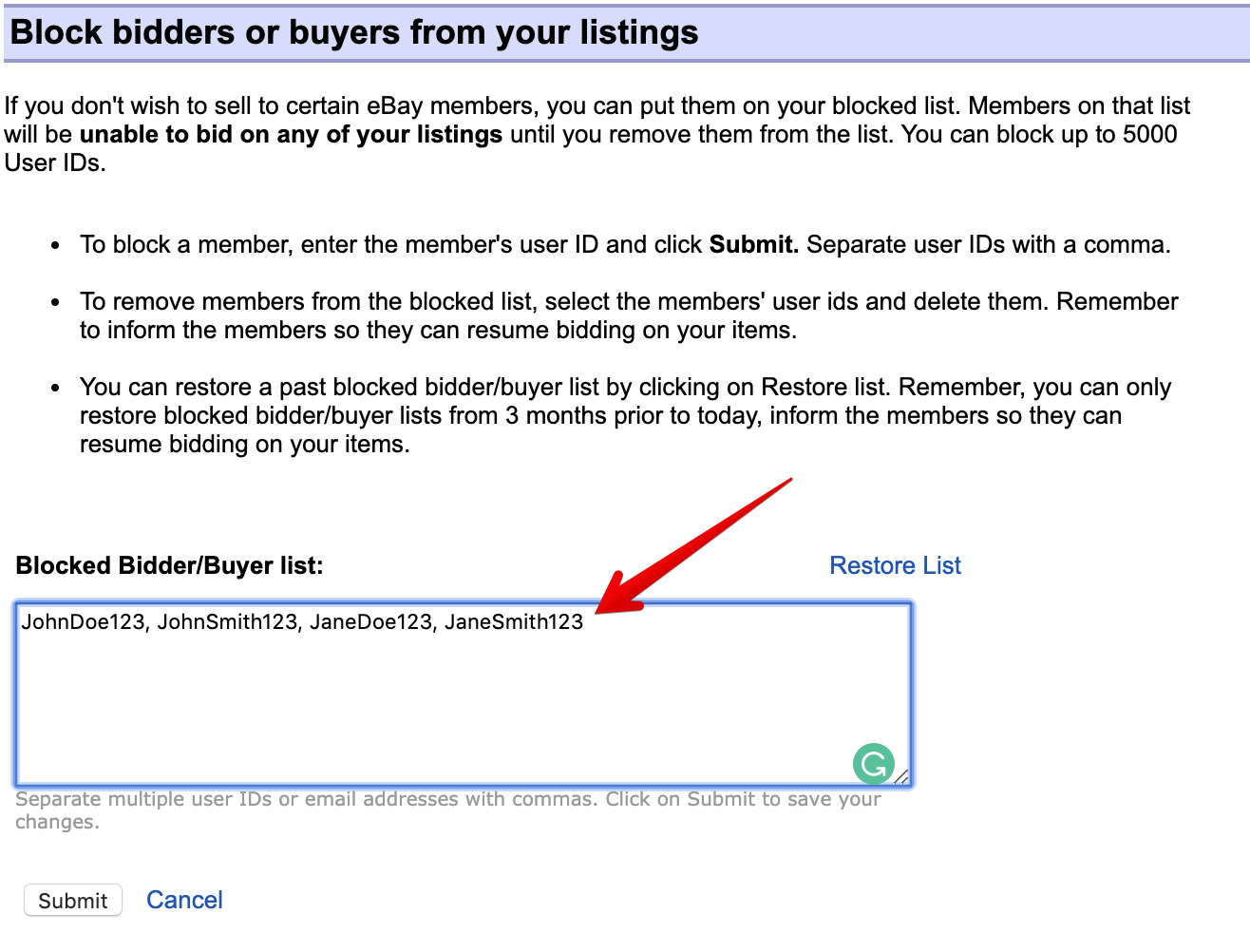 Once you've entered the usernames or email addresses of the eBay buyers you want to block, simply click the "Submit" button.
If you want to remove someone from the block list, simply delete their name. They'll then have access to all your listings and be able to bid on them.
If you've entered a valid username or email address, you'll see the following message once you click the "Submit" button:
If you've entered an invalid username or email address, you'll see the following message:
How To Block eBay Buyers By State, Country, or Territory
To block users by state, country, or territory, simply follow these steps.
Step #1: Sign In
If you're not signed in, go back to the eBay home page and sign back in.
Step #2: Click on "My eBay" In The Top Right Corner
On the home page, click the "My eBay" link in the top right corner of the page.
Step #3: Click On The "Account" Tab
Once you're in the "My eBay" section, click on the "Account" tab.

Step #4: Click On The "Site Preferences" Link
This will bring you to your account preferences. From there you can change your buying and shipping settings.

Step #5: Scroll Down To "Shipping Preferences" and Click The Link
This will take you to the shipping preferences page, from where you can block entire regions.
Step #6: Scroll To "Exclude Shipping Locations" and Click "Edit"
Step #7: Click The Regions You Do Not Ship To
Note: In this section, you can select entire regions that you don't ship to or individual states and countries. To exclude individual countries, simply click on "Show All Countries" under a particular region.
Step #8: Go Back To The "Account" Tab
Step #9: Click On "Site Preferences" 
Step #10: Scroll Down To The "Buyer Requirements" and Click "Edit"
Step #11: Click "Buyers In Locations To Which I Don't Ship"

Step #12: Click "Submit"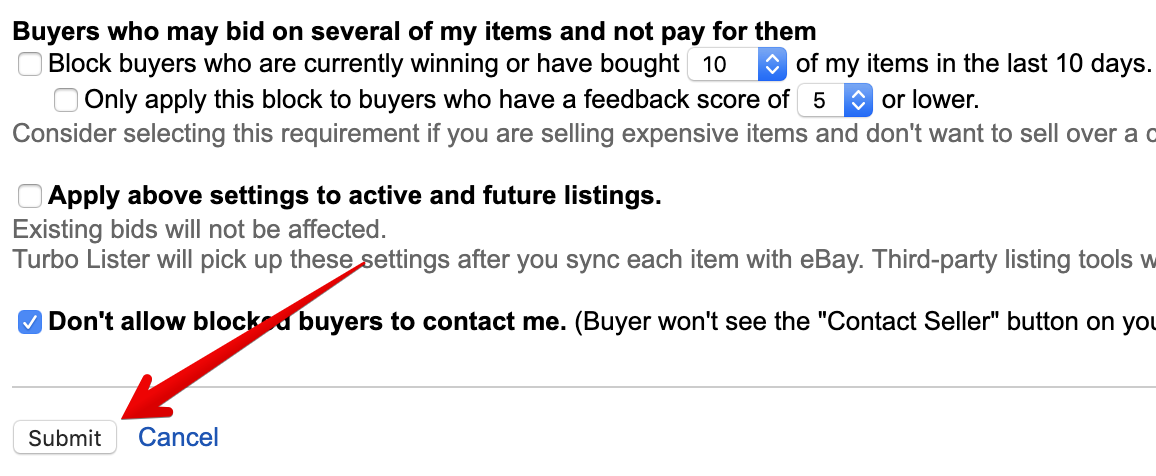 Block Away
If you follow the steps above, you should have no problem blocking individual eBay users or blocking out entire regions. If you run into trouble, you can always reference the eBay help library or contact a customer service representative at eBay.
Additionally, you can get further help through the eBay community. In the forum, you can pose questions and get answers.
New to eBay?
Here is a helpful guide on setting up a new account in 2023