The ULTIMATE eBay Set Up Guide
eBay has become one of the fastest-growing eCommerce sites on this planet. Over the years, the company has been able to gather a large customer base and is estimated to have total assets worth 18 billion (as of 2019).
At any given moment, there are around a billion listings on the eBay website and you can find and sell almost any item.
It is no wonder that thousands of businesses are using eBay's incredible services and easy-to-use interface to set up their shops. If you want to have a slice of the pizza and start selling your items at great profits, you are on the right page.
Today we will be helping you set up your new eBay account from scratch so you can start selling items quickly.
Creating an Account
While creating an account on eBay is not rocket science, there is a proper method to do so. Beginner sellers often don't know the basics of how to set up an eBay account like adding payment options and setting up store policies.
Thus, they face difficulties making sales when first starting.
A proper account will earn the trust of the customers, show authenticity and allow customers to make purchases without being skeptical. So without further ado, let's get started.
Business and Personal account
When registering for a new eBay account, you have the option to either choose a personal or business account. If you are planning to connect your business identity with your eBay store then, a business account is the right option for you.
For casual selling, you can go for a personal account. Either way, you can change your account type later as well. Follow the steps below to create an account:
1. Visit the official eBay website and click on register in the top left corner right next to the eBay sign in button. You will now be redirected to the eBay "Create an Account" page.
2. According to the latest interface update, you can now simply switch between personal or business account registration using the "Personal account" and "Business account" button toggles. Choose the one you prefer.
For a personal account, fill out details like first name, last name, and password. Alternatively, you can also register with Google, Facebook, or Apple accounts.
For a business account, fill out details including Business name, Password, Username, and Business Location.
3. Click on the Create Account button and you are good to go – you've just taken the first step to open a eBay account.
Pro Tip: If you have an existing eBay account where you have made some purchases, we advise you to use that account instead. You will already have some buyer feedback score on the account and most customers can't differentiate between buyer and seller feedback so your account will seem more trustworthy.
Don't want to read the whole article? We've made a quick video explaining the whole process below
Switch to Selling
There are a few steps you need to take to activate your eBay seller account and make full use of the eBay services. Follow the steps below to switch to your seller account:
After logging into your account, click on the "My eBay" drop-down menu in the top right corner.
Now choose the "Selling" option. You will be prompted to input additional details for your seller account.
Fill out the details including Country, Address, City, State, Postal Code, and Phone Number. Make sure the information is correct as stealth accounts or fake information can result in a ban or suspension later down the road.
You will be prompted by the message "Welcome to your selling overview!". You can now use the "eBay Selling Overview" to sell an item or check your sales information.
If you are planning to regularly sell items on eBay we advise you to activate the "eBay Seller Hub" which is an updated and more modern version of the "eBay Selling Overview". You must have at least one sale under your eBay seller account before you can activate the seller hub.
Go to Google, type eBay seller hub, and go to the eBay Seller Hub page. Alternatively, you can click here. Now click on the "Start Using Seller Hub". Enjoy!
Adding Payment Methods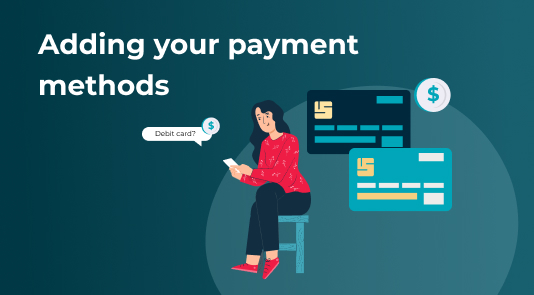 It is necessary to connect your payment accounts to eBay before you can start selling. Payment methods allow you to deposit the money you earn on eBay into your account.
eBay also charges service fees on sales you make and other types of fees. Thus, adding a payment method early on is crucial.
Steps to Add a Payment Option
Follow the steps below to link your bank account or credit/debit card with eBay.
On the eBay homepage, click on the "Hi Name!" drop-down on the top left corner where the ebay.com sign in button use to be. Click on "Account Settings".
You will be transferred to the "My eBay" page. Double-check to make sure you are in the "Account" tab.
Under "Payment Information". You will be greeted by a "Welcome!" message and a note, click on "Continue".
Under "Payment options", choose "Add payment option". Depending on your location, you will see the "Credit or debit card" and "Bank Account" options.
Click on "Continue". Add the required details and your payment method will be added.
An important note about PayPal
I am sure you have heard about eBay no longer supporting PayPal for sellers as a means of accepting payments. The reasons for this are many, but looking at it from a purely business standpoint, eBay is able to make a lot more money by handling the payments themselves as they now get to take a cut of the transaction fees.
Adding to that, that all payments are now managed under the one platform – and we see that this change was a very logical next step for eBay.
This is good news for sellers as well, as eBay has already been able to reduce the fees from 15% to around 12.09%.
A lot of sellers ask "can I sell on eBay without a bank account in 2023?"
While this use to be the case when PayPal was the main payment option, this is no longer the case in 2023. Now, you will need a bank or checking account to set up your Managed Payments so that you can receive funds from eBay and pay for fees.
Linking your Payoneer Account
Follow the steps below to link your Payoneer Account to eBay:
On the Seller Hub, click on "Register now" under "eBay is managing payments".
You will need to enter your password again. On the next eBay page, read all the information carefully and then click on "Get Started".
eBay will guide you through the process. You will be asked for your Payoneer account details so make sure you create one if you haven't already. After the process finishes, your request will be submitted.
Wait for a few days. You will receive an invite from eBay if all your information was correct and your request was approved.
eBay Fees and Charges
Many beginners have no idea of the eBay fees and end up underselling their products and facing losses. Although there are many types of fees on eBay, you may not have to deal with all of them since most of these are optional.
Below are the two major fee charges that you will be dealing with. Remember to confirm the charges with the latest eBay updates as these fees are subject to change.
You can click here to read about these in detail.
Insertion fees: Insertion fees refer to the fees that you have to pay to receive additional listings. According to the latest update, eBay allows users to list 250 items each month. If you go above that, you are charged $0.35 for each additional listing.
Final Value Fees: The final value fees are charged on each item that you sell. You will need to pay $0.3 for each successful sale plus a percentage of a product's final sale value. The percentages may vary from category to category but typically you pay up to 12.9% on most products.
Setting Up Business Policies
If you are planning to create a long-term sustainable selling business on eBay, it is important to create business policies as soon as possible. Policies can allow you to communicate important information like return fees, shipping timings, and payment preferences to customers.
By stating your policies clearly, you can avoid trouble later down the road, when a customer wants to return an item or asks for a refund. Follow the steps below to start creating policies.
Go to the eBay Business Policies page by typing on Google or clicking here.
Read the article thoroughly, then click on the "opt-in" link. On the next page, click on "Get Started".
Now click on the "Create policy" drop-down menu and start adding payment, return policy, and shipping policies to your account.
Final Thoughts
It is important to properly set up your account before you start listing products so more customers click on your products. Also, make sure you optimize your seller profile by adding a photo and description to your seller profile.
This will make you look more trustworthy and authentic, generating more customers.
Following the proper steps also help you build a great reputation in front of eBay and customers. We hope you found this article helpful. You can now start selling and earning profits.