eBay is undoubtedly one of the fastest-growing online marketplaces in the world. People are earning hundreds of thousands of dollars from eBay stores. If you have a knack for selling items then eBay might be your golden opportunity to start a business.
Just like any other business, you need high-potential products that you can sell on your store. In this article we will give you a step-by-step to find your next star product.
Step 1: Plan out your product research
What if there is a full-fledged eBay product research plan for finding the best products in just a couple of minutes with complete accuracy and the same productive outcomes. Instead of aimlessly shortlisting products, you can follow some tested principles to boost your research.
Today, we will be sharing with you some methods to find winning eBay products with ease.
Set High-standards for Products
When trying to find a product in any niche, you must analyze the products already doing well in that particular niche. You will realize that if a product has a high standard, there will inevitably be a lot of competition.
You have to come up with a benchmark to set the bar for any potential investments. This way you can find the middle ground between quality and competition.
If you want to get good results and better profits, you must have excellent, winning products that will help you succeed in your goals and achieve the outcomes that you want.  We will share a strategy and an essential tool that will help you get the best products for your store.
Refrain From Copying
Most people make a huge mistake which inevitably becomes the source of their failure. They just see the listings and products of their competitors and try to copy and paste them without any research or hard work.
As a result, most sellers fail to succeed in selling their products. Only a few realize the importance of setting up a structure and following a strategy. This is why we are here to help you in finding unique products and unique listings.
Step 2: Use a Powerful Product Research Tool
To ensure productive product research we want to take a systematic approach to shortlist top-selling items. This will help us save a lot of time that would otherwise be spent trying to find products with no guarantee of success.
Product research tools like ZIK Analytics are excellent for analyzing eBay sellers, categories, and products to find star products for our store without wasting any time.
In this segment, we will share with you the intricacies of the Zik Analytics tool and showcase how it condenses hours' worth of work in just a few minutes.
Category Research Feature
The most common way to fish for new items is going to the eBay marketplace itself. You can open up eBay, look at different categories, or check out seasonal sales and events and see if there are any interesting products or if there are products that you can get from your supplier.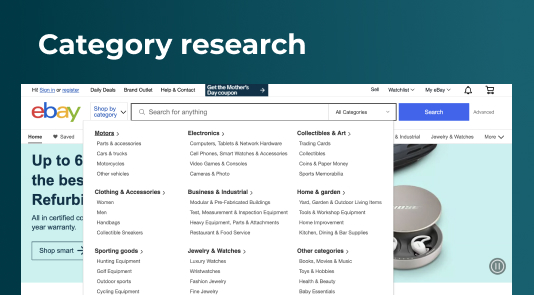 Although it is possible to find good items from eBay, it's impossible to authenticate these products and determine whether they are they have any potential. If you want a more data-driven profile of the products, you can go to the Category Research option on Zik Analytics.
How to Use The Category Research Feature
You can go to the Category Research page by clicking on the icon on the left side of the tool. Now choose a category of your choice and leave the search bar empty. Set the filter like shipping location and price if you want and simply click on the search button.
Now, you can look at each category and see which products have been the best eBay sellers for a long time in each category. Zik Analytics will automatically categorize the products according to their product advantage and profits.
You can also see the sell-through rate, number of listings, the total number of sold items, and much more. You can copy any product name and use it in the Product Research tab to see an in-depth profile of the product. Let's see exactly how you can go about this.
Product Research Feature
If you already have a specific product that you have decided upon, then you can follow the product research feature to analyze it. On Zik Analytic's homepage, click on the "Product Research" icon on the left side of the screen.
Here, you can pick the criteria and filters based on the niche or product you want to analyze. You can set the shipping location, price range, listing type, and much more. Now, type the name of the product in the search bar and you will see a list of related products.
Click on any item to see an in-depth profile of the product like the sell-through rate, sold items, sale earnings, successful listings, and more.
Making Data-Driven Decisions
You may have realized by now that one of the most powerful features of Zik Analytics is that it gives you a detailed summary of products in a smooth and clean format. However, even if you have all the information it is still important to use the information to make wise decisions.
You just validate the statistics and shortlist the items that best match your preferences.
For example, you can use the "Number of Listings" and "Sell-through rate" to figure out how many people were invested in a single listing.
If an item has a very low number of listings but a high sell-through rate it may indicate that only a few people bought the product and in that case, the sell-through rate is not as useful.
The "Successful Listings" percentage also helps you determine how many listings out of the total listings were actually a hit.
Furthermore, you can use the "Average Product Price" to come up with a competitive price for your product.
Reviewing Best Selling Items
When searching for products on Zik Analytics, you will see the detailed results right below the general statistics. As shown in the image below, there are plenty of options for each product on the list.
These options help you quickly research each product without leaving the tool. In a normal scenario, you would need to search each of the top results on eBay again and research each product independently.
However, now you can see general information like "Total Sold" and "Price" right next to the result. You can also see the "Seller Name" and click on the "Scan Seller Icon" to know more about the seller.
Bonus: Item Finder Button
Another incredible feature that you can find right next to a product on the product search results page is the "Item Finder" icon. Once you click on the button, a tab will appear right on the screen showing you all the similar items that have been listed on Alibaba.
You can see ratings, prices, estimated profits, and even products variations without having to leave the page at all.
Furthermore, you can click on any product and you will be redirected to the original Alibaba page where you can analyze the product further.
Other Important Things to Check
You should also visit your product's eBay or Alibaba page at least once to read the product description in detail. When overlooking the product from the results page we often miss out on fundamental details like target audience, return policy, shipping methods, and more.
It is not just about finding a popular product, you must make sure you can handle the logistics of the product before you go about making any commitments.
Return policy

Check out the return policy of the product. For example, some products have 30 days return policy and one day to process it, so the shipping should be quick.

Shipping methods

Different shipping methods include standard shipping, reefer shipping, and a one-day handling time. Some suppliers also provide a money-back guarantee as well.

Brand

It is also important to check if the product comes from a trusted brand. Sometimes identical-looking items turn out to be from different brands.

Products Variations

Many products also have variations like different colors, models etc. Be sure to look out for any product variation that may have higher potential.

Transaction History

Sometimes a product has a high number of sales but we don't know when the product was last sold. The product may turn out to be a viral hit a few years back. If these sales were made a long time ago, then the product may be obsolete and irrelevant product by now.

Customer Reviews

These reviews can help you choose a decent seller who can provide you with long-term service.
Step 3: Maximize your Product's Potential
When you are finished hunting for your product, it's time to list it on eBay to generate sales. The way you list products is just as important if not more than finding a high-profit item.
If your product description is incomplete, the images are poor and your profile is not optimized then you will not be able to maximize your product's potential.
Below are some of the ways you can optimize your product for maximum sales.
Create Professional Listings
Suppose you have made all the necessary arrangements and done everything required for your eBay products. But if your product listing is unprofessional and substandard, it will give a heavy blow to your online sales.
Most customers are attracted to your products by the fantastic product listing and immaculate product descriptions, which convince the customers to buy your products. So, it is imperative to take good care of your product listing if you want to generate early sales and deals.
Giving your products catchy titles
The best thing would be if we could get the price down, or if we could make a unique product, like giving it an attractive name or a beautiful title. When we write a title, of course, we have to make it the best it can be.
There are a lot of factors that need to be considered while your products excellent and suitable titles. A great way to choose a title is to look for important keywords in competitor listings. Take inspiration from the products that are already selling well.
High-quality Images
Make sure to set out a budget to shoot high-quality images for your product. Sometimes getting an image from Google may not be your best resort. eBay sellers can get in trouble if they use an image without having the appropriate copyrights.
Make sure any image you choose is not copyrighted or better yet take your own photos to appear more authentic.
This can also give the customers a clear idea of what they are about to order so you don't have problems later down the road.
Step 4: Utilize Best Selling Categories
eBay has millions of products on eBay, and you have to find out the top-selling items which can help you get the maximum potential out of it.
Popular products that are high in demand nowadays can help you get maximum profit in a minimum period.
So mentioned below are some of the best-selling categories that you must analyze before selling any item on eBay to get extra cash.
Clothing Items
Clothing is something that never gets old, and it always sells. People like to wear cool trendy t-shirts throughout the year. So, to sell high-ticket products like t-shirts, you need to check out the latest trends in t-shirts.
Pet supplies
Pet products are widely popular all across the world. Almost every family in the US has a pet, and they often need pet supplies for it. So, to get benefit from this opportunity, you can sell pet supplies on eBay.
The most important and top-selling items in pet supplies are fish aquariums, pet foods, pet toys, litter trays, dog houses, cat scratch posts, pet collars, or other multiple items.
You need to do a little bit of market research before starting your selling business.
Video games
You can explore different forums like Reddit or discord to find out the latest interests of youngsters.
You can sell PS4 or PS5 games on eBay. You can also sell PC games online. Some popular titles include Red Dead Redemption, Dota, GTA V, etc.
There are different places to find these products, including thrift stores, garage sales, or sometimes estate sales. In video games, collectible card games are also popular.
Sports Goods
Sports goods are also a great niche for your product selection. To find a great sports product, you need to search the trendy sports or events happening at that particular period when you want to sell products or items.
There are different sports, and every sport has specific products; i.e., golf has products like golf sticks, golf bags, balls, etc.
Conclusion
In this article, we have tried to explain some of the few value strategies to find suitable products to sell on your eBay store. In addition to this, a decent number of product categories are included to give you an idea of best-selling items on eBay and other sellers.
We have also introduced you to a great tool named Zik Analytics which is best for hunting excellent and winning products on eBay. This tool lets you analyze the potential competition and maximum advantage in your selected products.
To be a great seller on eBay, you need to work hard, do complete research and have patience and confidence. You will surely get a good amount of sales if you have implemented the right strategies and find good products to start selling.