If you are a sports fan, it's likely that you collected many sports memorabilia over time. Many avid collectors like to hold on to their collection for as long as possible. For a few others, they like to collect and then later sell these items. Anyone with an entrepreneurial mindset likes to take advantage of the opportunity to make money from these collectible items, especially as there are die-hard baseball and sports fans who like to pay big money to get these rare items.
Today, you will learn how to sell sports cards on eBay and make good money from it.
Sports collectibles are one of the most coveted items in eBay auctions, or eBay site in general. If you know the right process to create an eBay listing for these items, you are on your way getting as many sold items for these valuable cards and sports mem.
In this guide, you will learn the step by step process of making a listing for sports items, such as cards, photos, and other items interested buyers would like to add to their collection.
Keep on reading to find out how you can earn more money selling cards for your eBay business and additional tips to sell them fast!
How to Sell Baseball and Sports Cards on eBay
Before you can create a product listing for baseball cards on eBay, it is important to follow this step by step guide. Your goal as an eBay seller is to ensure that you can make these products more appealing to your target buyers so that when they search for relevant items, your product will show up on the eBay search results.
Before you set up your listing on eBay, there are some steps that you have to consider when selling to get the maximum number of sales.
Identify Your Sports Cards
Before you create listing for your sports card, it's important that you identify the qualities for the sports cards you own and want to sell. Several factors determine the selling price for the sports cards on eBay: condition of the card, rarity of the card, and the era where it came from.
There are multiple cards out there, and it is important that you distinguish the cards you are selling to maximize the money you get from them on your eBay business.
Sports Card Era
The era where the item is from will largely determine its selling price. Hobbyists are serious about their collection and they are particular about the item specifics. Make sure you sell graded cards if you want to get the maximum number of sales and generate lots of money for these items.
There are three categories when you sell sports cards on eBay: pre-war, vintage, and modern cards. Each era for the cards will have unique characteristics and appeal to different sports fans.
For example, pre-war baseball cards were those printed before 1945. They are the oldest types of baseball cards that are currently sold in the market, especially on eBay auctions and websites. Since they are old and rare, they fetch the highest prices. Some of these cards are in black and white, which is also rare so these cards will attract more buyers.
Vintage baseball cards are those manufactured from the 1950s to the 1980s. Makers of sports cards during this era have access to modern design, which is around the time when the iconic baseball cards were developed. Topps baseball cards feature many of the most iconic players during this era, and they are the ones that are selling fast! They also feature vibrant and colorful artwork with some player statistics on the back of each card.
Finally, there are those cards that are in the modern era. If you sell sports cards on eBay from this era, you won't fetch as much sales from these cards as you would from the two previous eras. Modern cards are brightly colored and glossy. However, their prices are considerably lower than the rare ones from the earlier era. But it does not mean that they are not good to sell either. There are some die-hard fans who might be willing to pay good money for them, especially if kept in pristine condition.
Make sure to do your research on these cards before you create a listing for them for your eBay business.
Condition of the Sports Cards
The next important factor to consider when setting the selling price on eBay is the card's condition. The condition of the card is critical because even rare cards not kept in good condition can lose a lot of its value.
Many sellers on eBay falsely believe that they can make good fortune out of the cards that they are selling on eBay. However, they soon realize that cards kept in poor conditions are not as valuable as other cards in a better condition.
Avoid selling baseball cards that have faded imagery, frayed edges, or look highly worn. If you put them up for sale, most buyers won't be interested in paying money for them due to the condition. On the other hand, cards kept in mint condition are going to fetch a higher price.
You can have an expert appraise your cards since graded cards command a higher price.
Rarity of the Sports Cards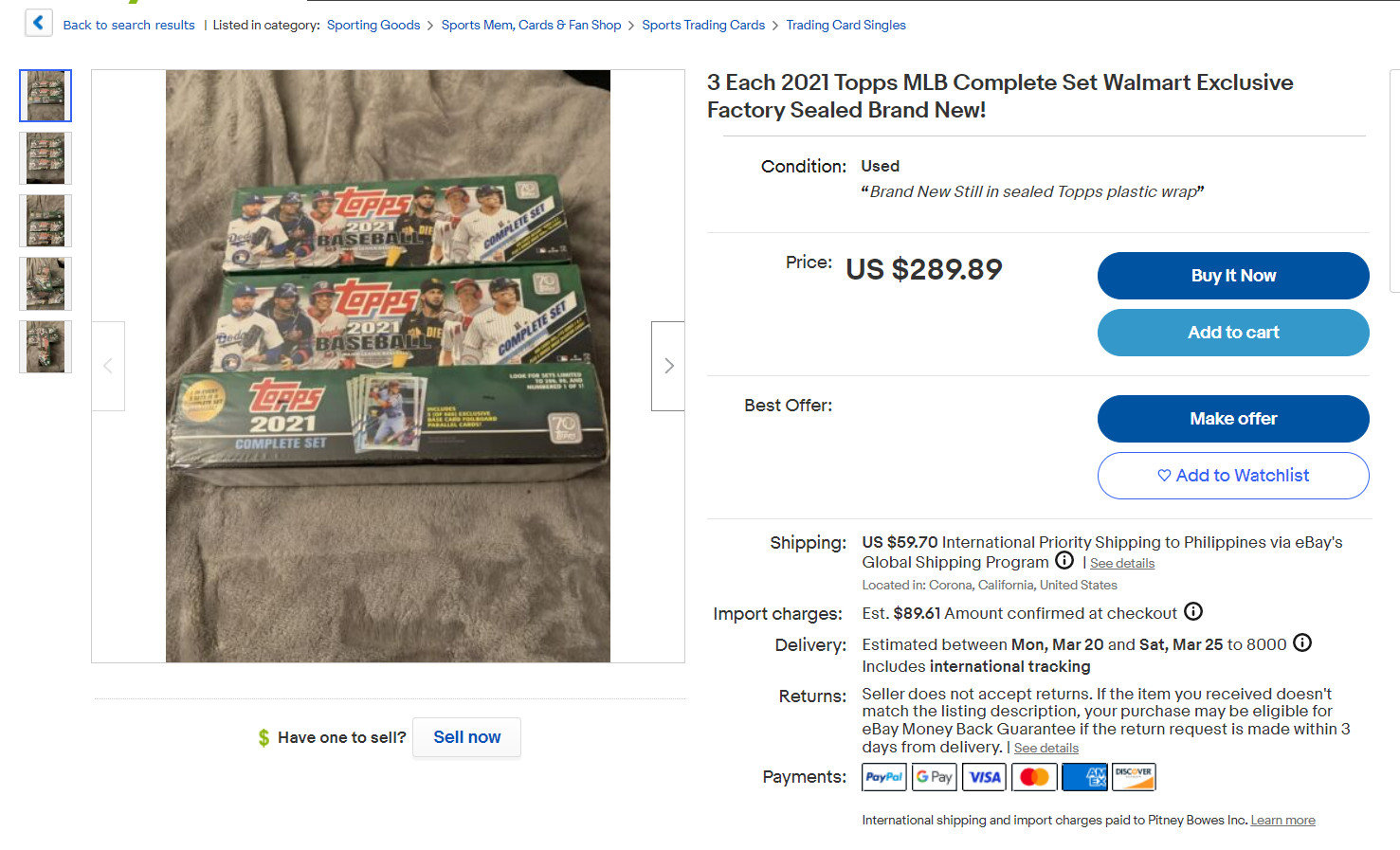 The final factor to consider when identifying and setting the selling price of baseball cards is its rarity. The popularity of the player shown in the cards are going to play a big factor. The more popular players are going to attract more buyers when selling these cards on eBay. Therefore, you should focus on listing cards featuring baseball hall of famers.
Serious sports and baseball fans want a piece of history in their collection. Therefore, if you have a rare or limited-edition cards that you are selling, many are willing to pay for those even if the price is on the higher end.
Listing Your Sports Cards on eBay
This section provides you with essential tips you need to know about how to set up the listing when you sell sports cards on your eBay business. As a seller, you want to optimize these listings to maximize the number of sold items and to attract the right buyer.
Identifying the Selling Price
The selling price for the eBay listing of sports cards is one of the first things you have to consider. A common mistake that a seller would make when creating an eBay listing is to set astronomically high prices for the cards. Many think that sports collectors are willing to pay any amount of money for these items, only to realize later on that they haven't sold anything.
You must be strategic when determining the selling price for your items. You can use a product research tool, like ZIK Analytics, to look at competitors. You can check out the sold items on eBay under the same category. You can evaluate how much baseball cards are selling for, and what type of items are being sold. Use this information to determine the most profitable selling price that would be able to attract enough buyers to reach your sales target. There is no point in setting the prices too high when you are getting zero sales.
On the other hand, you should also refrain from setting your prices too low, especially if you are selling high-quality and rare cards. Set a ceiling and a limit to your selling price. That way, you don't go too low or too high and still make enough sales.
Listing Cards on eBay
Once you have set the selling price, it's time to add your eBay listing for the cards. It is important to use the right keywords and the concept of SEO when creating your listings on eBay.
First and foremost, make your eBay listing descriptive. Focus on incorporating the target keywords so that your products will appear on the search results for a relevant keyword. However, make sure your listing for the cards would be descriptive enough that a potential buyer knows what you are selling them. Include any details that you think a buyer would find useful in deciding whether they want to buy the card or not.
A good example when listing cards would include the year, set name, serial number, relic, team name, and any other important details.
It's also important that you include images of the cards to your listing. The best way to attract buyers is for them to see the photos of the cards, especially if it is a rare one. Try to include as many photos as you can and use the maximum number of images allowed.
Shipping Cards
Handling rare and collectors items require careful consideration, especially when shipping those items. You want to preserve the card's condition so that the buyer can get them as they expected.
When listing cards, you have to identify your shipping method on eBay. You can find cheap shipping methods but they do come with risk as they may not be properly handled.
Aside from choosing the shipping method, you have to pay attention to how you pack the cards before shipping. Ideally, you have to use a soft penny sleeve to house the card in. Next, you must place the sleeved card into a top loader.
Use a cardboard and place the sleeved card in between them. Make sure you tape the cardboard securely so that the cards stay in place. You can also add a bubble mailer, if preferred.
Using Product Research Tools to Find Profitable Cards to Sell
If you are looking for suppliers of the best baseball cards to sell on your eBay business, make sure you rely on a trusted market research tool, like ZIK Analytics. These tools make it easier to gather data and insights about the top selling products on eBay, which makes it easier to make money from your eBay store.
For example, you want to sell sports memorabilia, such as baseball cards and sports trading cards. Many collectors like buying these items to add to their collection. Therefore, you should specifically look out for baseball cards that are popular among sports collectors.
At the product research tool, you can input the term 'baseball cards' or any other sports card that you wish to sell on your online business. You will be able to gather specific data and insights about that category, which will tell you if it is profitable or not. You can narrow down the search results to gather data from a specific time frame, such as the past 30 days. Examine the data, such as the number of items sold in the last 30 days, the average price for each sold item, and the successful listing rate.
If possible, you can look at the individual products and recent sales shown in your market research to determine item specifics per listing. For example, look at the title format for each listing, the keywords used and optimized, and the price for those listings. These successful listings will provide you with valuable tips that you can use to optimize when you create listing for baseball cards on eBay. Additionally, you can get an insight into what buyers are looking for and are willing to pay money for.
Final Thoughts on Selling Sports Cards on eBay
There you have it, the essential tips on selling cards on eBay! Did you find this guide useful?
The category of sports memorabilia and sports trading cards remain consistently popular among serious collectors. Therefore, there is always a market for this niche, making it one of the most profitable options for any eBay sellers that want to make serious money with the e-commerce platform.