Selling on eBay Australia? Well, you're in luck! We've put together a comprehensive guide that will take you from a complete beginner to a fully-fledged – profitable seller on eBay Australia.
If you are new to the platform and are not quite sure what it has to offer – eBay is a popular online marketplace that facilities online auctions and direct-to-consumer sales.
If you are looking to sell your products online, then eBay is a fantastic marketplace to do so, as they have an active user base of up to 8 million users monthly in Australia alone. This means that you are extremely likely to find a pool of hungry buyers ready to scoop up your products.
The barrier to entry is extremely low, as anyone can open up a free eBay account which gives you the option to both buy and sell products, locally and internationally.
This article will provide you the information on how you can become a seller on eBay Australia and what are some basic steps to follow, to get through the process smoothly and start selling on eBay Australia right away. Not just selling on eBay AU? You can always check out our more comprehensive guide on how to sell on eBay which touches on selling on eBay as a whole, not just specific to eBay Australia.
Article Overview
Step 1: Register for an eBay Account
Step 3: Sourcing your products
Step 5: Shipping your products
Step 6: Tax implications to consider
Register for an eBay account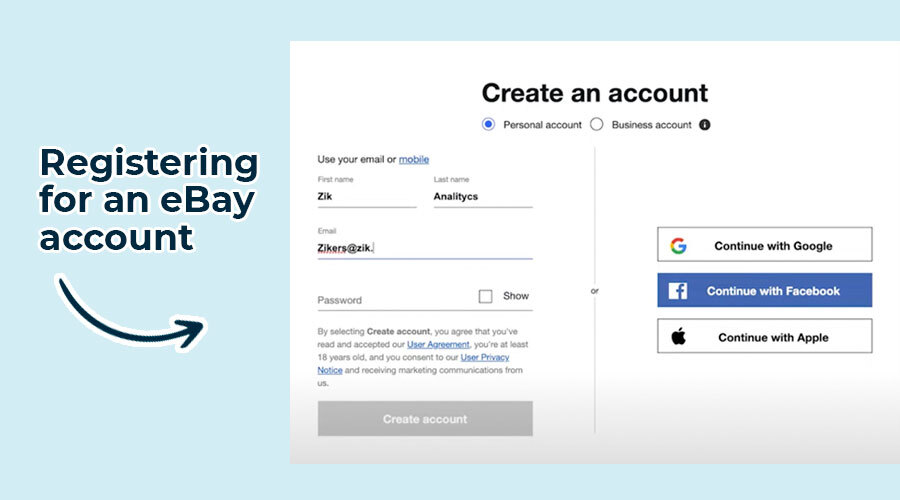 The first step that you will have to follow, to be able to start selling on eBay is to register yourself and open an account on eBay. To do this, simply visit eBay Australia and click on the "register" option in the top left corner of the eBay page. Now fill in your basic details such as your first name, last name, and email address. Secure it with a password and hit the 'create account' button.
Congratulations! You've just opened up your brand new eBay account and have taken the first step towards becoming a seller on eBay. The steps that follow are focused on finding and listing products that will sell on eBay. Doing this correctly will help you improve your eBay sales.
Setting up your payment provider
Your payment provider is used to receive payments from customers, and to pay seller fees to eBay, so naturally- this is the next important thing that we want to take care of.
When you sign up to eBay, you will be asked to link your account to an automatic payment method such as PayPal, or more recently – eBay managed payments which is basically Payoneer in partnership with eBay.
While the payment isn't due before the goods sell, you will need to have your payment options set up prior to being able to start eBay selling so that eBay is confident that you are able to pay the final value fees and seller fees.
eBay Product Research
What should you sell on your eBay store? Well, now that you already have the information on how to make an account for your business on eBay Australia, this is the next logical step.
To begin with, you can start looking at basic product categories that you think have a high demand. This can be done with a variety of tools, but in our opinion (sure we are a little biased, but with 1000s of happy customers stories, we have reason to be!) ZIK Analytics is the best in the business.
You can also do this manually, however you need to take into account the value of your time. Processing these complex calculations and manually finding products takes a great deal of time, and you are unlikely to find the volume of opportunities that you will be using a software such as ZIK Analytics. Finding 1 or 2 hot sellers a month will easily pay for your membership.
Not convinced? We have a 7 day trail so that you can get your feet wet. We only ask that you take action with the tool once you take advantage of the offer, because doing this right will change your life!

How to use ZIK Analytics to find hot products to sell in Australia
Our software has one of the largest databases, covering almost all the products that are sold on eBay, available in the palm of your hands. To find eBay hot sellers in Australia, simply:
visit the product research tool in ZIK.
You then select the country that you are selling in, in our case – Australia.
Enter in the name of the product, or niche that you want to sell, and hit enter. The search results will show you a range of products that are currently selling, and giving you important product statistics such as the number of sold items, total earnings from the sale, listings, and the average price at which the product was sold on eBay Australia.
By reverse engineering sellers that have profitable products using the "scan seller" feature, you can quickly gather a massive list of product ideas to add to your store in minutes.
The amazing part of this is, you don't need to list all of these products immediately. Once you find sellers or products that you love, you can save them into folders for use at a later date.
If you are a new seller who has a limit on the amount of sales that you can make, then doing things this way will allow you to cherry pick the best products to add to your eBay store to start with, and keep the other hot gems in the arsenal for a later date when your limits are increased.
Product sourcing for your eBay store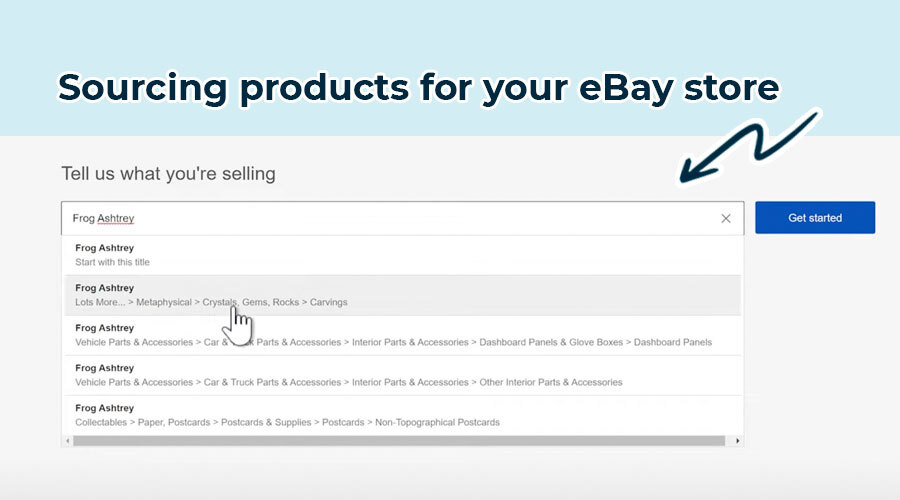 Now you know what products to be sold and you also know their statistics from other eBay stores. But where in the world do you actually source these products from, in a way that is cost effective and also allows you to make a profit?
We will be suggesting to you some ways in which you can source your products for selling on eBay. These ways can help you reach local or even international eBay customers. We will touch on each of these in greater detail below.
Pre-Owned goods
If you want to start selling on your Australian eBay store, with almost zero investment then this is the best method to source your products. It is great to go with this method if you are still starting out. Simply look for goods around your house that you aren't using, and use them as test cases to learn your craft. The goods you own may be used or unused.
If you happen to have used the products already, then simply clean them up so that they are in a "sellable" condition. Once you've spruced the item up a bit, simply take your photos (making sure that you use adequate lighting and a good quality camera), and prepare your item to be uploaded to eBay.
We will touch on listing your products shortly, but taking the best photos possible is imperative to getting more eyes on your listings.
You can either list your item for a fixed price, or as an auction and you will be off to the races. The great thing about this method is that you do not need to invest in buying the products for selling on the eBay marketplace and the risk factor is negligible if you start selling the pre-owned goods. One of the other excellent things about this method is that it allows you to de clutter your house and clean out unwanted items that you have no use for.
Retail Arbitrage
More of a traditional way to make money selling on eBay, retail arbitrage allows you to take advantage of purchasing stock items at a lower price from retail stores and then listing them to sell on eBay with your markup. In general, you might purchase these items in bulk to get a better saving, which means that you will need to have a larger outlay of funds as compared to selling pre-owned items or dropshipping. While this may require a larger outlay, it is a bit more of a consistent and reliable way to set up your eBay business for success.
Dropshipping
If you think that buying and storing the goods for sale would take up too much of your space, then this one is for you. Unlike in some countries, dropshipping is perfectly legal in Australia and most online retailers use this technique. Here you can sell items without having to actually buy them before they are sold. In this mode of operation, a seller of your choice will ship the product to your customer on your behalf.
Now once the product is sold, then you have to go to your supplier and process the order to be shipped directly to your buyer. The key here is to only put in the buyers details, and if the supplier offers it – you can request a "blind invoice" so that the customer does not see where the item was sent from.
This would keep your cost as a store owner very low. It would also minimise the risk of product wastage and cut the price of maintaining the stored goods. And yes, by adopting this model you can definitely widen your reach to different sellers locally or internationally and can grow your sales exponentially. Isn't this amazing!
Listing products for your eBay business
Now you've got the product, you know from where you will be buying it and also the method by which you will be sourcing your desired products. It is now time to list your product to your eBay store, so that people can actually place an order with you!
Fill in the description details, postage details, and selling and price details of your product
Once you go on to list your product on your eBay store, you will be asked to fill in some of the basic details about the so to-be-listed product such as the title of the product, category, and present condition of the product (It can be new or pre-owned ) along with a description of the condition of the product.
Then upload some of the pictures of the product that you previously took. One huge tip, make sure that you take pictures of your product from different angles. This will allow you to stand out from your competitors and let possible eBay buyers get more of an understanding of the product that you are selling.
This would significantly increase the chances of that item being sold since the more a buyer can trust the product, the less doubts they have about making the purchase.
You are not done still. You will now be required to fill in the necessary item specifics such as the format of the price. You can chose to list your product as:
Fixed Price
Fixed price (allowing the buyer to make an offer)
Auction listings
You can also select the quantity, duration and the price of the product.
We generally look at the prices of our competitors products and use them as a baseline for how we price our products. You can get all of this information and more inside of ZIK Analytics.
The last step is choosing your shipping details, and business policies which apply to this listing which you ideally would have filled out already when you set up your store. You also need to fill in the package dimensions and weight for your listing. Once you are done with all of the above, you can go ahead and hit save and list your product.
Before taking the listing live, make sure that you preview your product. If you are satisfied with how everything looks, you can go ahead and take your listing live.
Congratulations! You now have successfully listed your first product on your store and are officially an eBay seller.
Payment Options for your sale
One important tip to consider is to try to be flexible when it comes to payment options on the sale. While eBay natively offers most payment options (even offering buy now pay later options such as Afterpay), however you do have the option to offer even more payment options that aren't accepted by default on eBay such as
Cash on delivery/Pickup
Bank transfer
Bank cheques and personal cheques
Money orders
If a customer does not have a Paypal account, or is not confident in using their credit or debit card online – this might be an option to expand your market reach. Note, these options are not covered by eBays Money Back Guarantee, so you need to be sure that you actually receive the funds on delivery of the product.
Packaging and posting your products
Now after all of the hustling, from registering and opening a seller account on eBay to finally getting an order, it is now the time that we discuss the packaging and shipping aspect of selling products on eBay.
Packing materials
When it comes to packaging your products to sell, it is important to understand that doing this to a high degree will be the final touches on your successful sale. The presentation of how your product arrives, as well as the functionality of protecting the product while it is in transit are equally as important.
We never pack our products directly, and instead package them in boxes first before bubble wrapping them or placing them in mailers ready to be shipped. All of these items are readily available at office supply stores such as Officeworks.
Finally, to seal the parcel prior to posting, you should use sticky tape, making sure to seal the box thoroughly, and secure the bubble wrap to the box. You can find out more about eBays preferred way to post your items on their website.
Other things to consider when choosing your packaging
Did you know that you can use eBays' branded packaging? If you don't mind spending a little extra (this option is more expensive than shopping around for cheaper packaging deals), doing this allows you to give your product more of a personal touch to your packaging, and builds more trust as an ebay seller.
This is not something that is required, and is simply an added "nice to have", and is maybe something you can consider once your store is making more consistent sales.
When choosing the package to ship your items in, make sure that there are no prior markings or addresses on the box. If you are re using a package, it is very important to cover any prior addresses with your shipping label, or mark them out with a black permanent marker.
Couriers to use to post your eBay items
Once you are ready to ship your item, you need to send the item off to the customer using a courier service.
In Australia, there are several shipping options that you can choose from.
You can go with the tried and tested, Australia Post – which is the main postage provider in Australia.
Alternatively, you can look at shipping aggregators such as Transdirect or Sendle, who aggregate all of the secondary shipping services (Such as couriers please, and Fastway/Aramex) and offer you better prices than you would normally get if you were to ship directly yourself.
If you are planning to offer free shipping on your orders (something worth doing to help you appear higher in eBays search results), it's always best to reduce your shipping costs by shipping around for the most affordable options. Using aggregators give you significantly cheaper prices than shipping items directly yourself.
They also give you the option for bulk discounts when using the same provider and picking up from the same location on the same day.
Tax Implications for eBay Sellers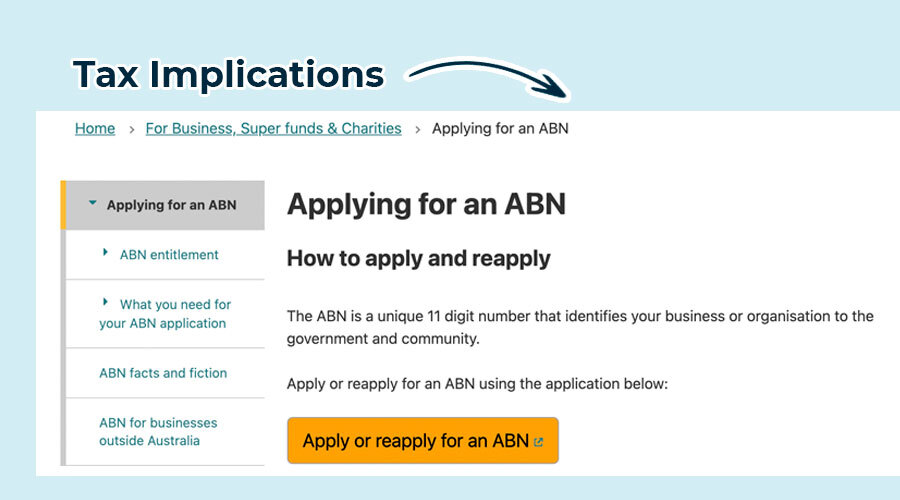 Before we dive in to this section, we need to mention that we are not registered accountants or financial planners. Everything in this guide is from our own research and testing, but should not be taken as financial advice. As with any business, please consult your accountant or tax professional to check how the information in our guide relates to your unique circumstances.
ZIK Analytics are not liable for any loss caused, whether due to negligence or otherwise arising from the use of, or reliance on, the information provided directly or indirectly, by use of this website. All information in this guide is for informational purposes only!
SO, now that we've gotten that out of the way – understanding your tax implications are extremely important to making sure that your store remains profitable. Here, we will try our best to explain to you the tax implications of selling on eBay, in the most understandable way.
So when a buyer buys a product from your eBay store, eBay charges a sales tax on the transaction known as GST (Goods and Services taxes). The buyer will pay you the tax and eBay will deduct it from your account. Depending on where you source your product from, you are also charged GST on your stock.
The final tax that you will need to pay besides the one that you will have to pay for goods and services is your income tax. The levels of income tax will depend on if your are running your business as a company, through a trust or simply as a sole trader. The benefits and risks of each of these structures are well beyond the scope of this article, so we would recommend consulting an accountant to better understand which structure best suits your unique situation.
For all instances above, eBay sellers require an ABN to trade in Australia if they plan on taking their eBay business seriously.
Australian Business Number (ABN)
To put it simply, an Australian Business Number (ABN) is just an 11 digit number that helps the Australian government to identify your business. If you live in Australia then you can sign up for your ABN directly on the ABR website. Once you receive your ABN (and once you register for GST), you need to keep in mind that all sales that you receive will incur a 10% GST charge, which is NOT collected by the government at the point of sales. What that means is that you will need to account for the additional 10% on your sales when you lodge your BAS every quarter with your tax agent.
Please note, as you also pay GST on purchases yourself, you are able to offset the GST received and GST paid, so in general you will not be paying the full 10% of all sales to the government.
Registering for an ABN through the ABR website is completely free, so if you plan on starting your ebay business in earnest, then this is something that you will need to consider to move forward.
Why should you register for ABN?
Not only is an ABN required to operate your business in Australia, it also affords you certain opportunities that would not be possible without it. For instance, you are able to claim GST tax credits on any purchases for your business. You also will be able to "write off" assets purchased for the business and even purchase a domain name related to your business, should you wish to start a branded website as well.
How to register for an Australian Business Number (ABN)?
If you want to sign up for your ABN, you can do so by visiting the ABR website and following the steps below:
Go to the ABR website and click on "apply now"
Fill in your name and contact details. If there are more than 1 applicant, you will need to fill out their information too.
Provide your proof of identity. This could be your drivers licence, passport, birth certificate or other.
Choose your business structure
Provide your Tax File Number (TFN)
Note down your application reference number.
Once you go through all of this, you can click on start applying. And that's it! You are now done with the part that most people find complex. We hope this article has simplified the process for you.
The business website of the Australian government also provides assistance in starting a business, information on licences and permits, and provides grants and assistance for your business, so just in case you need any help.
Summing it all up
With the recent COVID restrictions in Australia, and the world – we have all really come to understand the need to make our work more "portable", and take it online where possible. 100s of people have decided to start their ecommerce businesses on the back of this pandemic, as they understand the need to adapt to this change.
While there are many avenues that you can take, eBay is one of the most reliable and provides the lowest barrier to entry due to you already having hoards of hungry buyers ready to snap up your hot selling products./p>
Unlike regular "brick and mortar" businesses, this business can be run remotely, meaning that you simply need a laptop and a space to pack your orders and you have everything you need to get started on this journey.
Whatever it takes, we want you to know that the team at ZIK Analytics have got your back, we truely do care for you and your success. If you are ready to make the jump, we would love for you to become part of the ZIK Tribe. We offer a 7 day trail that you can take advantage of below. Part of your membership gives you access to a community of sellers, and coaches who are ready to help you on your journey, step by step.