Is dropshipping dead in 2023?
Many of those who are interested in or aspire to own a successful dropshipping business find themselves asking this question. The global market size for dropshipping has exponentially grown in the past decade or so, which makes the dropshipping industry highly saturated. Is this a good or bad news for anyone looking to start this type of business? And can you earn money online using this business model? Is this as profitable as it is hyped to be?
This guide is what you need to help you decipher if there is a potential to build a profitable dropshipping business or if there is no market for it any longer. Before you launch your online shopping store for dropshipping products, read on first.
Dropshipping vs Other Business Models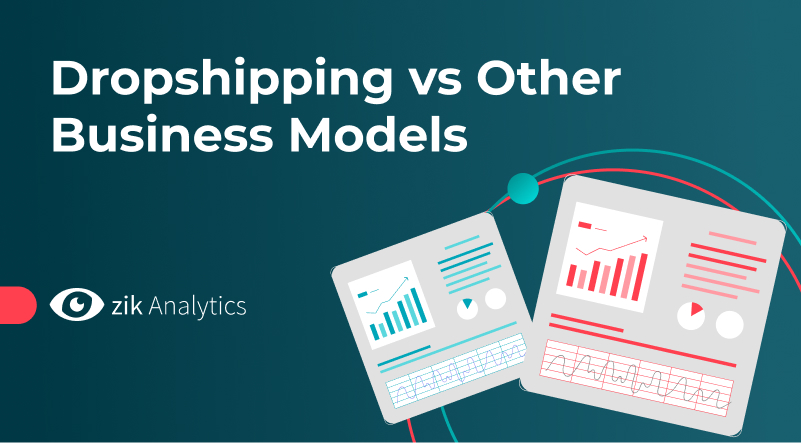 If you don't think that dropshipping is a good fit for you, there are other business models you can explore.
The first alternative to dropshipping businesses is the FBA by Amazon program. FBA stands for Fulfillment by Amazon wherein you have to pay a fee to send your products to Amazon fulfillment centers wherein their employees can manage your inventory, pack, and ship your customer orders on your behalf. You will leverage the customer service, packaging, and other perks of working with the Amazon platform to supercharge your online business.
Another option for a business model is print on demand. It is similar to a dropshipping business model. When a customer makes an order, you will notify your supplier about that order. The supplier will be the one to print the client order and ship it out to the customers. Print on demand is different from dropshipping because of the customization option. Therefore, expect a higher upfront cost and lower profit margin with this business model.
Why Pick Dropshipping?
To help you answer the question is dropshipping dead, let's take a closer look into the dropshipping model and its pros and cons.
The main advantages of dropshipping in 2023 are as follows:
• Low upfront cost
• Many dropshipping suppliers to choose from
• Easy to start
• Easy to grow and expand
• Several platforms to choose from
The main disadvantages to expect when dropshipping are as follows:
• Lack of personal branding for your online store
• Low profit margin (although this can vary based on the chosen product)
• Shipping times can be hard to estimate
• Product quality might not be good (it can be a trial-and-error with your dropshipping supplier)
Is Dropshipping Dead in 2023 or Still Profitable?
Dropshipping is far from being dead.
In fact, this business model is steadily growing, based on Google Trends analysis. In the past five years, dropshipping businesses continue to grow and the demand for it rises as well. It's all about building the right tactics and strategy for your ecommerce business to enable it to grow.
Here are important statistics about dropshipping in 2023 that tell you it is far from dead:
• 35% of the overall Amazon sales are attributed to dropshipping
• 30% of ecommerce businesses have adopted dropshipping business model
Dropshipping Is Not Dead: Tips for a Successful Dropshipping Store in 2023
If you want to own a successful dropshipping store, you need to follow these tips on how to get started on your dropshipping journey.
Tip 1: Choose your dropshipping niche
The type of ecommerce store you'll open is critical as it will determine what products you are going to sell through the platform. For example, you can open a general store where you offer potential customers various products. There are lots of positives to choosing this type of store since you can add the most profitable products into your store and are not limited within your chosen niche. However, this can be competitive and lacks differentiation, which makes it difficult for you to attract loyal customers.
On the other hand, you can choose to set up a niche dropshipping business. You can focus on various niche like home products, pet suppliers, or fashion. Depending on the type of niche you have chosen, you can find a dropshipping supplier that can provide you with the products for your store. It is important to do your research on the pros and cons of each option and choose what you believe is best for your business goals.
Tip 2: Choose your dropshipping platform
There are several platforms that you can choose from for your dropshipping store. The choice of platform is critical because you leverage the popularity of that ecommerce platform to your advantage. Therefore, it can directly impact your ability to maximize profits and sales.
eBay Dropshipping
One of the most popular platforms for dropshipping is eBay. It continues to be among the top options for dropshippers in 2023. The primary ebay policy is that you can only dropship using wholesale prices and from suppliers. This policy was implemented to minimize the proliferation of scams on eBay. Make sure that you find a good dropshipping supplier to qualify for an eBay dropshipping business.
Another important policy for eBay dropshippers is to guarantee delivery time. It is always the dropshipper's responsibility when something goes wrong during the shipping process of the items. If you don't meet any of the above policies by eBay, you could suffer with a lower seller rating, buying restrictions, loss of buyer protection, or worse, account suspension.
When you dropship with eBay, you can list up to 200 products for free. Therefore, the low cost of entry is one of the reasons why eBay dropshipping is one of the most popular options for those who want to offer dropshipping services. Other advantages to choosing eBay as a platform would be the low risk involved given the reputation of the website, the popularity of the marketplace, and the lower costs could mean higher profit margins.
Selling products on eBay as a dropshipper starts at $7.95 per month for a seller account (or $4.95 for a yearly plan). There are also additional features such as promoted listings that you can use to capitalize on the reach when you sell products through eBay.
Shopify Dropshipping
Shopify is another popular platform available for those interested in the dropshipping model for a business. This e-commerce platform allows you to directly connect with a dropshipping supplier who will be the one to select, pack, and ship your products for you. There is minimum investment involved with this business model.
Aside from the low upfront cost, it is easy to start this business because of the simplified format. There is also no need for you to keep and manage your inventory, which could add to your operating costs if you were to rent a warehouse. Meanwhile, finding a supplier for your dropshipping products mean that you have access to a wide range of products. You can eliminate the hassle of shipping the items yourself because the supplier can take care of it for you. Thus, you can focus on marketing your online store and generating a steady stream of income.
The low cost of starting your Shopify dropshipping store means that you can use your allocated funds for your business marketing. Thus, you can outdo your competition and meet your sales target.
Below are some of the highlights of dropshipping with Shopify to help you decide if this is the right platform for you:
• Professional themes for your dropshipping store
• Over 100 payment gateways for convenience in paying by your customers
• Efficient inventory management to ensure you always have stocks for the products your customers want to buy
• Great user and customer experience with an excellent support team
• Search engine optimization and other tools to market your dropshipping business
Amazon Dropshipping
Next to eBay, Amazon is one of the most popular platforms for a dropshipping business. You can leverage your Amazon dropshipping store since there is an existing significant amount of traffic to the Amazon website.
You also enjoy the credibility of the Amazon brand when shipping to customers. Meanwhile, there are no listing limits imposed on your accounts so you can list as many products as you want. The easy account set up and listing process makes it ideal even for beginners to the dropshipping model.
You can sign up for an individual seller account in Amazon for free. Meanwhile, a professional seller account costs $39.99 a month.
Aliexpress Dropshipping
The obvious reason to choose Aliexpress for your dropshipping platform is the access to multitude of products within the Aliexpress marketplace. As long as you can avoid the wrong supplier, you can easily generate income from your dropshipping store. You do not need to create your own products but you can find suppliers for your dropshipping store and target customers from all over the world.
Like other platforms listed here, you only need a low investment for this type of business. You don't need a physical store to run this business, which gives you more flexibility in running your online store.
Walmart Dropshipping
Walmart is one of the world's largest retailers. There are over 10,000 stores in 27 countries. This company focuses on providing value to customers – from low prices to excellent customer service. Therefore, it is a good option for dropshipping so you can leverage the brand reputation and excel in the dropshipping industry.
You can also expect high traffic and low marketing costs. In addition, you have the opportunity to target multiple categories so you can choose between a general store or a niche store.
Is Dropshipping Dead? Final Thoughts
Dropshipping is not dead, especially in 2023. The continued rise in ecommerce activity only signals one thing: that dropshipping will rise with it, too.
If you are looking at this profitable business model, keep looking. There is a goldmine of opportunity for you to build a successful online business with dropshipping, as long as you invest your time and effort to research and develop a good business strategy. No business – dropshipping or not – can succeed if you don't have a good plan in place.
Whatever platform you choose for your own dropshipping business, make sure to maximize that platform and market your products well. You will be on your way to becoming one of many dropshippers who've turned their side hustle into a primary source of living.
FAQs on Dropshipping Business Model
Why do most dropshippers fail?
The primary reason why many fail in the dropshipping business is that they do not use the right platform for promoting their products. In some cases, not choosing the right products or dropshipping suppliers can also make your online store fail, even if dropshipping is a profitable business model.
So, is dropshipping dead? No, it isn't. But you must invest on research to find the best products to sell products on your ecommerce store.
A lot of shop owners also go into this business thinking that they can make money easily. However, you need to invest time and effort to grow this business before you can get more customers and maximize profits. Some shop owners expect that successful with this business model will happen overnight so they quit right away when they don't see immediate results.
What is the hardest part of dropshipping?
Finding reliable suppliers for your own dropshipping business is the biggest hurdles faced by those who are new to dropshipping businesses. You have to find the best suppliers for your dropshipping products to ensure that you can get the best quality products and the best customer experience for your shoppers. These factors combine to making dropshipping a profitable business model and for you to survive the stiff competition in the dropshipping industry.
How long does it take to make money online dropshipping?
A dropshipping store is like any other business. It takes time to build your reputation and to find your loyal customers. You will face many obstacles throughout your dropshipping journey. You must treat it like a real business and it will also entail upfront cost on your part – an investment.
Some dropshipping online store owners can expect to make consistent income with this profitable business model in six months or less (some more). You have to take it seriously and you will realize that having your own dropshipping business will bring you sustained income over time.
Can you make 6 figures from dropshipping?
Like mentioned above, you have the potential to make money online with a dropshipping business. The rise of ecommerce stores is one of the reasons why there is a huge potential with this type of business model. So, yes, you can definitely earn six figures from this business if you are consistent with quality control to ensure you offer the best product quality and if you can attract more potential customers.
Is dropshipping worth it?
Yes, dropshipping comes with several challenges, just like any real business or brick and mortar stores. If you want to earn money online through the dropshipping model, you have to study this business model. It is also important to choose the right platform to sell your products, find reliable suppliers, come up with the best pricing strategy, and choose the most profitable products by researching online.
You can use tools like ZIK Analytics, which is one of the automated management solutions to find the best products for your online business. Or you can also check Google trends to discover the best-selling items for your ecommerce stores.
Are there any risks to dropshipping?
There are plenty of risks you stand to face in a dropshipping industry. The main risk is that you don't get to physically hold the product before they are shipped out to your customers. Therefore, the success of your ecommerce business relies heavily on finding reliable dropshipping suppliers who can ensure you have a quality product. There is always the risk that you will be supplied with cheap products that customers won't be buying online.
Other risks involved with dropshipping are in terms of order fulfillment and the global market size. For the latter, the popularity of dropshipping as a business model also means you have more competition.
Helpful Resources
How To Launch A Wildly Successful Dropshipping Business From Home (porch.com)