Ebay Dropshipping is a business model that gives you the ability to sell products online without ever holding the inventory. Instead of ordering and storing goods, Walmart drop shippers simply take orders on eBay and then fulfil the orders through Walmart.
If you're looking for an easy way to start your next internet business, then keep reading!
In this guide, we will walk you through how to start your own Walmart to eBay Dropshipping Business in just 6 steps.

WATCH: Walmart to eBay Dropshipping – What you NEED to know
1. Set up your eBay Store
Firstly you will need to set up your eBay store. To do this, you will first need to create an account, and then you simply log in and visit the "my eBay" tab and select "selling".

You will be asked to provide some basic information such as your name, address, city and contact details to help set up and verify your account.
Pro Tip: If you already have a buyers account with some feedback, use this instead! This will go a long way to provide authenticity and trust to buyers on the platform.
An eBay store is vital to your success as a seller on eBay. Doing so gives you discounted fees, and allows you to list more products per month which allows you to scale your store faster.
2. Connecting to eBay Managed Payments
Once you provide all of the necessary information, you will need to connect your payment processor so that eBay will be able to charge you for your eBay fees, and so that they can pay you out for your sales!
To do this, we recommend setting up a Payoneer account, and linking it to eBay managed payments. This is because eBay and Payoneer have partnered up to make this process as easy as possible.
As soon as you sign up for eBay managed payments, you will get an email from eBay to link your Payoneer account.
Pro Tip: Thinking about setting up multiple stores? 1 Payoneer account can be used on multiple stores, so you can rest easy knowing that you only need to verify your account once!
3. Set up your store policies for Walmart Dropshipping
Next, we need to set up our store policies. This step is important, as having the right policies here will allow you to operate your drop shipping business in a more compliant way, and this is specific to what supplier you are using.
To do this you need to visit the Business Policies page on eBay, and click on "Opt In", and "Get Started"

Now when you click back on "Account Settings" you will see the "Business Policies" section appear on the bottom of your screen.

Next, we need to go into your business policies section and "create a policy".  This will allow us to create a:
Payment Policy
Returns Policy
Shipping Policy
Payment Policy
This policy is standard across the various suppliers you choose to work with, and only relies on how you wish to handle payments. Here you will log in and name your policy something similar to "Payment Policy" and then enter in which payment providers you wish to use.
Make sure that you select "set as default payment policy" and select the payment provider that you are working with. In our case, we will use "Payoneer"
Pro Tip: Make sure that you select "require immediate payment when buyer uses Buy It Now". This will prevent you having a lot of open payments in your store, and reduces the admin work of having to chase buyers down for payment
Hit "save all" and you are done!
Returns Policy
Next, we set up the returns policy. This policy will be specific to Walmart, thus we would name our policy something like "Return Policy for Walmart"

How you choose to set this up is a personal choice as it has its inherent risk, but we recommend setting up your policy to allow domestic and international returns and allowing for 30 days after the buyer receives the item.
We always select that the buyer should pay for return shipping and that "replacement or exchange available", as it is generally better to speak to the buyer and fix the issue instead of offering a refund.
Pro Tip: If you are able to make your returns policy longer, it will be better for your store as eBay gives preference to stores that have longer returns policies.
Shipping Policy
Your shipping policy will need to reflect what kind of shipping you are offering due to your Walmart subscription. If you are using Walmart Plus, you will likely be offering free shipping for all of your products.
If you are not, then you will be charged $5.99 in shipping for any products that cost less than $35.00, which you will likely need to pass on to your buyers.
4. Sourcing Hot Walmart Dropshipping Products for your eBay Store
Now that the admin is out of the way, we get to the fun part. Finding profitable drop shipping walmart products that you can list in your store.
To do this with confidence and predictability, we use ZIK Analytics. This section will run through us doing this with the tool as we look at products to list in our store for the upcoming month.
Ready to get started? Sign up for a 7 day trail below

Before we start, you can check out the video for this whole process below
To begin with we go to https://walmart.com and enter a random category and open any one of the listings that you see. In our example, we go to the "home" category, and open up the "air fryer" listing.
We then copy this title exactly, and enter it into the search bar in the ZIK Analytics product research tool.
What we are doing here is trying to find other dropshippers using walmart as their supplier.
PRO TIP: When using Walmart as your dropshipping supplier, make sure that you use Walmart Plus, as this gives you free shipping on all of your products

Your next step is to click on the "scan seller" button inside of ZIK Analytics, which will bring up all the products that that seller is selling in their store.
We recommend looking at a couple of sellers at a time as it will allow you to analyze a range of stores.
From each of these sellers, we take the best items being sold and we do a deeper dive by hitting the "scan title" button. This will then bring up a range of other sellers who are listing similar products using Walmart as their supplier.
From here, you can go into these sellers stores and "scan seller" again. This will let you dive even deeper into more successful Walmart drop shippers stores.
As you can see, this process is a bit recursive, but doing it this way allows you to find the BEST Walmart dropshipper stores to analyze and to use as inspiration for your store.
In doing this, we were able to come across a range of hot products that Walmart sells which we can add to our store for a profit. In our example video above, one of the Walmart listings stood out the most to us.
This was the Graco Simple Sway baby swing.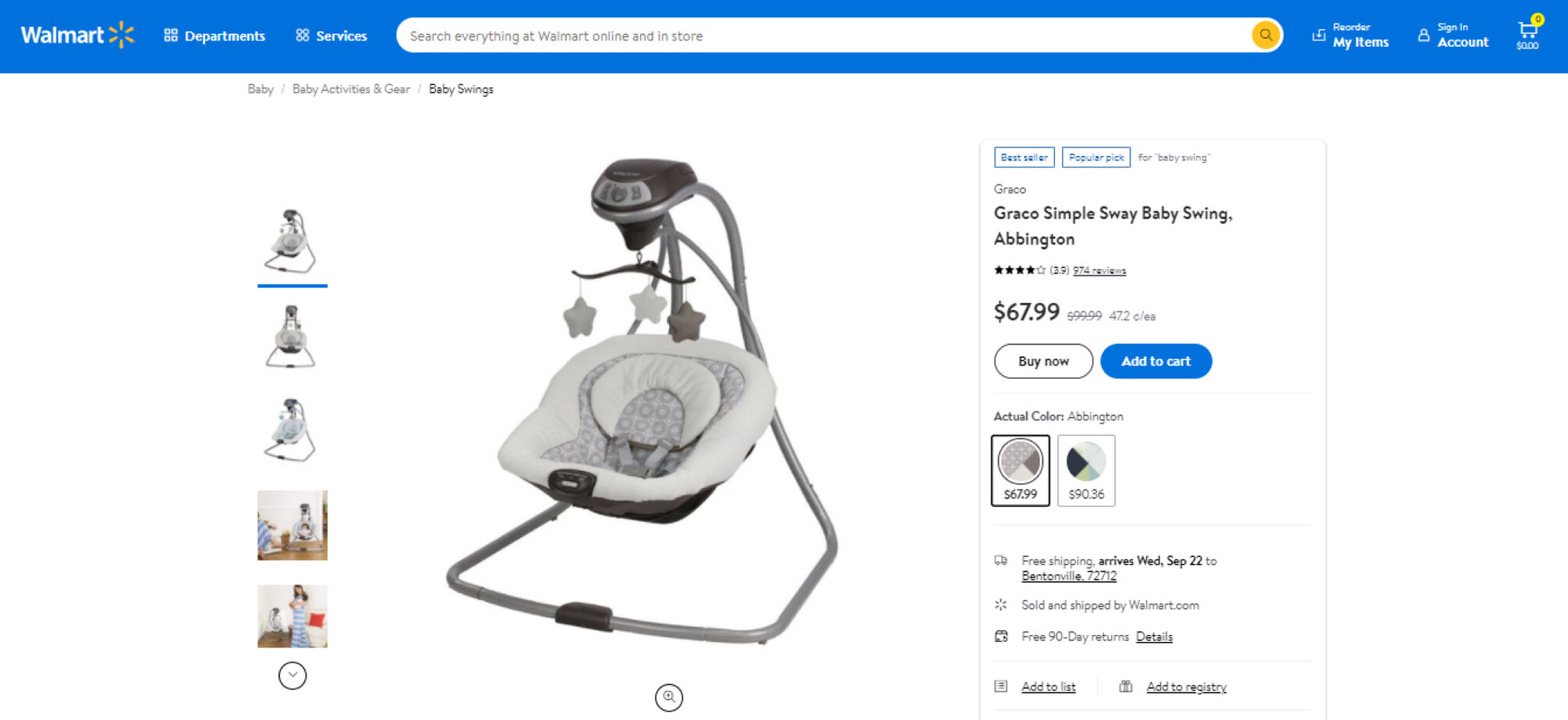 The statistics for this product looked promising, and when we did the profit calculations we were able to find a healthy profit margin.
How to calculate profit when Dropshipping from Walmart to eBay?
It is important to make sure that you calculate your profit correctly, as being successful at drop shipping relies on being highly accurate with your numbers.
We calculate our profit with the following formula
Dropshipping Profit = Sale Price*Fee Modifier – Purchase Price – Shipping Price
Where:
Sale Price = $92.79 (From what other sellers are listing for)
Fee Modifier = 0.87 (This is a constant that we use which deducts 13% from our selling price to account for eBay and Payment Processor fees)
Purchase Price = $67.99 per the listing on the Walmart marketplace
Shipping Cost = $0 (Free shipping when you use Walmart Plus)
That's a massive $12.73 in profit when dropshipping from Walmart to eBay, assuming you choose $92.79 as your final price!
5. Listing your Walmart products on eBay
Next, we need to list our products on eBay. We will touch on the most important elements when listing your product on eBay to allow for maximum listing visibility.
We also have a full video guide on eBay Listing Optimization which you can watch and follow along where we get much more granular on this process.
In this example, we are going to list a PS4 Remote control
Creating your listing
First you will need to click on "sell" on the top corner of your eBay store, and you will be presented with a screen asking you to "tell us what you're selling"
From here, you simply enter the name of your product, and find a similar listing to the one you are selling with the same specs.

Once you find the one that is similar, you simply need to select it and you will be brought to a screen where you can update the title. We recommend using as descriptive of a title as possible to allow you to get the important keywords into your listing.
This helps potential buyers find the listing more easily by doing something called eBay SEO.
You will also need to select the condition of your item, and make sure that you upload as many images of the product as possible. We recommend trying to add a unique image for your main image as it allows your listing to stand out further.
Other important details to fill out
You have several other options to fill out, which will help optimize your listing further. We recommend filling out all of the following thoroughly to make sure that your listing is optimized as much as possible:
Title and sub title
Categories
Description
Item Specifics
Photos
Shipping and returns policies (including various shipping costs if you have multiple options)
Variations
Doing all of the above will allow eBay to draw from as many data points as possible to ensure that they are serving the buyer with the best item for their query.
6. Fulfilling your orders from Walmart
So great news! Your item has finally sold. Now it is time to fulfil your order and ship the item from Walmart to your eBay buyer.
This step is fairly simple, but a lot of dropshippers seem to get stuck here as they are worried that the buyer is going to get details from Walmart and report their listing. It's a valid concern, however there are a few simple things you need to do when fulfilling orders to make sure that Walmart doesn't communicate with your buyer to help prevent this from happening.
How to ship your Walmart drop ship item to your eBay buyer
In two separate windows, open up your sold item on eBay and the Walmart listing.  You will need to start the checkout on Walmart as usual, however instead of filling out your details, you will fill out the customers details.
We do all of the above, bar two options. For the phone number and the email address, we use our own details instead. This is to prevent Walmart from sending the buyer any confirmation emails or tracking updates.
Adding tracking information to your order
Walmart provides you with tracking details once the order leaves the warehouse. Once they provide this information, you will need to log in to eBay and enter in the tracking details into your listing so that the buyer is able to track the order.
This usually happens after 24 to 48 hours. To make sure the product arrives in a timely manner, Walmart offers same day delivery in which case you will receive the tracking much faster.
Let's wrap it up
Walmart dropshipping opens up a whole new world of possibilities to eBay sellers who want to start an online business without the stress of holding stock and tying up cashflow. It also gives you the freedom of being able to run your business from anywhere in the world, and live a "laptop lifestyle" as you are not tied physically to a location to ship out items.
Like any business, this also comes with a steep learning curve and will take real, daily work. The barrier to entry however is not as large as most other businesses as you will only need to pay for items once they sell.
If you are ready to get started, you definitely want to sign up to our 7 day trail below as well as our free drop shipping course here

Frequently Asked Questions
Is it safe to drop ship from Walmart to eBay?
According to eBay, Drop Shipping is the act of sourcing a product from a supplier and sending them to your buyers without handling them yourself. eBay is clear that purchasing the item from another retailer and shipping it to your customer is against their policies, and could result in an account ban.
They make the distinction between sourcing your products from a retail and wholesale business. That being said, we have a large community of eBay sellers who are doing just that! The important thing is to make sure that you set your store up in the correct way to avoid issues arising.
Is Walmart to eBay dropshipping worth it?
Walmart dropshipping is worth it if you are willing to put in the work. Like any eCommerce business, it takes consistent effort to make this business model a success, however it affords you a lot of freedom once you have the business set up and running profitably.
What is the best software for walmart dropshipping?
If you are looking to do Walmart product research, Zik Analytics is the only software you need to start dropshipping from Walmart to eBay.
Is Walmart Dropshipping the same as Walmart Arbitrage?
Yes, Walmart dropshipping is another term used for "Walmart arbitrage" or "retail arbitrage" on a broader sense. It is the act of purchasing a product from a retail supplier, and reselling the product on a different platform for a markup.
Can I dropship from Walmart to other platforms?
Yes, you can also dropship on Facebook Marketplace or any other online platform that buyers are going to search for products, directly from Walmart's marketplace. The principles of product research remain the same, however we always favour eBay due to the significant opportunity that we have seen on this platform.
Does Walmart use US Suppliers?
According to Walmart, most of their products for the US retail business is sourced, grown or manufactured in the USA. This is great news if you are using a Walmart drop ship vendor to ship your products, as your items will arrive to your buyers much quicker than if they ship from overseas.
How much does it cost to start a Walmart Dropshipping Business?
It costs approximately $37.90 to start your Walmart Dropshipping business if you are looking to bootstrap the whole thing. This will cover the cost for your Basic eBay store, and your Walmart Plus subscription.
We would also highly recommend signing up for ZIK Analytics to make sure that you are doing efficient and accurate product research which would cost an additional $29.99 a month for the basic package, or roughly $17.50 per month when you pay yearly.