If you are starting your online ecommerce journey, you have no doubt looked into using online marketplaces such as eBay, Amazon or Etsy. Every platform has its own pros and cons, and in this article we try to compare them all to find the clear winner.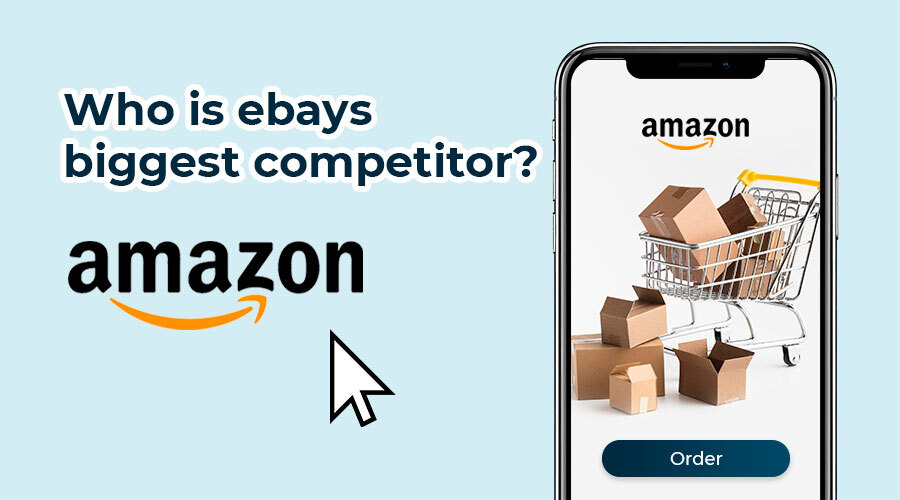 eBay's main competitor is Amazon, which is an e-commerce giant with a 48% market share and $ 233 billion in sales through its 650,000 employees worldwide. eBay ranks second with a 7.2% share and annual sales of $ 11 billion in the market.
Founded in 1994 by Jeff Bezos, Amazon is also the world's most valuable company, with a brand value of $ 755 billion. It has over 100 million active users and more than 119 million products, making it the world's largest ecommerce business.
Is Amazon a competitor of Etsy?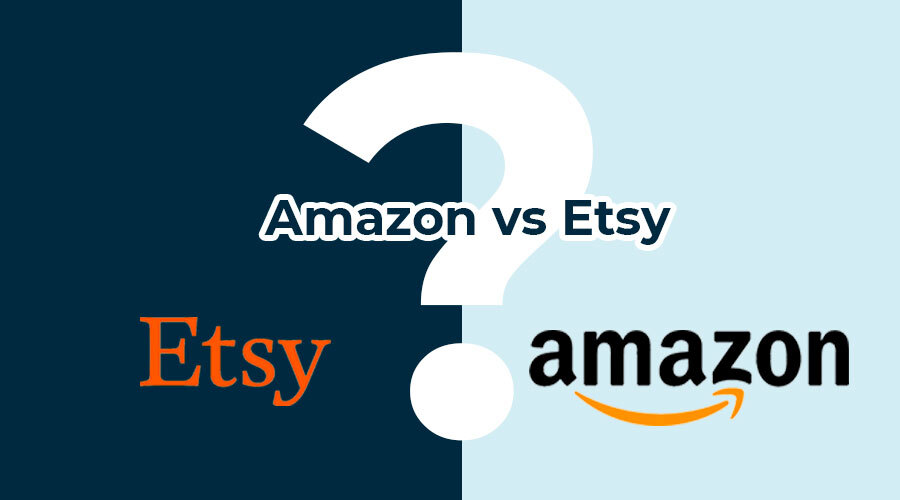 Amazon and Etsy are two different ecommerce platforms. Amazon is the biggest ecommerce platform, which covers a wide range of products, while Etsy primarily sells art and craft items, antique goods, and vintage items.
In the year 2015, Amazon launched its site of handcrafted products to give tough competition to Etsy. Amazon handmade now sells handcrafted products, gifts, accessories, décor items, jewellery, and similar products as available on Etsy.
The introduction of Amazon Handmade meant that Amazon was now a direct competitor of Etsy, as other platforms selling art and craft products.
Is Etsy bigger than Amazon?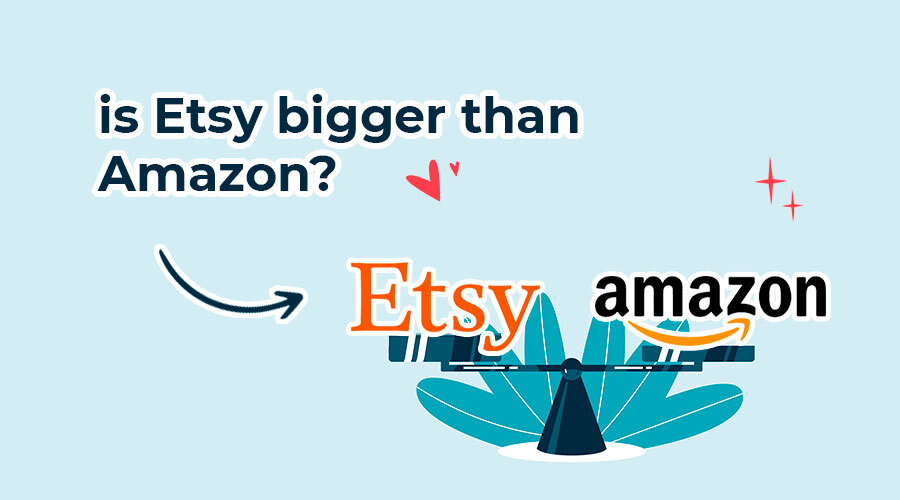 Etsy was launched in 2005, about a decade after Amazon. Today it's worth over $ 2 billion on the New York Stock Exchange.
While the size of Amazon is huge comparatively, the success of the latter shouldn't be underestimated.
It's also unfair to make a direct comparison between Etsy and Amazon as a whole, as your target audience is very different. It is makes much more sense to compare Amazon Handmade and Etsy, as in this case you are competing for the same buyer pool.
In this niche, Etsy has a stronghold where buyers on the platform are specifically looking for handmade, vintage, and handcraft items.
BUT, don't let that put you off utilizing the largest online marketplace in the world. Amazon was able to grow into a powerhouse for a reason, and it is the same brains driving the Amazon Handmade engine.
To give you a bit of perspective on both platforms.
In 2020, Etsy had more than 4.3 million sellers, while Amazon had 6.4 million sellers.
There were 81.9 million buyers on Esty and 3.10 billion visitors on Amazon in 2020. In the same year, Etsy reported annual revenue of $1.7 billion, and Amazon reported over $386 billion revenue.
While these numbers illustrate the relative sizes of both platforms, they are not the entire story.
Amazon visitors do not reflect the number of targeted buyers seeking handmade items, while Etsy buyers are those specifically looking for arts and handmade items.
What is the difference between eBay and Etsy?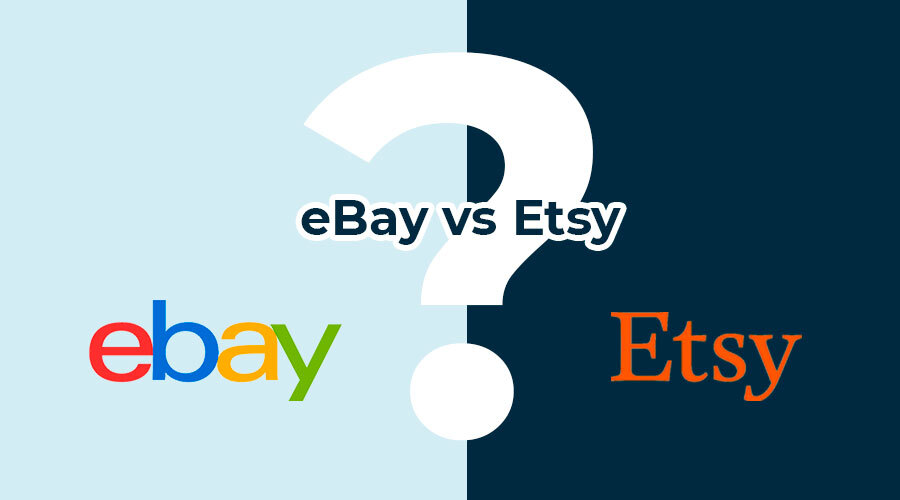 eBay is a leading online marketplace with more than 180 million buyers. It is the second-largest online marketplace in the world.
It sells new as well as used items to its customers and has a large customer base in America. It sells mostly new products on its platforms, but the used products are also available on eBay.
Etsy is a smaller global marketplace with most American buyers. In addition, Etsy has most products related to arts, crafts, and vintage products with a creative flair.
So, if you are trying to target potential customers who want quality products in the arts and crafts category, Etsy is the right platform for you.
Also, Etsy is best for building a loyal customer base. If however you want to reach a wider audience, with a more robust and reliable selling platform – then eBay is your "go-to" choice.
Can you sell the same item on Etsy and eBay?
If you're already selling and diversifying on Etsy or eBay, have your products in multiple locations, or just want to try a new platform, this is your option!
Remember, this sales method has both advantages and disadvantages that you should be aware of. By selling on multiple platforms, you can reach a wider customer audience and increase your sales.
You can also use a new platform as an opportunity to protect yourself from loss in rankings in the Etsy algorithm.
Selling on a new marketplace or even a physical location gives you diversification and protects you from any 1 source of sales dropping. It's also a great way to sell excess inventory – if things aren't selling well on Etsy, try selling them elsewhere!
The downside to having two different platforms for a business is the amount of work you need to add to keep them up to date.
If you don't have help, you may not want to go down this path for your business.
Keeping track of multiple different platforms and much more inventory than you are ready to handle is very tiring and can be time-consuming without using inventory management tools and listing softwares.
Is it profitable selling on Etsy?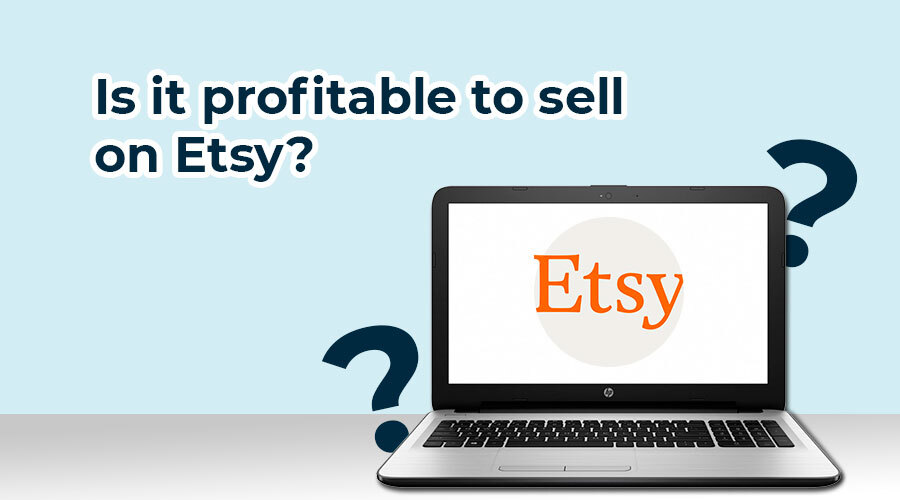 Well, the sky is the limit. Some big companies like "Simple Shapes" on Etsy make a million dollars a year (or more!).
Etsy obviously wants you to reach these heights yourself (can you say selling fees?), however the simple truth of the matter is that not every store will be profitable.
An Etsy store is like any small business, there is a lot of potential for failure, and you need to be willing to do a good deal of the initial work before you see the money flowing.
It is however a very profitable avenue once you have your store set up and selling, so this shouldn't be something that deters you from selling online.
How much does the average Etsy seller make?
According to a study by Smart Money Mammas, An average Etsy seller can make around $291 every month.
Not a staggering amount, but considering a significant amount of Etsy sellers aren't active, this average is considerably skewed to the negative.
If you want to be on the higher echelon of sellers on Etsy, you will need to invest in your marketing and photography of your products.
Having high definition, appealing products on your Etsy store will mean that you will be able to attract the most buyers to your store.
While there is a free tier, when done properly – starting an Etsy shop is expensive. You need to consider all costs involved in the process of selling on the Etsy platform.
Like any business, you do have start up costs. With Etsy, making hand crafted items means that you will need to invest in raw materials at the beginning to be able to craft your items.
The costs and barrier to entry however are quite small compared to most other businesses, this is definitely something worth considering when weighing your options.
If you want to see how other sellers are doing, you can view this thread on success stories of Etsy on Reddit, giving you a raw real example of various seller journeys.
Are eBay fees higher than Etsy?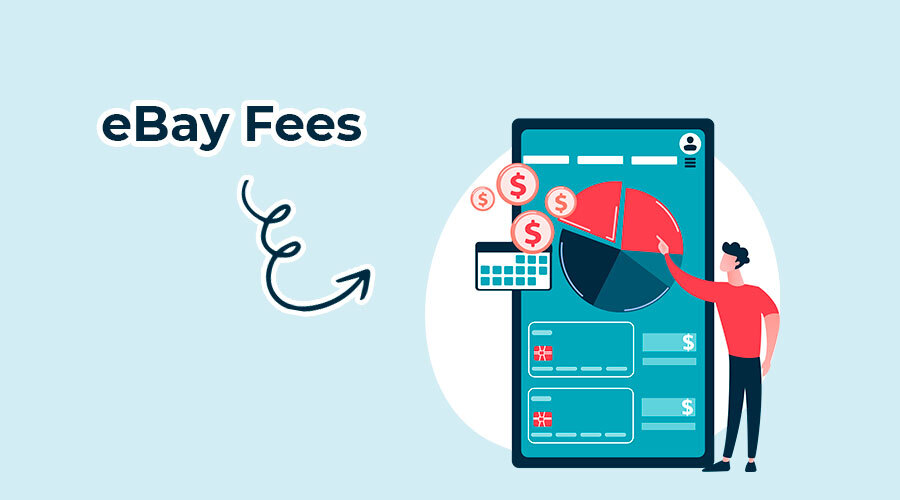 Both eBay and Etsy charge their sellers listing fees for a listing of products on their platforms.
eBay's fees are better for new sellers, as they allows their sellers to use 50 to 200 free listings per month meaning that you won't need to pay insertion fees. The number of free listings you get varies from country to country.
Keep in mind, that you still need to pay the final value fees based on what price the product sold for.
Etsy charges its sellers for every listing, but the fees are more defined and standardized as compared to eBay's fees. Although both platforms allow its users to create online stores, Etsy's patterned stores are more affordable than eBay stores overall.
How much does Etsy charge per transaction?
Etsy offers two plans for seller accounts- A free standard plan and the purchase Plus plan.
Standard Plan
The standard plan allows you to list your products, buy and print postage, market your products with sales and coupons.
With this plan, you can also sell on the Etsy app without paying any fees. You don't need to pay a monthly subscription fee, but Etsy does charge for the tools and services it provides you.
Plus Plan
The Etsy Plus Plan is available at a price of $10 per month, and it comes with all the features you need to sell on Etsy.
It includes all the features of the standard plan as well as some additional features like advanced customization for your shop. The Plus Plan also offers credits and discounts for using additional services.
Are Etsy fees high?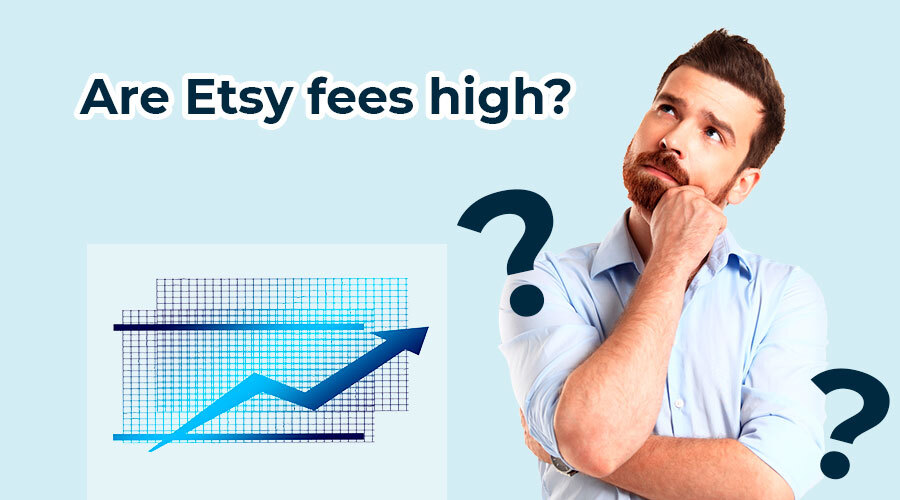 In 2018, Etsy increased its transaction fees from 3.5 % to 5 %, leading to the potential for sellers to pay 50 percent more on some listings. Etsy also added some extra shipping fees that really hit sellers hard.
Then in 2020, they introduced a new marketing model that was opted by almost all sellers, with only a few that opted out again. In this model, sellers only pay the fees if the sales were made, but they were not happy with the new fee plan.
At the time of writing this article, the most recent update to their seller fees policy was updated in June of 2021.
However, when compared with the previous policy, the fee structure was the same as updated in 2020. Here are the types of fees that every seller on Etsy needs to pay.
Listing Fee – 0.20 c for a new or renewed listing
Transaction fee – Every time you make a sale, you'll be charged a 5% transaction fee.
Advertising Fee– You pay an advertising fee to promote your store and products on Etsy.
Subscription Fees– Sellers can use Etsy Plus, a subscription service with a fee of $10/month.
Is Amazon cheaper than Etsy?
All the sellers on Amazon and Etsy incur some costs to sell their products to potential customers. So let's check what these platforms charge their sellers for selling their products.
Costs For Selling On Etsy
It charges $0.20 listing fee for every product
5% fee on sale you make
Transaction fees are applied to shipping charges
Does not charge any monthly charges
Costs For Selling On Amazon Handmade
Amazon Handmade charges 15% commission on every item you sell and a referral fee of  minimum $1
Transactional fees also apply to shipping charges.
A monthly charge of $39.99 is also applicable if they sell over 40 non-handmade items from a single account.
Listings are free and don't expire.
Although Amazon Handmade offers listing of free items with no expiration dates, the commission rate per sale is three times higher than that of Etsy.
A Fee of $39.99 per month for certain accounts and a 1 percent referral fee make the cost of using this platform much higher. As a result, most artisans find it cheaper to sell on Etsy than Amazon Handmade.
Is it still profitable to sell on Amazon?
JungleScout recently published an article on the average monthly revenue for Amazon sellers. They found that half of the sellers on the platform were making between $1,000 to $25,000 per month!
This is quite a spread, but still shows that people are profitable on the platform.
What's more, they found that only 26% of all sellers were earning less than $1,000 meaning that the vast majority of Amazon sellers are making healthy profits with an average revenue of between $12,000 to $25,000 per year.
Does Etsy sell fake stuff?
Etsy is working hard to detect sellers selling fake stuff on Etsy. After several buyer reports, it was found that the platform has an authenticity issue.
Most of the handcrafted and personalized products are genuine, but unscrupulous sellers tried to make a profit by selling fake items. To combat the growing problem, Etsy is investing $ 40 million to improve compliance and protect genuine sellers.
Is Etsy really worth it?
When it comes to insertion fees, Etsy is really one of many sellers' favorite markets as it only charges $0.20 per listing for four months. Here are the Etsy pros and cons that you need to know.
Etsy Pros
If you're new to Etsy, this fee is low. You can enjoy your offers on Etsy for four months in a row, after which you will have to pay the 20 cents/renewal fee for the offer again.
Etsy Cons
The biggest setback you will face also comes from recurring listing fees. Etsy is the platform for creative people to sell handcrafted items.
When it comes to paying the fee every four months for individual listings, it is costly for artisans and artists to pay those fees, epecially if your products aren't selling.
If you're a new seller on Etsy, they may ask for a lot. While this may be true, the benefit of this is that you get a very specific audience and niche for your offerings.
With 160 million buyers, you're sure to be discovered when you create a unique and adorable product that attracts buyers.
Are Etsy and eBay the same?
Etsy and eBay are two popular platforms for selling products, but they are completely different for sellers.
People who run ecommerce businesses or planning to start an ecommerce business are looking for the best platforms to start with.
Although sellers can make money from both eBay and Etsy, many of them wonder which one is the best for them.
The biggest difference is your buyer pool.
While Etsy is much more targeted to hand crafted and personalized items, eBay gives you a much more open marketplace which gives you access to a significantly larger buyer pool, which can translate to a much higher chance for success.
Who owns Etsy now?
Etsy Inc. owns the ecommerce platform Etsy. It was founded by Chris Maguire, Haim Schoppik, Robert Kalin, and later Jared Tarbell. The company is run and managed by Chad Dickerson is the CEO, Chairperson, and President.
Etsy or eBay, which platform appeals to all sellers?
Etsy is the best option for sellers who create their own products. Many sellers are able to make a full time living selling on the platform.
It is however not the best option if you are selling products that appeal to a mass market. In these instances, eBay is almost always a better option.
Etsy has sellers in many countries but majorly from the United States, Canada, United Kingdom, and Australia. In 2020, there were 81 million active customers on the platform, and the numbers increased 77 percent as compared to 2019.
The platform supports Etsy sellers in many ways, like charging a reasonable selling fee and offering customer support. Also, it makes the shipping process extremely simple and convenient for sellers.
Similarly, eBay has a world wide presence as well. eBay however is not limited to niche, hand crafted or personalised items like Etsy is. This means that sellers are able to list and sell a larger
Is eBay more expensive than Etsy?
Yes, at an overall glance it can be more expensive to sell on eBay vs Etsy – but the answer is much more complicated.
To get started on eBay is free. New sellers can get up to 50 free listings per month, depending on which country they are selling from.
There are however final value fees that need to be paid as well as other promotional fees that also will need to be paid if for instance you are using promoted listings or if you are taking advantage of the new eBay PPC Beta program.
Etsy however only charges you a listing fee to get started, meaning that your fees to use the platform are quite predictable to start.
Etsy always charges postage fees, but these fees are more defined and standardized than eBay fees, which can vary widely based on a variety of factors determined by the seller.
Both platforms allow users to create an online store, but Etsy's pattern stores are cheaper than eBay's.
Further to the above, for either platform, you will also need to pay payment processing fees on your sales.
So, with all the extra fees to sell on eBay, you might think that eBay is expensive use. Thats where you have to consider WHY you are paying the fees.
Apart from the general store and listing fees, eBay fees are generally charged after the sale. This means that you are only paying more money when you make money.
This is important, as if price your products correctly and have healthy margins, you should want to pay eBay as much money as possible – as this means that you have the ability to scale your store to higher figures than you can with Etsy which relies more on organic sales.
Etsy does have an advertising platform as well, but it is not as robust as eBay's.
What percentage does Etsy take in 2021?
If you want to know the costs of selling on Etsy and the fees they charge from sellers, there are two types of Etsy's fees:
1. Etsy fees that you have to pay:
Listing Fee ($0.20)
Transaction Fee (5%)
Payment Processing Fees (3% + $0.25)
2. Fees that vary according to your location, currency, and visitors:
Auto-renew fee ($0.20)
Multi-quantity Fee ($0.20 per additional quantity in a single transaction)
Currency Conversion Fee (2.5%)
Offsite Ads (15%). 
What are eBays' fees in 2021?
eBay is best in terms of fees, as it allows its sellers to use 50 to 200 free listings per month. The number of free listings you get varies from country to country.
eBay charges from 2 to 12% of the final sale price (cost of the item + shipping).
The percentage of fees depends on the category the item appears in and whether or not you (the seller) have a personal or business account. Booking fees, transfer fees, and sales taxes are not included in the eBay Fee Percentage.
The average seller pays eBay between 12% and 14% of the total fees. Moving to eBay's new managed payment system didn't do much to reduce fees.
Many sellers expected to avoid the extra 2.9% PayPal plus $ 0.30 per transaction but quickly switched to eBay's payment platform.
If you're a highly rated seller or have an eBay store subscription, your fees will be a little lower.
Summing Up
eBay, Etsy and Amazon are fantastic platforms for new and seasoned sellers. They all have their own pros and cons, meaning that new sellers need to find the right fit for them depending on their particular situation.
If you are a maker or creator of personalized or handmade products, then you are much better off selling on a platform like Etsy vs eBay or Amazon.
If however you are selling mass produced items with a wider market appeal, and want to reach a much wider audience – Amazon and eBay offer you a larger buyer pool with a range of seller tools that allow you to scale your stores more predictably and profitably.
Amazon has a much larger buyer pool than that of eBay, but the fees are generally lower than Amazon.
We strongly believe that eBay is the much better option from these 3 online marketplace juggernauts, as it allows for the ability to scale your stores much more predictably with mass market appeal and with a more reasonable fee structure.