So you have a library of books, sitting on your "to read pile" that you never quite got around to reading. Or perhaps you've read them and want to pass them on to a new owner to give them a second life. Now, you may be far from having enough stock to open up a book store, but there is still a way for you to make some decent bank selling books by listing them on eBay. This guide will show you how!
This guide will aim to take away all the guess work in listing and selling your books on eBay. From finding the best books to sell, to doing your product research, and listing your products. We hope to take you by the hand step-by-step to get you on your way quickly.
Don't want to read the full article? No worries, you can watch the video below instead
Article Overview
How to find the best books to sell on eBay
A common question that we have from users is how to find the best products to sell in a particular industry, as well as if they should sell new or used products. To answer this, we are going to go ahead and do some research using the ZIK Analytics category research tool to know exactly how viable our niche is, and what types of books we should be looking at selling.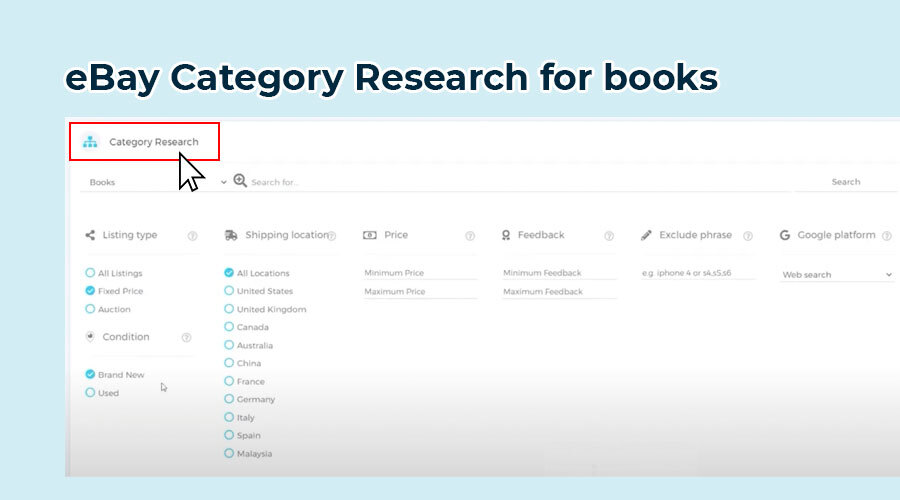 ZIK Analytics is an eBay research tool that allows you to find hot selling products on eBay through their extensive database and proprietary algorithms. If you don't already have an account, you can go ahead and sign up for a 7 day triall below.
To do this, simply head to the category research tab inside of ZIK, and fill in the required information about your book.
For instance, in our example we specify that we are looking at "used" items and search the "books" category in the category research tool.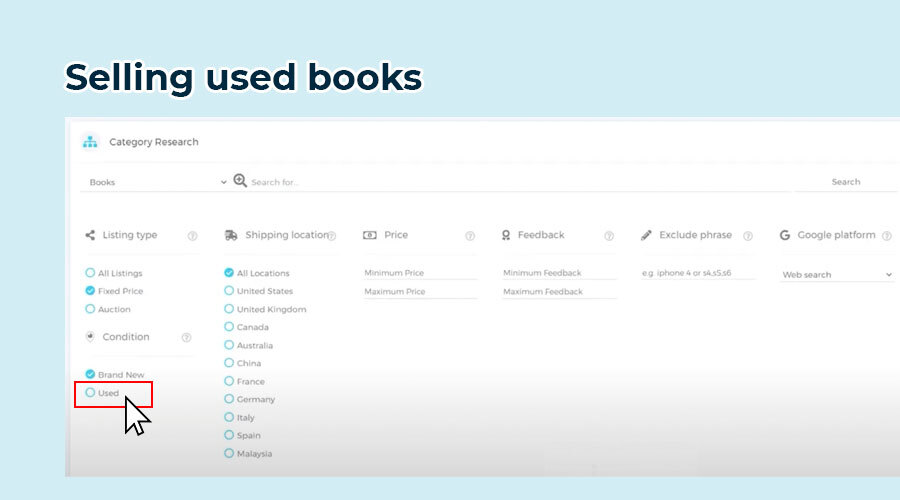 When you now click on the search button, you will be presented with some analytics containing the number of listings, sold items, sell-through percentage, and average product price.
You can also see the Google trends graph which shows you how the niche has been trending according to Google Search.
This data will give you an overall trend of the types of books you are looking to sell. We use this as our first point of confirmation to know that the niche we are looking at selling on is viable.
Which types of books sell well on eBay?
Now that we have found the niche to be profitable, our next step is to dig in deeper and look at the individual genres that are selling well. We do this by scrolling down to the list of products in ZIK and opening up the first 3 listings from the most purchased books on eBay.
This list of products gives you various statistics such as the name of eBay seller/s, countries they belong to, their total number of sales, title of their most sold book, number of copies sold for that book, the average selling price of the book for all orders, and the place from which the books were shipped.
When you open any of these listings, you will be directed to the actual eBay listing where you can further analyze the listing.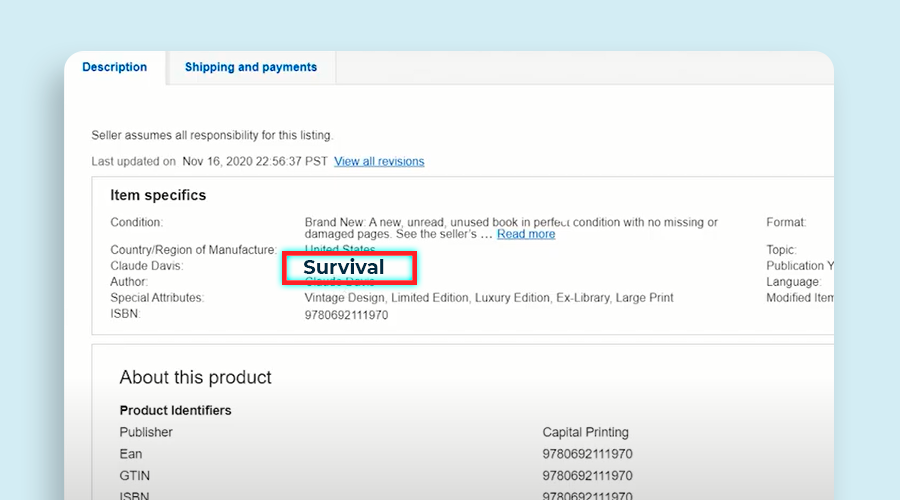 From our research, we found that the top 3 books were all "informative" books – such as survival books, textbooks and children's books. Armed with this information, we can now go ahead and dive deeper using the ZIK Product Research Tool to find specific products to list on eBay.
Finding profitable books to add to your store
From the step above, we know that our 3 focus genres are Survival, Textbooks and Children's Books. From here, we simply go to the product research tab inside of ZIK Analytics and search for any of the genres above to drill down further and find products to sell. For our example – lets focus on children's books.
Enter in "Children's books" inside of the ZIK product research toolbar. You will be presented with the following information.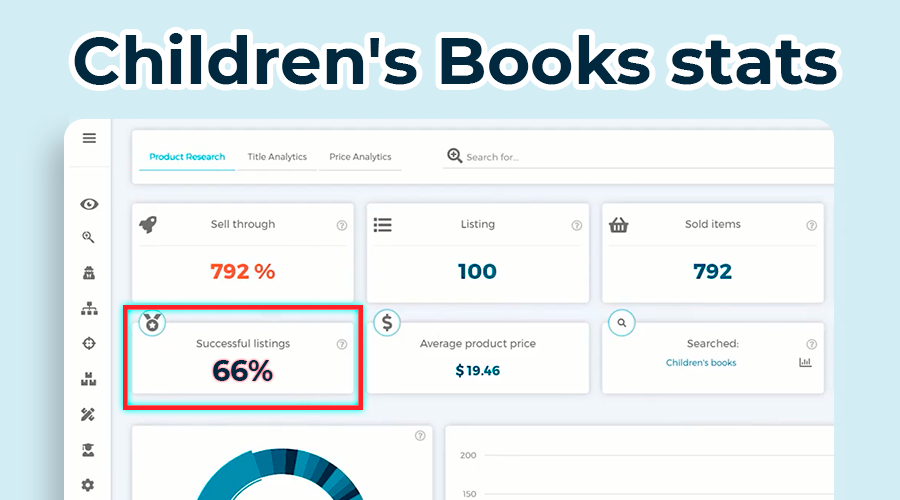 We can see that the overall statistics for this genre is great! We scroll to the bottom and find which products are selling the most, and we see that interestingly, a box set seems to stand out the most as having great statistics, specifically the box set for "a diary of a wimpy kid"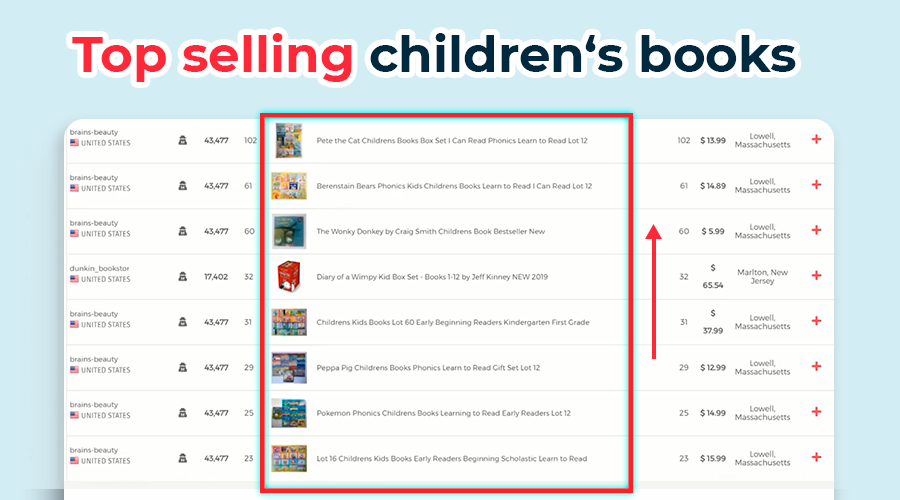 Our next step is to source this product
Sourcing books to sell on eBay
You now know what books will make you profit and you have also figured out the genre in which you are gonna sell books on eBay. In our example, we are selling the children's book "Diary of a wimpy kid box set"
Now, our next step is to find out where we are going to source the product.
Below, we will cover three basic ways in which you can procure stuff to sell for your eBay store. They are selling pre-owned goods, dropshipping, or real arbitrage.
Selling used books on eBay
Let's say by chance that you have a box set of "the diary of a wimpy kid" lying around. This is off course the best option for you.
Does that mean that your eBay selling journey will come to an abrupt end once you sell this particular copy? No, it sure doesn't! You can find books similar to this or maybe even this exact copy in various different places such as at garage sales, thrift stores and even in some book stores. You have to be a little creative with this, but there are plenty of places to source used books to sell on your store.
HOT TIP: New to selling on eBay? You can check out this beginners guide here to help you with a more A-Z approach to getting started selling on eBay.
Now, you are also not restricted to selling this particular book. We recommend going through your book shelf and finding all of your old books that are in a "sellable" condition and cleaning them up to make them presentable for sale.
You can gauge the demand for these books by using the ZIK product research tool that we showed you in the previous step to get an idea of demand and pricing.
Retail Arbitrage
Retail arbitrage is the process of sourcing products from retailers and selling them – in this case, on eBay for a markup. You could purchase the items in bulk for a discount, or simply find stores that are selling them at a price that is below what you deemed profitable on eBay.
HOT TIP: You can confirm profitability after accounting for fees and other costs by using our eBay calculator here
If you are able to source this product effectively from a local retailer that has constant access to stock, you will be in a fantastic position to make profits from this one product for months, if not years to come. The great thing about this, is that not everyone will be able to have access to this retailer, so your chances of competition can be reduced.
For real arbitrage, it is generally advisable to have a bit of a budget before you start, especially if you are planning on buying and stocking products in bulk. The tradeoff here is that once you have the products in hand, you are in complete control of the product being shipped to your customer which will allow you overcome some of the issues experienced with other models such as dropshipping.
Dropshipping
If you are low on funds, or simply want the business to be a little more hands-off, then dropshipping is for you.
Dropshipping is the process of selling goods (in this case, books) without having purchase them before they are sold. In this method, a seller of your choice will ship the product to your customer on your behalf, after your buyer has paid for your product.
Once an order gets placed on your store by a customer, your role is to then place the order with your supplier at a cheaper rate, and they will ship it to your customer on your behalf. The benefits of this method are that you don't waste funds tied up in stock that doesn't sell, as you are only selling products in demand. You are also more hands off in this method as you don't have to physically store or ship the products, meaning you have more time to scale.
The drawbacks of dropshipping is that you don't have full control of the supply chain. If you are using an international supplier, then this also means a longer delivery time, so you will need to manage your customers expectations accordingly.
Listing books on your eBay store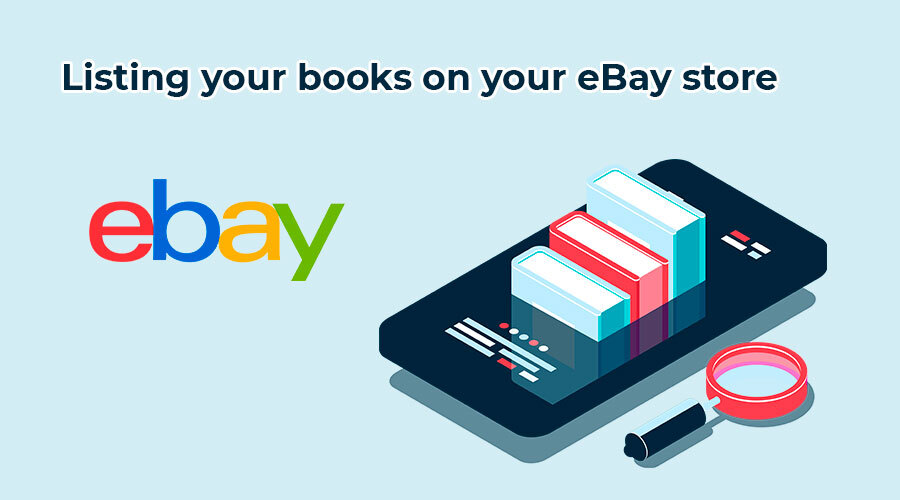 So we've managed to find the perfect book to sell, and a supplier to keep our stock flowing. It's now time to list our book on eBay.
Fill in the description details, postage details, and selling and price details of your product
To get started, simply head to the "sell" tab on your eBay account, and hit "Create a listing". You will need to fill in some basic information such as the title of your book to search eBay for similar listings. From here, eBay will have a pre filled listing ready that is related to your title. Pick the most relevant listing, and you will find that eBay has done half of your job for you!
We don't stop here though. Our next step is to completely fill out the listing . We fill out everything related to the book, as detailed below.
To get the most exposure in eBay search, we use the ZIK Analytics eBay title builder tool found here. This allows us to see what keywords our prospective buyers are using to find books like ours. We also want to make sure that we fully flesh out the item description.
HOT TIP: When writing descriptions, make sure to sprinkle in some keywords found with the title builder into your content to help your listing more relevant for those keywords. Also try to mention if your listing is a hard cover or paper back as well as the number of pages in the book. This will give buyers some finer details that your competitors may not be including.
Other important things to fill our completely are the condition of the product (new or used?), a fully fleshed out product gallery with as many of your own pictures of the books as possible.
If you are having trouble uploading images to your listing, you could always try installing the eBay app and uploading the pictures directly through your phone. It is important to make sure that the pictures are taken with a high quality camera if you are going to use the eBay phone app.
Next, we fill out all of the relevant item specifics. The important ones that stand out for this example is the "Book Series" and the "Narrative Type". I chose "Diary of a wimpy kid" for the book series, and "fiction" for the Narrative type.
Next, we chose our price for the product. You can choose to list your product as a fixed price book or via an auction. While auctions can and do fetch more on some occasions, we always prefer to chose fixed price as we want to be confident on our profit margins.
To get an idea of pricing, you can look at completed listings for similar products to this one. Or, if you want to go the easy route, ZIK Analytics makes pricing your product simple. We have already done the product research when finding this opportunity, so we have an idea of how much people are selling the product for. If you are using one of the in built suppliers, ZIK handily calculates the profit that you would make, if you list the product at the same price as your competitors.
If, you were able to source the product elsewhere, you can also use the ZIK eBay calculator tool to work out your exact margins taking into account your sourcing and shipping costs as well as your final value fees. The final value fee is a percentage of the selling price that you pay to eBay if you sell the product.
From here, you can adjust your pricing to a point that is within range of what buyers are paying for the product, that gives you a comfortable profit margin.
The last step is choosing your shipping details and business policies that apply to this listing. You also need to fill in the package dimensions and weight for your listed product.
Now you can go ahead and hit save and list your product!
Payment Options for your sale
EBay natively offers most payment options (even offering to buy now pay later options such as Afterpay), you do have the option to offer even more payment options that aren't accepted by default on eBay such as Cash on delivery or direct Pickup, Bank transfer, Bank cheques, and personal cheques, etc.
Offering these payment options will open you to a wider range of buyers, but it also offers less protection for the buyer and seller than the default options as eBay does not cover all payment options as part of their "eBay money back guarantee"
Packaging and shipping packages
This is the final touch, that your buyer will see when they receive their book. Presentation and functionality is key here. We recommend wrapping your items as neatly and securely as possible here, with protection such as bubble mailers for hard cover books, or a hard mailer boxes for paper backs.
You have several different shipping providers such as through parcel post, media mail etc. Many sellers do use media mail to ship books as it is a cheaper alternative. It is used especially to ship educational materials and books in a cost-effective manner and is a fantastic solution when you are selling books on eBay.
Summing it all up
The COVID pandemic has taken a lot from us and disrupted our lives. It requires us to adapt to the changing times and look to online opportunities. Learning how to sell books on eBay gives you an evergreen skillset to earn an income online whenever and wherever you are.
While there are several options to start an online book store, we recommend eBay for the ease of use and the reliability. eBay is also cheaper when comparing eBay and amazon's seller fees.
We want to assure you that the team at ZIK Analytics care about your success, and are here to help you realise your dreamsWe want you to know that we at ZIK Analytics care for your success and will help you get through the process in which every way possible. We are here for you to realize your dream of starting your online bookselling business. If you are ready to take the leap, we would love for you to become part of the ZIK Tribe. Become a member and you will have access to a community of sellers, and coaches who are ready to help you on your journey, step by step.
Come, Grow with ZIK Analytics and share your success stories with the world!