eBay is a popular online marketplace where you can sell almost anything! Whether you want to make extra money or make it your main source of income, an eBay online business is the way to go.
Once you list items to sell on eBay, you'd be surprised to know what people are willing to pay money to buy. And that's the beauty of this online marketplace – there is no limit to the best things to sell on eBay if you're looking for extra cash!
You already know about the common categories that perform well, such as phone accessories, camera accessories, computer accessories, video game consoles, and cell phones. These products are constantly in high demand and sell well on eBay. But given that there are tens of thousands of eBay sellers, the secret to make more money is to sell products that are unique and give you a distinction from other eBay sellers.
Aside from the obvious products in high demand, there are a few hidden gems you can add to your online store to make decent money. These unique products can be so-called niche products that help you make extra money and attract a specific audience.
Ready to discover what these top selling items are that many eBay sellers haven't even considered? Let's check them out!
Article Overview:
Top 7 Surprising Things that Sell Well on eBay
7. Bicycle Parts
6. Vacuum Cleaner Parts
5. Toilet Paper Rolls
4. Engagement Rings
3. Bottles
2. Bike Wheels
1. Boxes
Conclusion
FAQs
Top 7 Surprising Things that Sell Well on eBay
From unique and rare items to the most basic household items, uncover the list of surprising items to sell on eBay if you want to make big money.
7. Bicycle Parts
Bicycle parts are one of those untapped categories on eBay that you should pay attention to if you want to make extra money. Bicycling is a popular activity for transportation or leisure. It is an enduring hobby for many people, and these enthusiasts are looking for ways to upgrade their bikes or make replacements for old parts. Selling bicycle parts in your eBay store is an excellent way to make big money from this demand.
In addition, there is a growing trend of people ditching their cars and choosing to bike to work (or school). For them, it is an eco-friendly way of getting from one destination to another. It is also more cost-efficient because of the steep gas prices. These factors combine to make bicycle parts a reliable market wherein you can potentially make lots of extra money for your store.
The data and sales insights for bicycle parts are equally promising. It has a high sell through and successful listings rate, which validates the demand for this product. There are various bicycle part products, ranging from cheap to expensive. Therefore, you can easily target various hobbyists with various products and prices.
6. Vacuum Cleaner Parts
Another surprising niche on eBay that you can use to make more money is vacuum cleaner parts. One reason why it is among the lesser-known top selling items on eBay is that the expensive cost of getting a new vacuum cleaner means most owners would rather fix or repair their current vacuum cleaner than buy a new one. Repairing the unit requires the acquisition of replacement parts and this is where you come in.
Offering vacuum cleaner parts in your online store allows you to target buyers who are looking for unique or are parts. You can focus on generic parts or ones from popular brands, depending on your target market. Also, replacing existing vacuum cleaner units is more eco-friendly and sustainable than getting a new one.
When you examine the data insights and sales report for vacuum cleaner parts, you'll be pleased with how well it's doing. In the last 30 days, there have been over 3,000 units sold, and the sales earnings are in the six-digit range. So, if you're serious about making extra money on eBay, you must consider adding this to your product lineup.
5. Toilet Paper Rolls
Selling toilet paper rolls on eBay is an odd choice, but once you see how well this product is doing in online marketplaces like eBay, you'll probably change your mind. There are numerous reasons why selling toilet paper rolls on eBay is profitable.
First, it is a household staple item, so you can expect there will be a consistent demand for it. Next, it gained lots of attention during the pandemic when many preppers decided to hoard this product. As a result, many sellers are now creating novelty items from toilet paper rolls, such as designing them with various themes and custom printing. Whether you offer unique designs or not, people will always buy this product, so make sure you're well stocked to cope with that demand.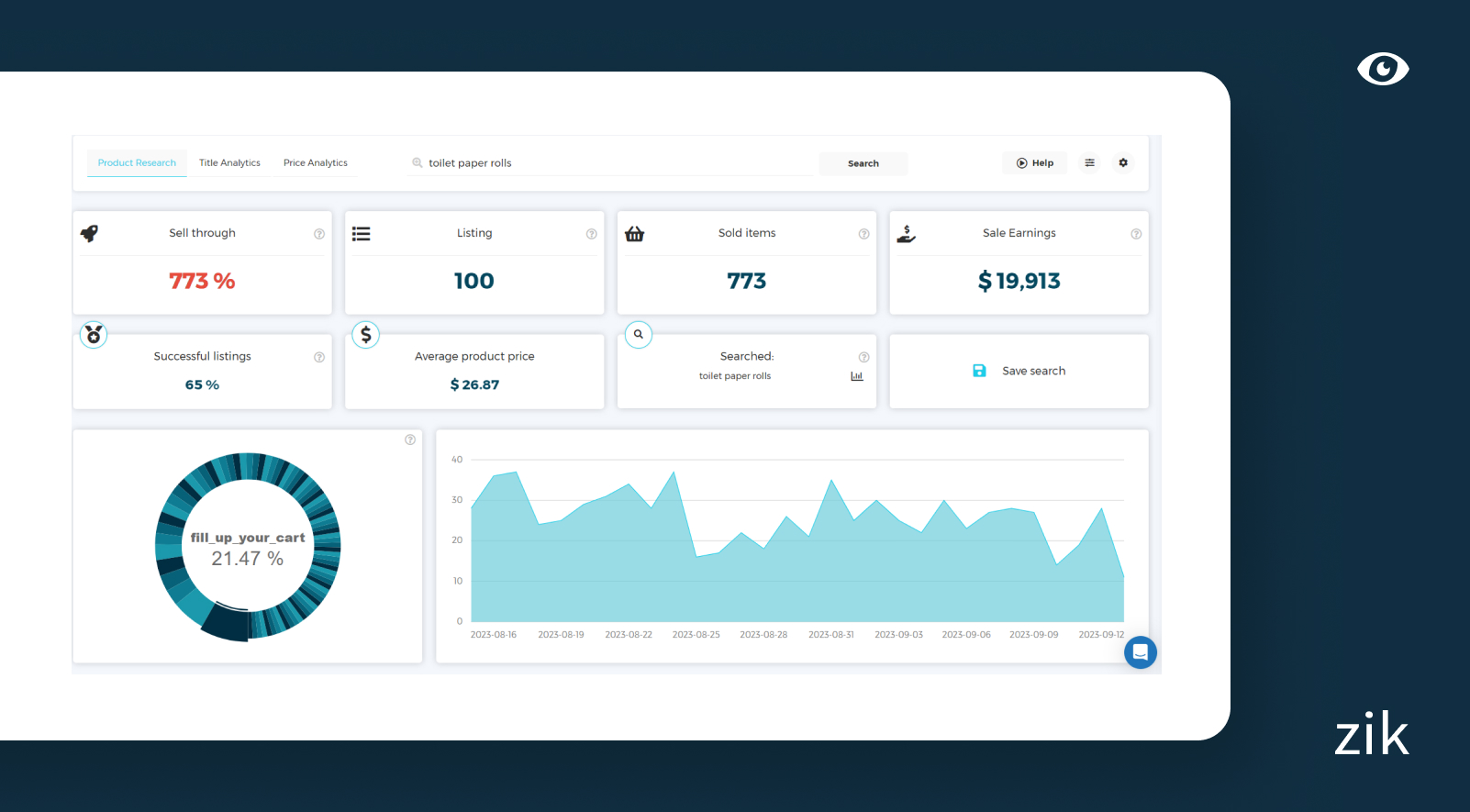 Toilet paper rolls also are doing quite well on eBay, as far as sales performance goes. The sell through rate and successful listings rates are high, so you could easily make money with this niche.
4. Engagement Rings
The idea of buying an engagement ring online, especially on eBay, might not appeal to many people (especially brides-to-be). Most people would think the purchase should involve more emotional and financial investment. However, not everyone can afford to pay for expensive engagement rings, and those who are on a tight budget can take advantage of the unique styles and cost savings offered by online marketplaces like eBay.
There is an eBay authentication guarantee for jewelry products, especially vintage and second-hand items. It gives buyers the assurance that the product is examined for authenticity and that buyers get their money's worth.
There is also a certain appeal to buying vintage engagement rings that feature elaborate styles or unique gems you won't find in many jewelry stores today. And for this reason, selling engagement rings on eBay could be profitable. You can attract a vast and diverse user base for this product, especially those who like the convenience of shopping online.
Surprisingly (or not), the sales earnings for engagement rings on eBay are impressively high. The same goes with the sell through rate and successful listings rate. The searches on engagement rings on the online marketplace experiences noticeable peaks throughout the year, which means you can expect a year-round demand for this product.
3. Bottles
Among the list of the top selling items on eBay that would surprise you, it's one of those that probably will. Why would someone buy bottles from eBay? As it turns out, there are many uses for bottles you can find lots of buyers for them.
Bottles are a wide category with many specific product choices to add to your eBay store. A few ideas that you can sell online include empty perfume bottles, plastic bottle caps, or any other types of empty bottles. Buyers would recycle these products and reuse them for bottling various products, such as perfumes or condiments. Hence, it explains why empty bottles and related products are a good niche to focus on when selling on eBay to make extra money.
The results are quite positive when examining the sales data and insights for bottles on eBay. There are noticeable increases in demand for this product at certain times of the year, but you can expect that demand will be there. Take advantage of this untapped potential as these products sell, especially if you can target the right buyers for this product.
2. Bike Wheels
Above, we already mentioned that bicycle parts are among the surprising products you can sell on eBay for a good price. Bike wheels is a completely different category you can focus on to make more sales, especially if you can offer the limited edition ones.
Bicycle enthusiasts and hobbyists like to invest in a new set of bike wheels after a certain period. It is crucial for safety and performance, and not just style. Therefore, you can tap into this market and sell bike wheels in popular online marketplaces like eBay.
When you look at the sales data for bike wheels, the numbers are not as high as the other products on this list. However, it is a unique and specific niche, so you must be strategic when listing this product to ensure you can target those looking for it. After all, bike owners only invest in a new set of bike wheels every few years, so there will be plenty of opportunities if you can target the right buyer.
The great thing about selling bike wheels in your eBay store is that you can choose from various bike wheel types, whether for mountain bikes or road bikes. There are also several options for bike wheel brands, which range in price. Again, you must know your audience to be able to choose which products to add to your store and make money.
1. Boxes
Last but not the least, boxes are a gold mine for eBay sellers who want to boost their income potential on this platform. You could potentially make tens of thousands of dollars annually if you can correctly target your audience and stock this product in your store.
With e-commerce continuing to grow rapidly globally, there is also a consistent rise in demand for shipping and packaging materials. And this is where boxes come in. Boxes are one of the most high demand products online as they are essential in shipping, storing, and moving fragile items. As a savvy seller, you could make much extra money with this fast-growing niche.
The market research analytics on boxes is very high, with a 96% successful listings rate. The sell through rate is also impressive, and so are the sales earnings. You have many options for boxes to sell on your eBay business – from cardboard paper boxes to corrugated shipping boxes. There are also many sizes to choose from, and they vary in pricing. The best part is many buyers who purchase boxes do so in bulk, which allows you to make decent money with this niche.
Conclusion
Market research is integral to your success with an online store like eBay. Research enables you to identify the high demand products, even for the lesser-known categories. Whether you already have these items at home or you get them from thrift stores, these surprising items can be a gold mine for success to make cold hard cash.
If you want to make extra money on online marketplaces like eBay, you must let your creativity shine. You should see the potential in each product, but make sure to back it up with data analytics and research. Look for data, such as average sales earnings, sell through rate, and average sales price, to inform your decision on what to sell on eBay. A market research tool will enable you to unlock the high demand products that make you a pretty penny for your eBay online business.
FAQs
What items have the highest sales on eBay?
The top selling items on eBay vary largely on the season or time of year. If you want to make money selling online, you should focus on the high demand niches, such as home furnishings, computers and accessories, beauty products, health supplements, and women's clothing.
However, trends can affect sales performance for these categories, so you must research to ensure that you pick the best niches to sell.
What sells out fast on eBay?
The products that easily sells out on eBay include baby care products, video game consoles and accessories, and consumer electronic products. Many consumable products, like beauty products and supplements, also easily sell out.
What is the secret to selling on eBay?
There is not one secret that you can apply to eBay selling to find success. However, market analysis and keyword research can play a significant factor in helping boost your online sales. These strategies enable you to understand the trends and analyze market data to make data-driven decisions to help sell your products faster.
It is also important to optimize your listings so they are easily visible within the eBay search engine results and help potential buyers find your products.