As of 2023, there are over 1.6 billion active listings on eBay! That's a lot of listings! It can be daunting to read those numbers for an eBay seller, new or seasoned! How do you make your eBay listing seen by your target customers?
While it's challenging, it's not an impossible task. The secret lies in knowing the best practices for creating a listing on eBay that will attract your target customers and ensure you can maximize exposure for your listings.
Simple as it may seem, creating your eBay listing is not an easy task, especially if you think about the high level of competition in this online marketplace. It's a challenge many sellers face, so don't feel like you're the only one facing this dilemma.
But fear not; I will show you the best practices for selling and listing your eBay products to get maximum exposure! You need to know the best tricks and some creativity to sell a product online, especially with eBay's high level of competition.
Are you ready to discover the pro tips on how to create an eBay listing?
Article Overview
Must-Know Before You Create a Listing
Best Practices when Creating a Listing for eBay
1. Upload Product Photos
2. Optimize the Item Specifics Section
3. Fill Out the Shipping Details and Returns Policy
4. Promoted Listings
5. Use Tools to Optimize Listing Titles for SEO
Final Thoughts
FAQs
Must-Know Before You Create a Listing
In this guide, you will learn the easy listing method on eBay that will get your products noticed. It is also important to provide the information to get more buyers to purchase your item.
Contrary to popular belief, creating your eBay listings doesn't need to be time consuming. Once you learn the process, it will become second nature, and you can easily optimize each listing.
But knowing and understanding your product well before selling it online is important. This tip is especially important for dropshippers since you don't have physical access to the product. As a dropshipper, you only rely on the information you can find about a product online – you don't get to test and use it.
Therefore, research counts. Visit the supplier's website to get information about the product. Ensure you learn the product's top features and how to use it. Getting in-depth information about the product ensures you can describe the item to your potential customers.
Even if you own the product, it's still crucial to research it. Look for information about the product online, especially if other eBay sellers list the same product. Learn about what features are highlighted in the listing for that particular product and other information you could miss out on when you create a listing. Lastly, researching other sellers with the same items as you will also help you research the price for that same product. You can use this approach to create a competitive price on your listing, but ensure you are still making profits from that product.
Here is a quick summary of the important details to cover about your eBay listing:
Know and understand the product
Look at the supplier's website for added information
Research a product, even if you own it
Find out what other sellers highlight about a product in the description
Best Practices when Creating a Listing for eBay
Now, let's move on to how to create listings on eBay. These listing tips won't guarantee more sale but will help your buyer make an informed decision during their product search.
1. Upload Product Photos
Product photos are a crucial element of your eBay listings. Put yourself in the position of a buyer: would you buy an item someone is selling if you don't see the product? Probably not.
The same goes when you set up your listings on eBay. You should always include product photos in your listing. But you can't just use any photos; make sure to include high quality images to your listings.
The most important feature of a high quality product image is that it should be clean and clear. Ideally, use photos on a white background to let buyers see the products you are selling in more detail. You must also include several photos in your listing, such as detailed shots of every angle of the product. It will help the customers visualize the product you are selling as if they were examining it.
If you are selling any used items, you should include photos showing the product's imperfections (if any). For example, if your item has any scratches, you should take a product of that detail in your listing. It is important to be honest with your buyers in your listing by including this information rather than disappoint your customers once they receive the item. Some customers could leave feedback that could hurt your overall seller rating, so you can't afford to risk that.
Dropshippers listing items on eBay are quite limited in what photos they can use since these photos are usually taken from the supplier's website. However, you can use tools like Canva to edit and enhance the photo's colors. Your goal as a seller is to make your products more attractive to buyers by using good quality images.
In summary, choose high quality images for your listings that showcase what the product can do and what it looks like. It's the next best thing for customers to be able to see and use the actual product. If you can do that, they will be more confident to buy the product knowing what to expect.
I will show you some examples of good and bad photos for your product listing so you can choose the right photos for your eBay listing.
Here is an example of a good product photo on eBay.
The image above uses a white background and clearly shows the product. Meanwhile, it also provides additional information and product features to help consumers decide if it is a good product. The example above tells a buyer that the product is safe to use in the dishwasher and freezer. It also shows the size and capacity of the product. The photo alone answers some questions a potential shopper might have about the product.
Here is another good example of a product photo on eBay.
The image above uses a white background, making the product visible. It also shows some ideas on how to use the product, enabling a shopper to picture using it when they buy it.
Meanwhile, here is an example of a bad photo on eBay.
The photo uses a dark background, and the products are not clearly shown in the photo. It is important that a shopper can see the item clearly so they can get a full picture of the product before they buy it. It is also crucial to showcase how the product is used and that it can support the description you've written on the product page. This example accomplishes neither of these things.
Here is another example of a bad photo as it uses a dark background, and the photo itself is a little blurry. Use sharp images to make it more visually appealing to your customers if possible.
2. Optimize the Item Specifics Section
The item specifics and description are other vital components of the listings on eBay. A good product description should cover the essential information the buyers need about the product. It should support the images that you provide in the listing.
This is an example of the item specifics section. It is highly detailed and provides crucial information a customer might want to know before buying the product.
And then here is a bad example of the Item Specifics, which only provides a little information that is not enough to help a customer decide if it's a good product to buy.
Always start your listing with a brief description. Include the payment policies, shipping details, and tracking details. These are crucial information that a buyer would want to know so they have an idea of when and how they are getting the product.
This product listing provides a good introduction to the product description. It is succinctly written. One paragraph would be an ideal length for describing the item.
The item specifics should include essential product information, such as weight, dimensions, colors, brand, etc. Meanwhile, the descriptions section of the listing page on eBay must provide supporting details for the items you are selling. Avoid being redundant, and include the information you have provided in the item specifics section. Focus on showing buyers how to use the item and what it can be used for (if it is used to solve a problem).
Take note of the formatting used in creating your listing on eBay. Avoid using bold lettering, as it looks unprofessional. Stick to clear and easy-to-read fonts.
You can also create an eBay listing template to help speed up the product listing process. It is a good choice when selling the same products within a particular niche. Using the template makes listing quick and easy since you only have to change the specific details, like size and color.
One last thing to note when you list items on eBay's catalog is to specify the store categories for the product. It will help shoppers when doing their product search as many would often look for items by exploring the categories.
3. Fill Out the Shipping Details and Returns Policy
The next step in your listing is to fill out your eBay store's shipping details and returns policy. It is a crucial part of the listing since most customers want to know when they can get the product before buying it.
On the other hand, it also gives them an idea of how much they will pay for the shipping. If you offer free shipping, you must include that in the listing, as it can also attract buyers who want to save money on their purchases. If you sell a product locally, indicate if you allow local pickup.
You must also indicate the payment method accepted for a particular listing. For example, you can indicate if you allow Paypal or debit and credit cards only. The more options you provide with the payment method, the better since it will help a buyer pick the most convenient way of paying for an item.
If you have the product on hand, the first thing you must do is weigh the item. You should also consider the size and dimensions of the product. These are critical factors that could affect the shipping cost of the product. Shipping couriers use these factors to determine the shipping price of the item, and that cost could differ depending on which country you are shipping the products to. You can also get the information on shipping details from the supplier to ensure you can fill out this information when you create a listing. You must also specify which countries you are shipping to, and what other countries are excluded.
When setting up the product listing, you should input the item's location. It will give your customers an idea of where you are shipping the product and use that as relative information on their location. It gives them an idea of how long the shipping process will take. You should also provide an estimated delivery time for the product on the page.
Here is an example of the shipping policy information to add to the eBay product listing.
When filling out the returns policy, you should include the number of days when you allow the buyer to file a return request on your eBay store. Do not forget to include details on who will be paying for the return of the item and if you allow the exchange or replacement of an item.
Here is an example of a returns policy on the eBay listing.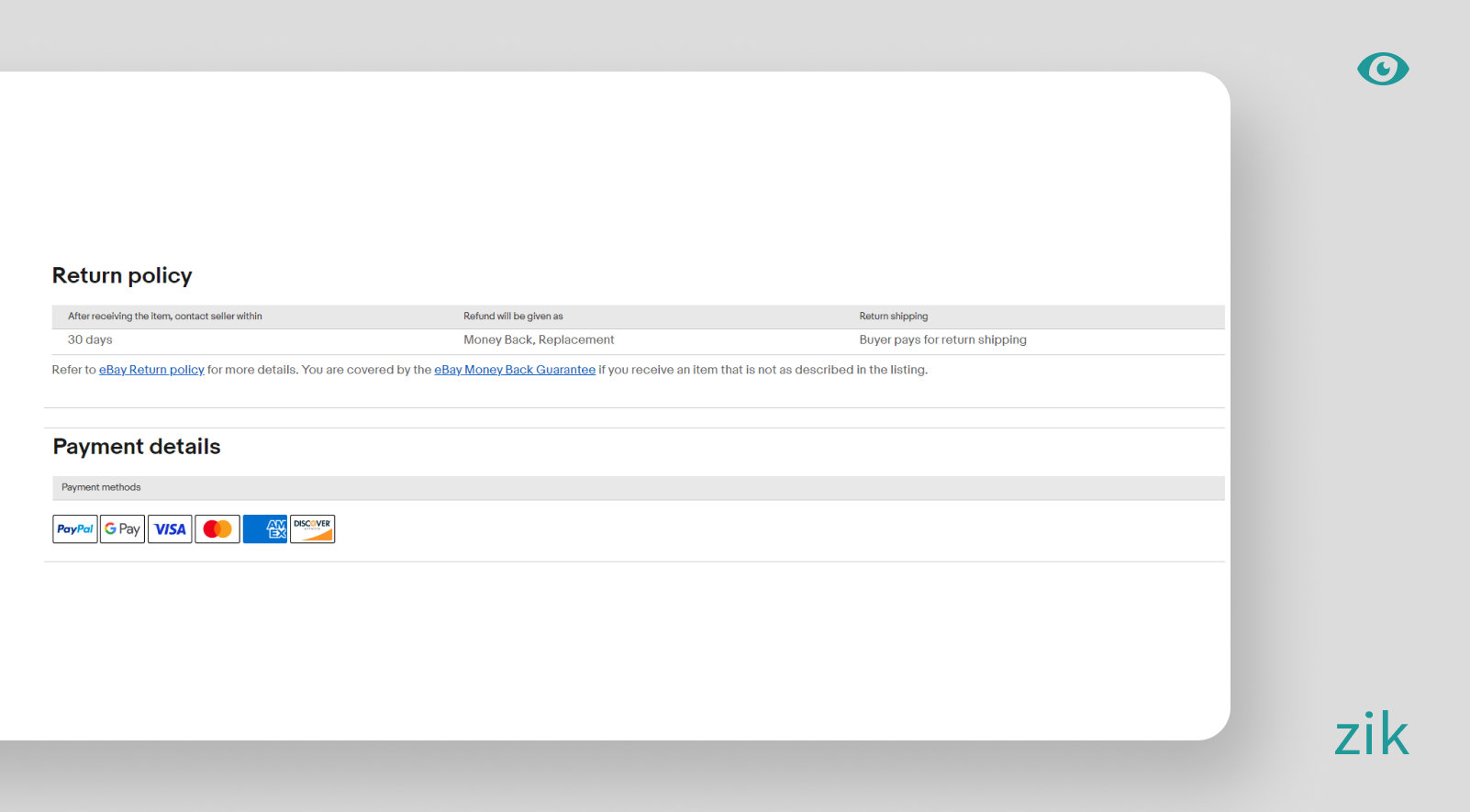 4. Promoted Listings
Promoted listings are among the best tools for eBay sellers to get more sales and customers. When you choose to promote a listing, it increases visibility and exposure for your products on the eBay platform. It will also be easier for customers to find your products on eBay search results. The more exposure the products get, the higher the possibility of making a sale.
You can specify the product you want to promote to use promoted listings. Set a percentage of the item's final sale price for your advertising fee. eBay will then strategically place the promoted listings on the site and target relevant audiences.
You can leverage this tool as a seller to increase visibility for your products on the search results. It also boosts your sales potential by giving you a competitive advantage over other sellers, especially those selling the same products as you.
As you can see in this example, your sponsored and promoted listings will appear as suggestions for relevant products. Therefore, shoppers on eBay don't have to look for your products to find them specifically.
The eBay algorithm will 'suggest' them to more buyers interested in your products based on their searches.
5. Use Tools to Optimize Listing Titles for SEO
The next and final step on how to maximize your listings performance on eBay is to use a tool to help you build SEO-optimized titles. Use the best practices for search engine optimization to organically grow traffic to your listings page and increase sales potential.
A tool like ZIK Analytics offers a Title Builder, enabling you to identify the long tail and generic keywords with high search volume and low competition. When optimising your titles for maximum performance and visibility, you must look for these characteristics in the keywords. You must ensure that the titles you use predict the keywords your target audience will likely search for in eBay search engines. That way, you can match it with your listings to ensure you end up in their product search results.
Let's look at an example to understand how to utilize the Title Builder tool for optimized titles on your listings. For example, you are listing an outdoor string light product. You input that search term on the Title Builder tool. It will provide you with a list of long-tail and generic keywords that you can integrate into the title to optimize the listing for SEO.
Using the title you generated, you can target the best keywords users search for and ensure you can bring organic traffic to your product pages on eBay.
Final Thoughts
Your eBay listings are the tools that will help you generate more sales and attract more eBay buyers. Therefore, you should create a listing to help your buyer determine that your product is worth the price and that it's what they need to buy for a specific purpose.
Listings serve two functions: 1) you can optimize them to help potential eBay buyers find your product on search engines and eBay search results, and 2) they provide information about the item you sell.
With my tips, you can start selling more products on your eBay business and have more success!
FAQs
Is listing on eBay easy?
Yes. Listing an item for sale on eBay takes only a few simple steps. However, you must create an account first if you don't already have an eBay seller account.
What is the listing limit on eBay?
The listing limit on eBay varies depending on your store subscription level. If you are using a free account, you are limited to 250 listings per month. The higher your store subscription level, the higher your listing limit is on eBay. eBay store subscribers can use the higher listing limit on your seller hub.
Is listing on eBay free?
If you have a free seller account on eBay, you can list an item for free. But if you exceed the listing limit on your seller account, you will pay an insertion fee for each listing.