Amazon and eBay are two e-commerce giants in the online shopping and dropshipping industry. While you have many options for a dropshipping supplier, you'll have more confidence in choosing a marketplace like Amazon because of its reputation, vast array of products, and buyer protection program.
Amazon to eBay dropshipping is a business model that has existed since 2011. It's a model that anyone with an eBay dropshipping business uses because it makes it seamless when dropshipping products, thanks to Amazon's 2-day shipping and a reliable buyer protection program.
But there's a lot of information out there when starting your online business, especially if you're looking at dropshipping from Amazon to eBay. And that's why I created this guide for you!
The dropshipping model appears simple and straightforward. But what complicates it is in choosing the right supplier as a dropshipping seller. Your choice could make or break your ecommerce business. You see, Amazon is the world's biggest ecommerce platform. If you have an Amazon account, you can use it to get cheaper prices than the ones you will find on eBay. This price difference might be irrelevant when you look at them from a single item's perspective. Still, if you're selling thousands of items for your Amazon to eBay business, then it could be significant over time.
Let's get started as we explore how you can succeed in your ecommerce business of Amazon to eBay dropshipping. You'll find invaluable tips and strategies and an Amazon to eBay dropshipping software that can be a powerful tool for your business!
So, keep reading, and you could be on your way to success in the ecommerce business!
Article Overview
Amazon to eBay Dropshipping Guide
Step 1: Setting Up eBay Account for Dropshipping
Step 2: Find Dropshipping Products
Step 3. Title Optimization
Step 4. Create Your eBay Listings with Amazon to eBay Dropshipping Software
3 Tips to Dropship from Amazon to eBay Without Getting Suspended
Final Thoughts
FAQs
Overview of Amazon to eBay Dropshipping
Dropshipping from Amazon to eBay is a fast-growing business model. It involves dropshipping products from Amazon to your eBay account. As an eBay seller, you are an intermediary connecting Amazon suppliers and your customers.
The Amazon to eBay dropshipping process begins by choosing the most profitable products on Amazon. Once you have found the best products for your ecommerce business, you can add them to your eBay listing page. If a customer purchases from your eBay store, you purchase the product from your dropshipping supplier on Amazon. The supplier ships the product directly to your customer, like any other eBay dropshippers.
Choosing Amazon as your supplier for your eBay dropshipping business offers many advantages. First, it offers a low upfront cost compared to other ecommerce business models. It also eliminates the need for a storage facility for your inventory management, which can add to the cost of running your eBay store. And lastly, you can leverage the large assortment of dropshipping products available through Amazon. You can also enjoy cheaper prices on most of these items to allow your eBay dropshipping business to offer competitive pricing and maintain a profitable business model.
However, success with Amazon to eBay dropshipping entails many factors. It is important to fully understand the ins and outs of working with Amazon sellers and suppliers for your eBay store to optimize profitability with this business model.
eBay Business Policies on Dropshipping
Before you choose an Amazon dropshipping supplier for your eBay stores, it is important to get familiar with eBay business policies on dropshipping. It is crucial to understand the policies to avoid violating them and risking getting your eBay seller account suspended.
So, how does eBay define the dropshipping model? And how does eBay dropshipping work?
It's called "product sourcing," or the process of stocking products from a dropshipping supplier and then working with those suppliers to send products your eBay customer purchases from your store. It eliminates the need to handle the product yourself.
eBay allows dropshipping from wholesale suppliers, but warns that dropshipping from other retail websites and marketplaces is not allowed. This poses a question about the potential issues surrounding Amazon as a source of your dropshipping supplier. It is one of the main eBay rules about dropshipping that you must be wary of.
But the reality is: many eBay stores and dropshippers have had success using Amazon, even making a huge profit from Amazon to eBay. If you want to be among them, keep reading to learn more tips and strategies that will help your eBay seller account succeed!
Step 1: Setting Up eBay Account for Dropshipping
If you want to be among the millions of eBay sellers on the platform, the first step is to set up your eBay seller account. You need an eBay account for drop shipping to create eBay listings from your Amazon dropshipping supplier.
To register an account, you have two options for an eBay account: Personal or Business Account. Choose a Personal Account when you want to register as an eBay buyer or use this account mainly for your personal purposes. You can use this account to look for and purchase items on the eBay platform. Meanwhile, choose Business Account if you want to set up an online store on eBay.
The selling benefits are the same for each type of account. However, choosing a Business account if you run an online store makes it easier to abide by eBay legal business practices for billing and accounting purposes. It also makes it simpler to track down your earnings when filing your taxes later.
Once you set up your store, you are ready to move on to the next step.
Step 2: Find Dropshipping Products
Every eBay dropshipping business owner aims to sell products. Therefore, you aim to identify the winning products to add to your eBay listings.
Product research is a vital step in any successful ecommerce business. To make money selling products, you must choose the most profitable products to sell online. You want to identify products already doing well using data analytics and insights. Through product research, you can obtain the essential data to decide if a product is worth adding to your eBay product listings and if it would help generate more profits for your business. Your chosen product must have had a good sales rank over the past 30 days.
So, how do you conduct product research?
The first thing you need to do is to go to the Amazon website if you choose the Amazon to eBay dropshipping model. Go to Amazon's best-sellers section to find the products that are trending or getting a lot of sales recently via the platform.
Now, choose one particular product from that best seller list to examine closely.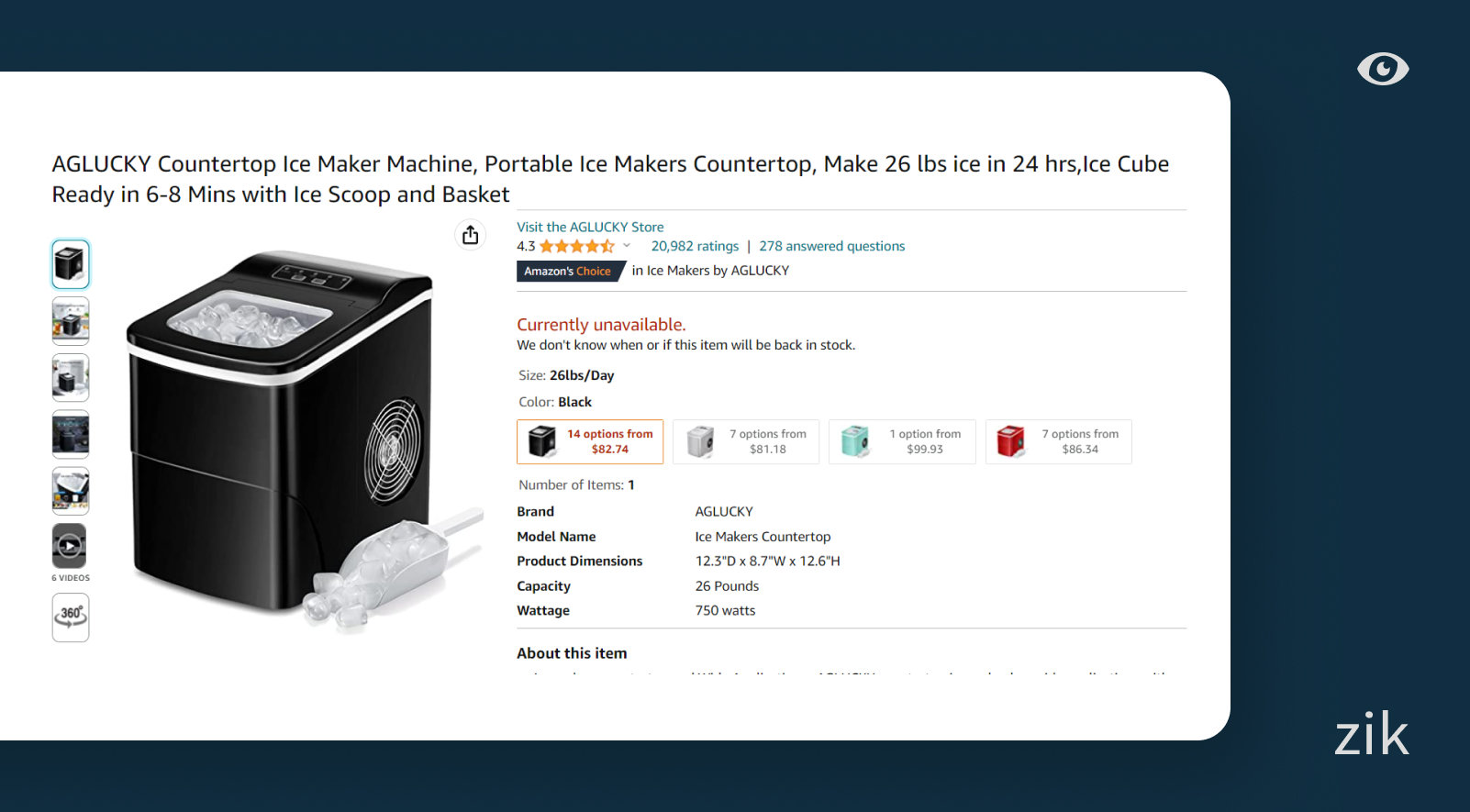 The goal is to identify the potential for sales for each product by looking at the sell through rate, the success rate of the seller, and the amount of sales in the past 30 days.
Let's look at this example of a countertop ice cream maker. It's one of the best sellers on Amazon, and it ranks #2 in the Appliances category.
This product is a good option for your eBay store since it has a sell through rate of 511% and over $95,000 in sales in the past 30 days. The successful listing rate is 56% for an average product price of $178.
Look for sellers with the Amazon supplier so you can inspect them more closely. It will also enable you to identify their potential dropshipping supplier for these products.
And it's also important to "Scan Seller" using a product research tool like ZIK Analytics. It will provide you with valuable insights into the other products that you could add to your online store.
Based on the product research software, the seller has a few other dropshipping products from Amazon, such as an electric fireplace, a retro mini fridge with a freezer, a built-in mini wine cooler, and a standing tower fan, to name a few.
I suggest you examine these products more closely to see the sales data over the past 30 days and the sell through rate. These data insights enable you to make an informed decision about your dropshipping products that you could add to your eBay stores.
Step 3. Title Optimization
To have a successful Amazon to eBay dropshipping business, you must optimize your eBay listing. Optimization targets relevant keywords or search terms that an eBay buyer would input on the search engine in search of a particular item they want to purchase.
Product research software for dropshipping, such as ZIK Analytics, includes a feature that enables you to create optimized titles for your product listings. If possible, target both short- and long-tail keywords for your titles when creating your eBay listings to ensure you can target more buyers for your online business.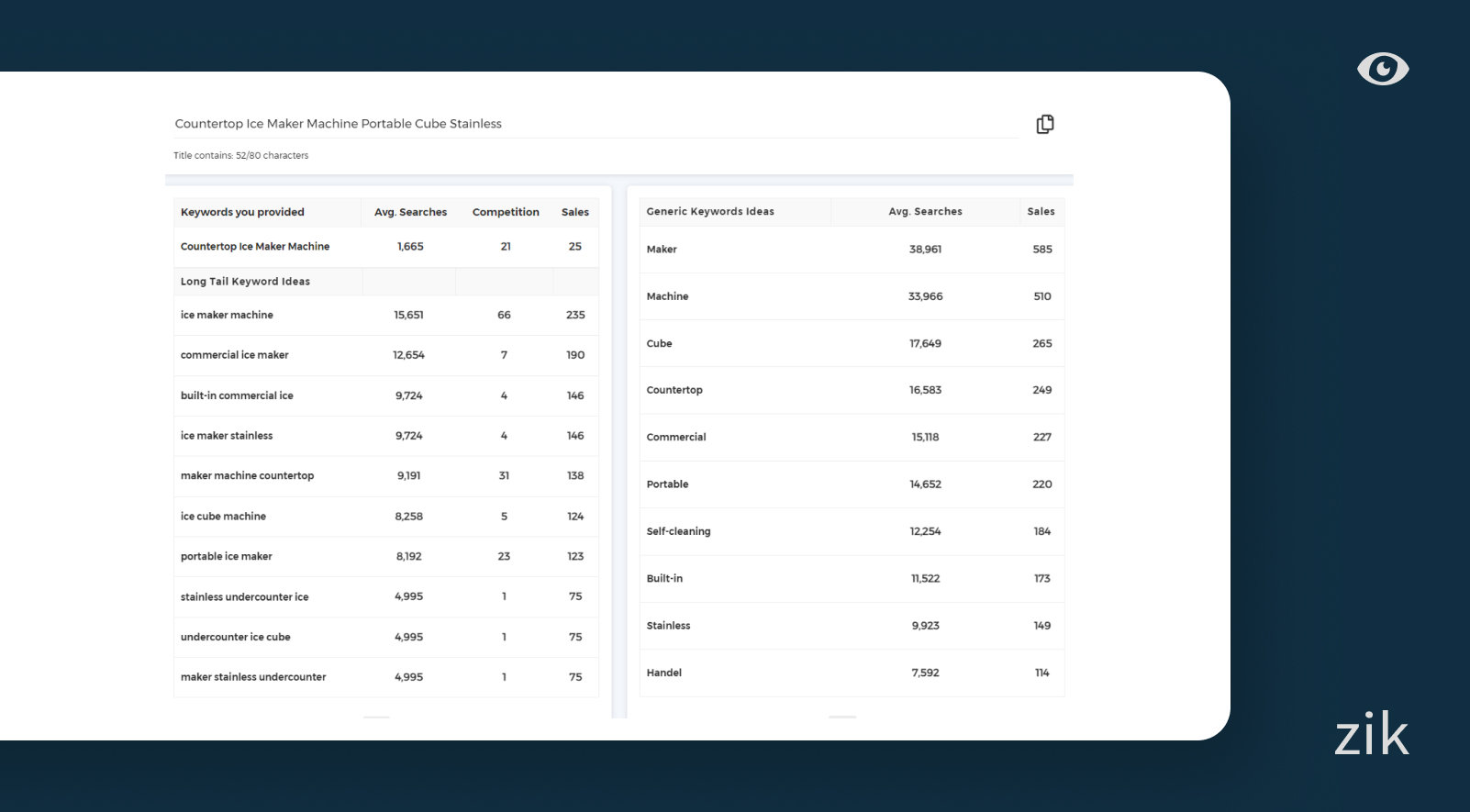 Once you're in your ZIK Analytics account, go to Title Builder. Input the main keyword, and it will generate several keyword ideas you can incorporate into your product listings. Focus on relevant keywords with high average search volume and low competition. It will help you target popular keywords for your eBay listing and ensure you have sufficient traffic to your products for your Amazon to eBay dropshipping store.
Step 4. Create Your eBay Listings with Amazon to eBay Dropshipping Software
Once you have researched your product, it's time to start your business. First, you must find tools that will automate your eBay listing page. Using automation software to simplify your listing process is crucial, especially if you have many dropshipping products on your eBay online store. Listing the items manually could eat up valuable time, which you could use toward growing your online business instead.
The first type of tool is called a lister service. It helps to list those items on your eBay stores automatically. So, what tools are available for this functionality?
A good lister service is called Auto DS. This dropshipping software automates your dropshipping store, and it support dropshipping suppliers, including Amazon. The automated tool lets you list your dropshipping products with just one click. It will easily transport your products to your eBay store, saving time and effort. You can also access various other features, such as 24/7 support and monitoring, automated dropshipping orders, and more.
Another tool that will help you list your items on your eBay seller account is SaleFreaks. It is fully automated software for Amazon to eBay dropshipping. It is the ideal solution for eBay dropshippers that deal with many products. You can list your items in your store in a matter of minutes, whereas it would have taken you hours if you were to do it manually. Therefore, it is a great tool to have in your arsenal for managing your eBay listing.
Another software tool you can use to optimize your Amazon to eBay dropshipping business is a repricer. This tool is a must-have for any eBay dropshipper since it can detect any changes in the prices of the products from Amazon. When there is a price change, the tool automatically updates the prices on your eBay listing page to ensure you can maintain a good profit margin. Employing this tool is highly convenient since you don't have to manually monitor the price changes of the same products on Amazon, and you don't risk losing money in the process.
The best part is you can integrate these tools with ZIK Analytics, Amazon's leading product research tool, to eBay dropshipping. Therefore, using these software tools together ensures you can optimize your business as a dropshipping seller.
3 Tips to Dropship from Amazon to eBay Without Getting Suspended
If done correctly, dropshipping from Amazon to eBay is a potentially lucrative and low risk business model. As mentioned above, eBay has business policies about choosing your supplier when participating in a dropshipping business model. Getting familiar with these policies is important to avoid any restrictions or suspensions to your account.
To avoid getting your eBay seller account from being suspended, you need to follow these important strategies.
1. Focus on Amazon FBA Products
The fulfillment by Amazon (FBA) program is an excellent choice if you're looking for dropshipping products from Amazon to eBay. The FBA program consists of products stored within the Amazon warehouses, which you can tap as an eBay dropshipper.
The best part about choosing products from the Amazon FBA program is that you can use Amazon order fulfillment services. The Amazon team is responsible for finding the products, using Amazon packaging, and shipping them to your customers. You can leverage the efficient fulfillment process by Amazon to manage the number of orders coming into your online business. It ensures faster delivery times and a better customer experience.
2. Avoid Dropshipping VeRo Items
eBay has a program called Verified Rights Owner Program (VeRo). This program aims to protect the intellectual property rights of the rightful owners of the products. Therefore, eBay sellers must avoid VeRo items on their online store to avoid possible copyright or trademark infringement issues.
To be on the safe side, you must avoid dropshipping VeRo items from Amazon to eBay. The VeRo items are trademarked products or well-known designs. You must invest in research about certain products to avoid potential issues down the road, especially if these are VeRo items. If you don't, you could risk getting your account suspended.
3. Change the Titles and Product Descriptions
An easy trick to sell items from Amazon to eBay without the risk of getting suspended is to update the titles and product descriptions. Take this extra step before adding them to your eBay dropshipping store.
Many eBay dropshipping store owners simply copy and paste the titles and product descriptions from Amazon to eBay. This practice is a no-no because you could risk being flagged for having duplicate listings. This is not allowed as per eBay rules.
Focus on creating unique titles and product descriptions that accurately depict the products while complying with eBay dropshipping guidelines. Another advantage to creating a unique listing is the opportunity to optimize your titles and product descriptions. Targeting the right keywords can generate more traffic to your product listings by putting them on top of eBay search engines for relevant searches. Aside from improving search visibility, it makes your online store more credible.
In general, you must habitually stay updated on eBay's policies and potential changes. Staying informed can help you avoid any issues in the future and ensure compliance. Otherwise, you could risk all your efforts with the threat of an account suspension.
Tips to Avoid Amazon Buyer Account Suspension
If you are using your Amazon buyer account for your eBay dropshipping business, then it makes sense to ensure the longevity and stability of your Amazon account. Understanding the various Amazon policies and guidelines is crucial to keep your Amazon eBay dropshipping business going for a long time.
Tip #1: Don't Dropship High-Price Items ($45 and above)
Avoid your Amazon account from being marked as fraud or suspicious by not dropshipping items that are valued at $45 or above. If you're constantly dropshipping these items from Amazon to eBay, it could cause red flags. And the more red flags you raise, the more likely your Amazon account could get suspended.
The best approach when Amazon eBay dropshipping is to focus on the lower-priced products. It will mitigate any risks to your buyer account and maintain a good track record in Amazon.
Tip #2: Avoid Using Amazon Discounted Gift Cards
You aim to maximize your profit margin as an eBay dropshipping store owner. Therefore, you would want to look for items sold at cheaper prices or get as much discount as possible when purchasing items and shipping them to your eBay customers.
However, you must refrain from using Amazon discounted gift cards to purchase your dropshipping products. Amazon has these policies to avoid the unauthorized and abusive use of discounted gift cards, especially for profit. And since it is part of Amazon policies, any violation could suspend your account. You don't want to risk that if you want to succeed with Amazon to eBay dropshipping. You must be especially wary when your discounted gift cards on Amazon are from unreliable or unauthorized sources.
Tip #3: Don't Shop a Lot of Prime Products from One Amazon Prime Account
Amazon Prime is a popular service from the ecommerce giant. Using the Prime program gives customers unique advantages, such as free and expedited shipping. You would think these perks are good to enjoy for your eBay dropshipping store as they can improve your customer experience, especially regarding Amazon dropshipping.
However, it is a risky move when you use your Prime account to consistently order a large volume of items from one single Amazon account. It could raise suspicions that you are using your buyer account for your online business or that Amazon could see these transactions as potential abuse of the program policies.
Therefore, you must aim to diversify your purchasing patterns on Amazon. You must order a mix of Prime and non-Prime items to prevent drawing attention to your account and raising suspicions.
Risks With Amazon to eBay Dropshipping
How to Use an Amazon to eBay Dropshipping Software
Automating your Amazon to eBay business is a smart investment. Using specialized dropshipping software to automate the process ensures a streamlined dropshipping process from Amazon to eBay. Follow this detailed guide on how to use dropshipping software to achieve automation in your business.
1. Research the Best Dropshipping Software
Many dropshipping software tools are available, and it's important to research your options. Each tool offers unique functionalities that improve your ability to efficiently run and manage your dropshipping business.
Look for the features you need depending on the size of your eBay store. It's also crucial to compare plans and reviews from previous customers. Make sure that the software you choose integrates seamlessly into the Amazon and eBay stores so you can maximize their features.
2. Focus on Synchronization
Another factor in choosing and using automation software for your eBay dropshipping business is synchronization. The tool must easily connect to your Amazon and eBay accounts securely to access product data, sales insights, inventory management, and other essential tools available to each platform.
3. Product Research
A product research tool is an integral part of your eBay dropshipping journey. It will help you identify the market's most trending and high-demand products based on actual sales data and sales trends. The product research tool empowers your business with data-driven decisions so you can stay competitive and maintain a high profit.
Furthermore, the tool can give you access to essential data like the average product price for a particular product. You can use this information to develop a competitive pricing strategy based on market trends and actual sales data.
4. Listings Optimization
Listing your products on eBay is not enough. You must optimize each listing to ensure it can generate traffic and increase search visibility. Choose software with listings optimization capabilities to create compelling titles and product descriptions for your eBay listings. Software tools like ZIK Analytics give you access to templates and keyword ideas that streamlines the title and product description optimization process.
5. Continuous Monitoring and Analytics
Take advantage of the software's reporting capabilities and analytics insights to track and analyze the performance of your Amazon to eBay products. It gives you a better picture of your eBay dropshipping business performance.
Focus on the key metrics and KPIs, such as sales earnings (in the past 30 days), profit margins, average product price, number of items sold, and sell through rate. Keeping track of these data helps you identify trends and optimize your strategies accordingly.
Final Thoughts
Amazon to eBay dropshipping business model is a fast-growing trend among dropshippers. If you want to take advantage of the many benefits of the Amazon platform to supercharge your eBay business, then you should look into this option for your dropshipping store.
However, take note of the strategies to avoid getting your Amazon account's potential suspension. Always take time to read updated policies to mitigate any risks and ensure the longevity of your business.
FAQs
Is it okay to dropship from Amazon to eBay?
Yes. It is legal to dropship products from Amazon to eBay. However, you must consider the legality of the items you want to dropship and other policies for each marketplace to avoid risking the suspension of your account.
How to dropship Amazon products to eBay?
First, you must set up an Amazon account (if you don't already have one). Use that account to purchase items from Amazon that will be dropshipped to your eBay customers' shipping addresses.
Is it good to dropship from Amazon?
Yes. Dropshipping from Amazon is profitable since you can expect a potential price difference with some items. You can also enjoy the various benefits that Amazon offers their customers, including expedited shipping, streamlined order fulfillment, and high-quality customer service.
What are some of the other common eBay Dropshipping suppliers other than Amazon?
We have created a comprehensive guide on the following platforms.
– AliExpress
– CJ Dropshipping
– Walmart