Selling 100 items in one day is a fantasy for most sellers on eBay but, with the right mindset and a proper coach – this goal is Very achievable. In this article, we will discuss two important methods that you can use to level up your eBay retail business and sell up to 100 items every day. Each of these methods will have its own pros and cons which you will have to consider when putting them into practice.
Related Video
Method 1: Focus on quality
The eBay retail market is a very competitive space, regardless of niche. To stand out, you have to differentiate your eBay store and your product from others.
You will need to find products in niches with high demand and create added value. Better titles, pictures, product bundles, or any other unique selling proposition (USP) will help your retail store and product stand out in the sea of sellers selling one thing in the same way. A unique selling proposition or unique selling point is a benefit offered by your store that makes you a better choice compared to your competitors.
This unique proposition will allow your store to rank high, generating a lot of traffic to your listings and helping you make more eBay sales.
Beginner eBay sellers often make the mistake of listing every possible item in a niche, regardless of the quality or appeal, all in an effort to sell more. This however just leads to more fees and in most cases, poor reviews from buyers. By focusing on the quality of the listings in your store, you are going to have fewer items with higher demand and better sales.
For example, if you sell used products, it's impossible to know every single flaw or defect. But you should always try as much as possible to inspect the product you sell on eBay. Ensure that it is in good condition and it will hold up in the long run.
As an example to show you how to do this, we will use Zik Analytics to find products in a niche with high demand and room for creativity, allowing you to beat the competition. You can achieve this using several methods, such as category research, competitor research, or by simply looking at the best-selling items in the last 48 hours. Whichever method you opt for, you will be better off selecting simple, non-branded items with few specifications. This will allow you ample room for creativity.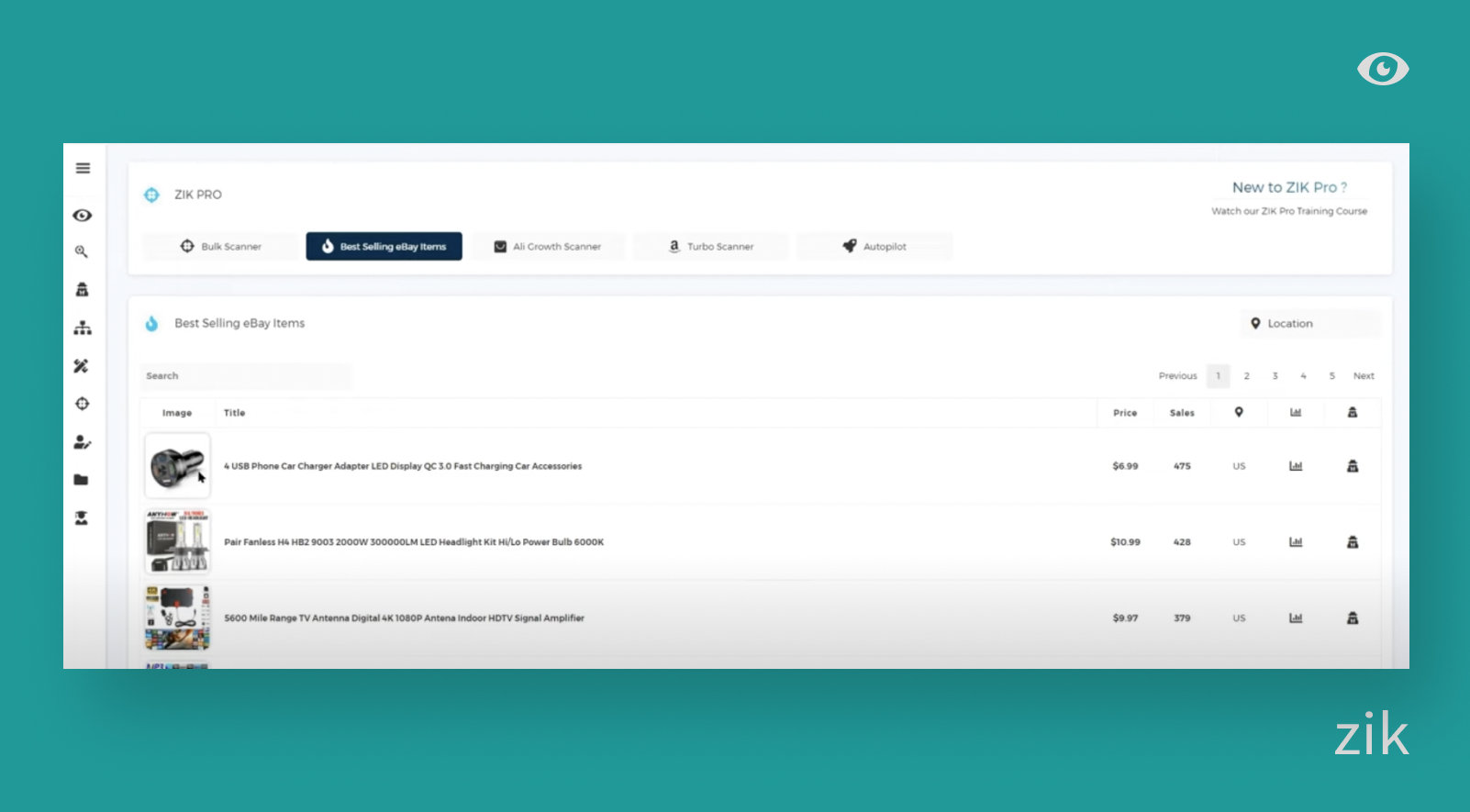 Practical Example
In this example, we select a men's backpack with 368 sales and $10.95 in price. Then, we can open the Product Research tool and select a shipping location.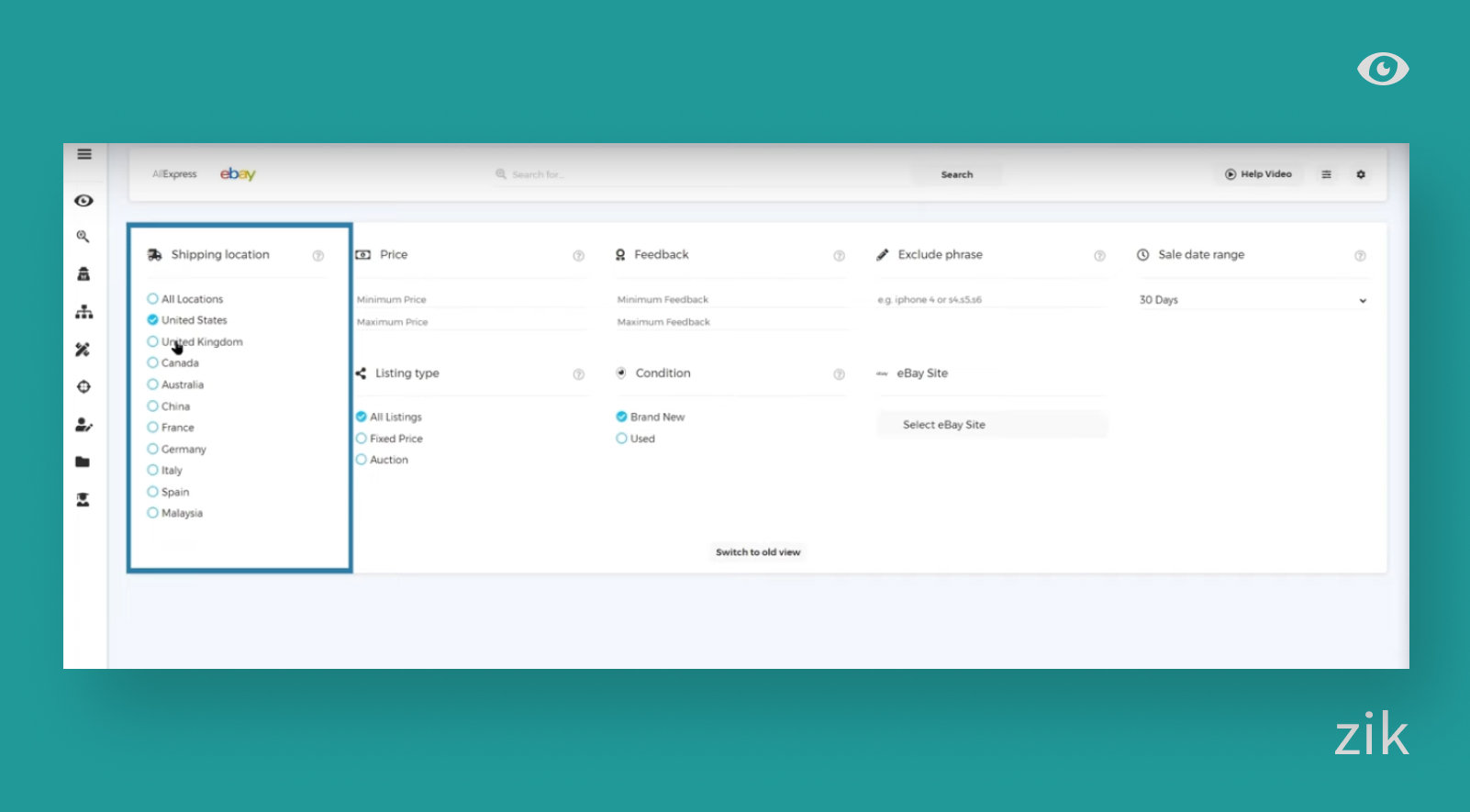 After that, we enter "backpack" into the search tab and hit the Search button. Wait for the search to complete. For backpacks, we have a sell-through rate of 4215%, overall sales earnings of $85,075, and a successful listings rate of 83%.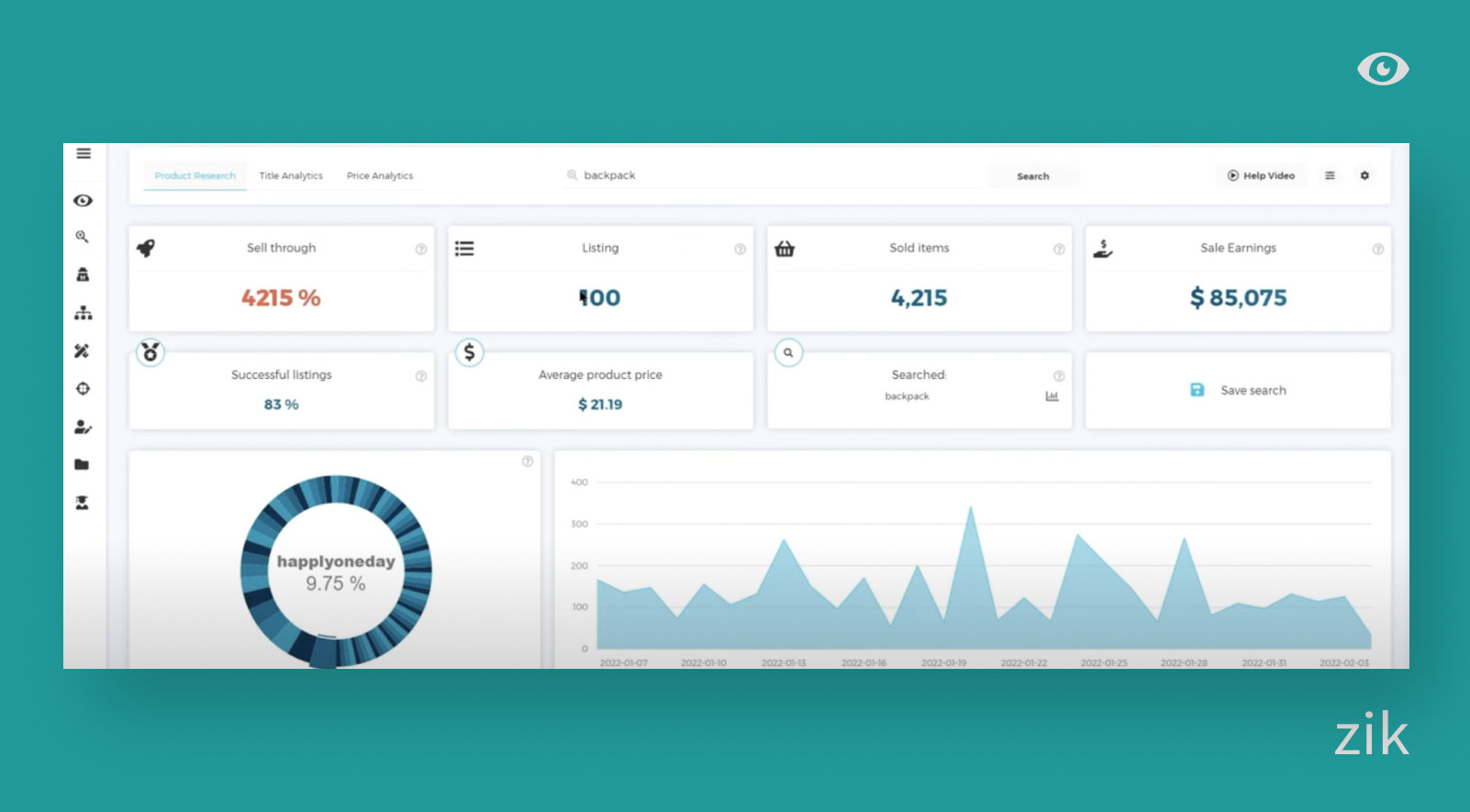 The market for this niche is also very diverse and it is not dominated by one seller. Looking at the other similar eBay listings, we can see a lot of the products have variations in sizes and styles. There are tactical backpacks, sling backpacks, waterproof backpacks, etc, being sold. It is important to take a critical look at these listings and figure out what they are not doing that you can.
Now, we need a unique selling proposition to make buyers stop at our listing in eBay search results. Looking at all the sold listings, we can see that none of the best-sellers are doing bundles. Because of this, we thought we could differentiate by adding a bundle, for instance, a backpack and a rain cover.
You can then go to your supplier's website, Amazon, Aliexpress, etc, and look for similar products. Our goal is to either make a product bundle or a multi-variation listing. So, we can opt for a multi-variation listing that combines tactical pouches, military bags, and rain cover, all in one listing to offer the most value to customers and differentiate from the competition.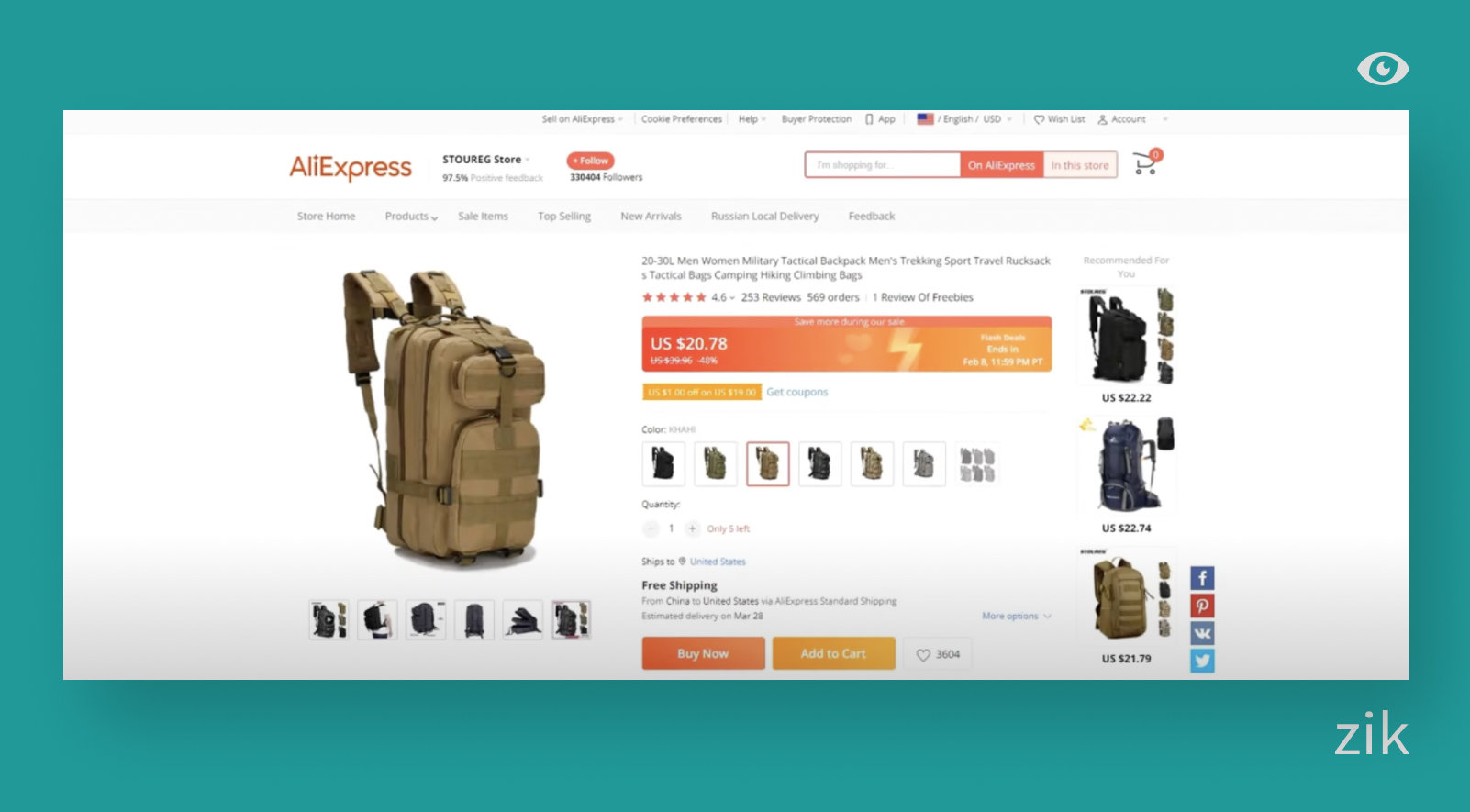 Using this method and being as creative as possible, we can easily generate 100 online sales a day.
Pros of this method
Lower eBay fees due to fewer items.
Your overall selling expenses are also much lower since you are paying less for software, storage, inventory management, etc.
Higher sell-through rates due to the proportion of listings to sales.
Cons of this method
Finding more products can be trickier as it requires advanced knowledge about the eBay algorithm, product features, and market demand.
It also takes more time since you have to sort products to find what fits your store.
Method 2 – Focus on quantity
Instead of focusing on quality, we focus on selling as much of a unit as possible. With this method, the goal is to list thousands of products and sell 100 items or more every day. Finding so many items that are worth selling online in your store is the challenge here. To do this, we will use the ZIK Analytics autopilot tool.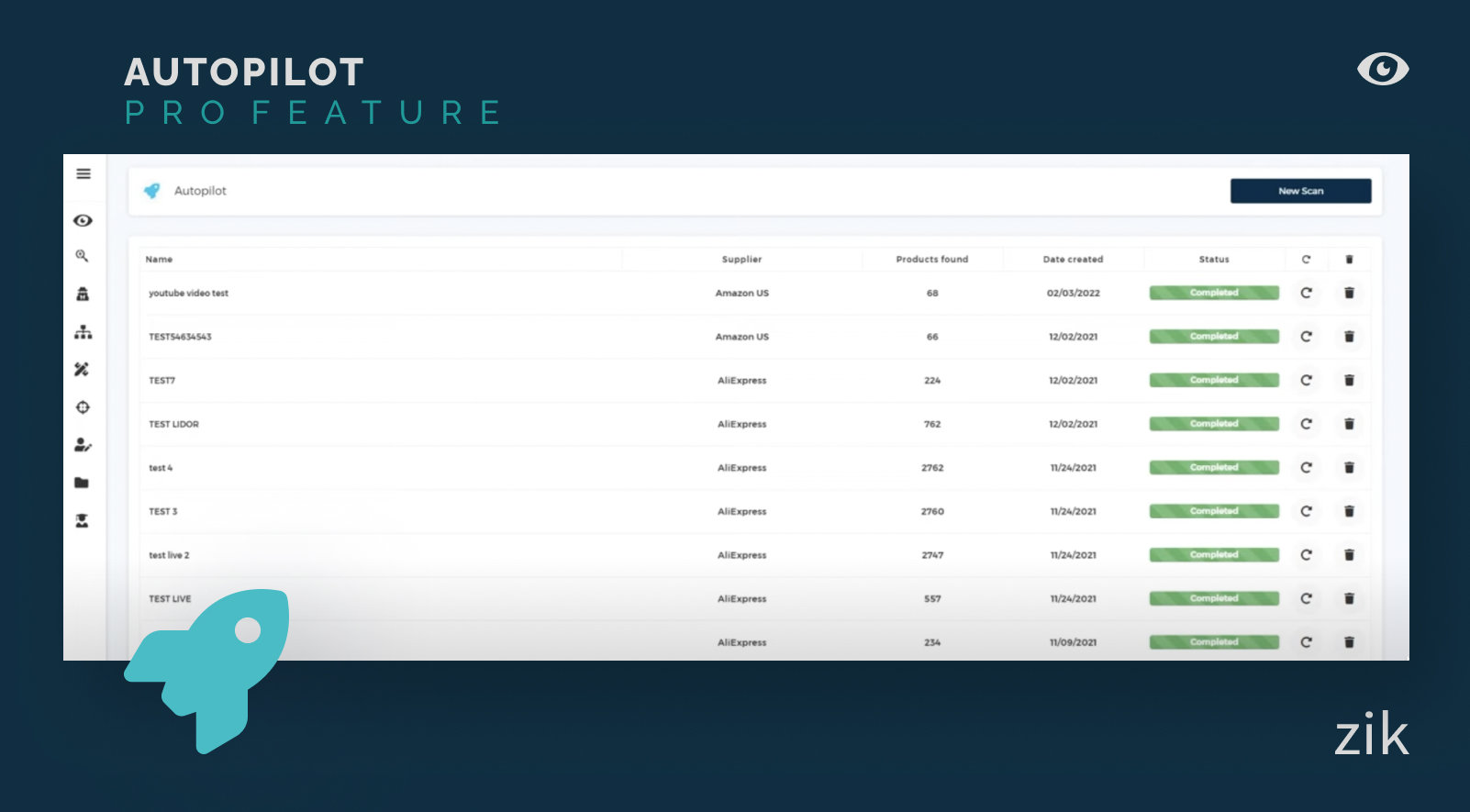 Zik Analytics has several tools that can help you find thousands of products in seconds such as the Bulk Scanner and the Turbo Scanner, but the Autopilot Tool has the most features and is the most powerful. This tool allows you to "push a button" and it will give you a wide range of products that competitors are selling that you can now list to your store. Please keep in mind that the Autopilot tool is only included in our Enterprise plans.
To use the Autopilot tool, simply go to your dashboard in Zik Analytics, click Zik Pro, and select Autopilot. After selecting Autopilot, click on New Scan. After that, you will be asked to choose the Filters that apply to your search.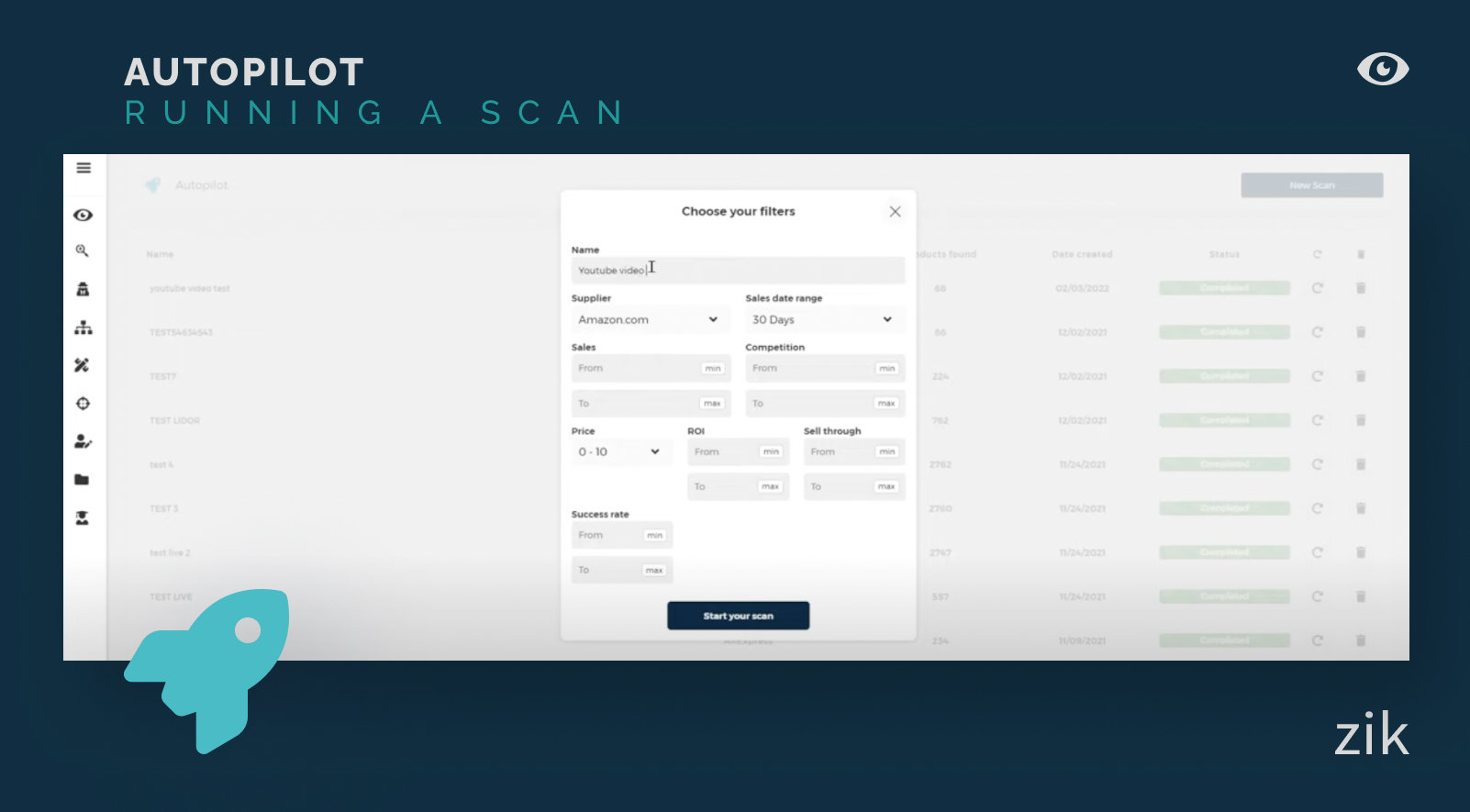 Using the filters in Zik autopilot, we can see a range of hot products to choose from. Choose the Name, Supplier (AliExpress is chosen in the video), Sales Date Range, minimum and maximum number of sales and Price. You can then choose Start your scan and ZIK will run through the database to find products with your selected criteria.
The AliExpress scan was able to find 2787 products in a few seconds. Clicking on the result will take you to a new page where you can see a list of products, organized from the top-selling to the least-selling products.
The next step is to source the products from AliExpress. You can use the Item Finder tool to find specific products that pique your interest. The Item Finder uses the latest in Image Recognition technology to find similar products to the item. You can then save them to a folder or list them on eBay.
Pros of this method
It saves you time and allows you to dedicate more of your time to growing your business.
It helps you find thousands of products.
Cons of this method
Due to the focus on quantity, there is a possibility that you will find products of lower quality through this method
You will still have to compete with other sellers in a demanding niche.
Other Ways to Increase Your Sales on eBay
List everyday
The eBay algorithm rewards sellers that list new products regularly. Listings that are new appear first in search results. Old listings are less likely to sell.
Therefore, a good way to boost your rankings and increase sales is to list everyday. You can also end some of your previous listings, tweak them a bit and release them as new listings.
Ship fast and free
Shipping is the most important part of your business, and it will be what separates you from the competition. You need to ship quickly, efficiently and with care so that your customer gets their item early and in good condition. You can offer free shipping or reduce shipping fees if it doesn't decrease your profit margin.
If you want to make a lot of money on eBay, you need to be able to turn around shipments quickly. The faster you can ship items out, the more money you will make because potential buyers are likely to buy from sellers with fast shipping times.
Here are some specific steps to help you prepare for high-volume shipping:
Use a good shipping service that provides excellent tracking and insurance options. Weigh possible options and consider their speed and pricing.
Ensure that you use proper packaging to protect and secure the product. Use packing material in each box – bubble wrap works well. Proper packaging must prevent damage to the product during transit.
Make sure that your label is correct so that people know where their package is coming from when they see it at their doorstep.
Make sure you have the tools for the job. If you're going to be shipping a lot of items, it's a good idea to make sure that your shipping tools are up to snuff. You'll want to get a shipping scale and label printer for accurate weights and labels, respectively.
Find other people to help
When it comes to selling on eBay, you should have a family member or friend help you with each step of the process. You can teach them how to pack and ship items. They can also help with customer service and social media. Finding other people to help you fulfill your eBay orders will go a long way in helping you sell more and make more profit.
Use the right keywords
While there are many factors involved in selling more on eBay, keyword selection is a crucial one. If you're selling sneakers on eBay and you want to get a good price for them, then you should use keywords like "Nike Air Max Shoes" or "Men's Running Shoes" rather than just "Nike Air Max 95." This will allow your listings to come up more in search results.
The same idea applies to getting good feedback score on your listings. By using those same keywords throughout your description and title tags (the first bit of text visible when someone clicks on an item), it will make it easier for potential eBay buyers to find what they're looking for—and thus more likely to leave positive feedback once they've purchased from you.
You should however avoid keyword spamming, i.e the practice of attempting to manipulate search results by using keywords that are not directly related to the product. This will result in a penalty from eBay and your listings will drop in search results.
Use quality photos
Quality product pictures are a big part of selling on eBay. They help to increase the number of sales and reduce returned items from unsatisfied customers. At least one representative image should be included with every product listing but you can use as many as 12 images per listing.
Avoid using placeholder images or stock photos that do not really represent the item. Try to use images that are at least 500 pixels on the longest side and focus on the item you're selling.
Become a Top Rated Seller
Listings by top-rated sellers are more visible in search results and they also enjoy several other benefits. Top-rated status is given to sellers who have fulfilled eBay's criteria for excellent customer service.
There are certain guidelines you need to follow to become a top-rated eBay seller on eBay. You need to have an eBay account that has been active for 90 days with a defect rate less than or equal to 0.5% and a late shipment rate of less than or equal to 3%, among others.
FAQs
How to get started selling on eBay?
To sell on eBay as a beginner, you need to:
Create an eBay account
Set up eBay managed payments
Fill out your seller profile
Build trust on your account
Set up your store policies
Find profitable products to sell
Create and optimize your listing with eBay SEO
How many items should I list on eBay per day?
Aim for 3-5 listing days in a row. When the store has a sufficient amount of inventory, the price of the goods you list takes precedence over the number of items you list each day.
How do I make daily sales on eBay
Each day, add additional items to the list.
Try a campaign for eBay promoted listings.
Use keywords to drive traffic.
Fast and free shipping is always available.
Get rid of bad ratings.
Become a Top Rated Seller on eBay.
Conclusion
Selling 100 items a day on eBay can be a little overwhelming at first, but with time and the right tools at work, you can achieve it and grow your business in no time. You can decide to focus on either quality, quantity, or both. The primary goal is to increase the number of items you sell and help your business grow faster.
If you would like to find thousands of profitable products ten times faster, why don't you open an account with us today? To get started, you can have access to any plan of your choice for only $1 for 7 days.