As an online store owner, you're probably familiar with returned items, maybe too familiar. Returns are a major problem for e-commerce stores. They are often stressful and expensive enough to eat into your profits. According to the National Retail Federation, $428 billion dollars worth of inventory was returned by customers in 2020, double the amount of returns in 2019.
Items returned by customers are sometimes sold again but most of it remains in warehouses, occupying precious storage space. However, returns occasionally do present a profit potential, in the case of liquidation pallets or liquidation stock.
If you have wondered about how to make money selling liquidation pallets on eBay and Amazon, then this article is for you.
What are Liquidation Pallets?
Items sold by major retail stores such as Walmart, Target, etc, are sometimes returned by the consumers for reasons such as a defect, different specifications, price, or even buyer remorse. The returned products are packaged and sold in wholesale or clearance sales as liquidation pallets, to free up storage room.
Liquidation pallets often contain several different items in the same category mixed in one pallet. They are sold in bulk, so the shipping costs tend to be expensive but they are sold at a bulk discount which tends to offset some of the cost. Small retailers can buy these pallets at a discount and resell them on eBay or Amazon for profit.
There are several factors you need to consider when buying liquidation pallets that can determine whether you run at a profit or loss. This include:
The type of liquidation pallet e.g mystery pallets, manifested pallets
The size of the pallet
The variety of the pallet
Benefits of Flipping Liquidation Pallets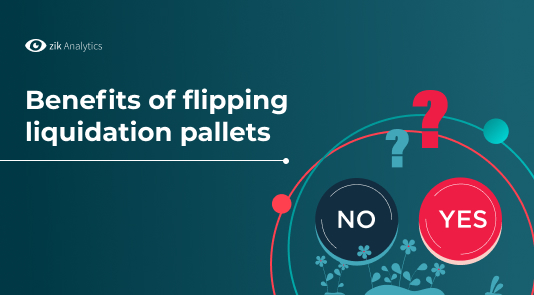 You can increase your profit margins by buying and selling items from liquidation pallets
You gain access to a wide variety of products in similar and different categories.
You stand the chance to find rare and distinct items.
You may be able to reduce your shipping costs.
You can cut out the middlemen by buying from major liquidation stores online.
WATCH: Don't want to read the whole article? Check out this video below!
How do You Buy Liquidation Pallets?
Running a retail store with the liquidation pallet model involves the following stages: market research, product research, sourcing, buying, and selling the products. You should always conduct market research to understand how competitive the market is and product research to determine whether a certain product will be profitable and find out the best strategies you can use to make money flipping pallets.
You can use ZIK Analytics to conduct market research, either in the form of niche research or tracking sellers. You should find out the direction of the market, the popular categories and niches, and specifically, trending products in the market. You can use this information to determine the type of liquidation pallet you want to buy and start selling the products immediately. Right now, you can try ZIK Analytics for 7 days for just $1.
Where Can You Buy Liquidation Pallets from?
There are numerous options available when it comes to sourcing liquidation pallets. You can find liquidation pallets both online and offline from liquidation stores that buy from major retailers. Websites like Bulq.com, BStock, and Direct Liquidation allow you to preview and purchase liquidation pallets sold at bulk prices. You should check to see if there are warehouses in your area where you can buy liquidation stock for pallet flipping.
Also, you can save on shipping costs if you come with your truck. After considering the pallet options available, you should be able to buy one that suits your needs and is in line with market demand. Make sure to read the contract carefully and know exactly what you are getting into. The shipping costs should also factor into your purchase decision.
Online marketplaces allow you to save time but you can personally inspect the pallet at physical marketplaces. Online liquidation auctions decrease risk, increase your profit margin and allow you to eliminate middlemen.
There is definitely somewhat of a steep curve to learning how to properly purchase pallets in bulk. You can start out by purchasing return pallets from Amazon, purchasing from local suppliers that allow you to test the goods yourself, or even pallets in smaller sizes until you gain a better understanding of selling liquidation pallets.
The options you have for sourcing your products are very diverse. Pallet flipping business is definitely one of the most profitable sales models that eBay and Amazon merchants have.
How do You Sell Liquidation Pallets?
After sourcing your products and buying them, you can then go ahead to list them in your store and sell them online. Selling liquidation pallets varies from platform to platform. So, the selling strategy you use on eBay will likely be different from your Amazon selling strategy.
Since liquidation pallets come with a few defective products, you should ensure that you go through the pile and sort them before listing them on your platform of choice. You should throw out the items that don't have resale value.
You will typically receive an inventory list, also called a manifest, with your pallet. The manifest should contain an itemized list of every product in the pallet and it should make the sorting process much easier for you.
Flipping Liquidation Pallets on eBay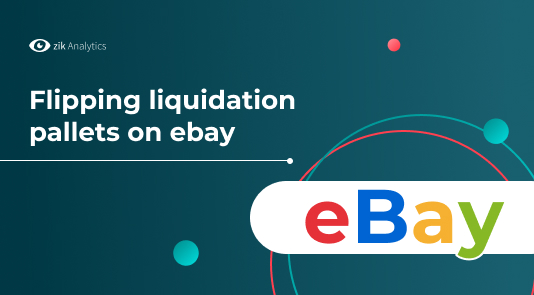 eBay is a popular option for retailers selling liquidation pallets. It offers a wide reach and broad marketing options. It also allows you to start selling for free and has less strict guidelines concerning selling, compared to Amazon.
As an eBay seller, you can either take care of the logistics or hire a company to do it for you. You are also responsible for taking product photos, listing the products in your store, marketing your store, selling the products, product packaging and shipping.
Flipping Liquidation Pallets on Amazon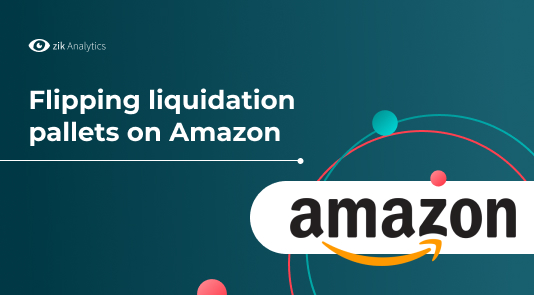 You can also resell the items from  liquidation pallets on Amazon. Compared to eBay, Amazon has stricter seller guidelines. If you list a clearly used product as new and a customer goes ahead to complain, your listing may be removed.
You can decide to choose a path similar to eBay in selling on Amazon and fulfill orders by yourself from your own warehouse. This process of fulfillment is known as Fulfillment by Merchant (or FBM).
You can also choose Fulfillment by Amazon or FBA where Amazon fulfills the order on your behalf. This means that you send the items to Amazon and they take care of the rest of the process, from storage to fulfillment, for you.
How Much Can You Expect to Make with Liquidation Pallets?
Selling liquidation pallets can be quite profitable, especially when you work with big retail brands in the US.
Selling products from pallets gives you a profit margin around 30-40% per sale. Liquidation pallets should contain, on an average, 70% products in functional condition ranging from "as new" to "dented" or "scratched" product condition levels. This allows you to cater to customers with different budgets.
Since offering considerably lower prices is a great way to stand out from the competition, selling products from liquidation pallets is a great business model, product-wise and market-wise.
What to Expect When you Buy your First Liquidation Pallet?
Since liquidation pallets are a mixture of items in different conditions, chances are you will receive defective products, open-box products and sometimes, brand-new products.
Most of the pallets you will buy will contain products from returns, open boxes, clearance products etc. These pallets should come with an inventory list of what is inside the pallet, but it is important to keep in mind that you can't know the exact condition of the products in advance. The important details to note from the manifest is the complete itemized list of items and their average price.
You can check the profitability of a liquidation pallet you want to buy using Zik Analytics before buying it.
Mystery pallets might appear to be a good bargain at first appearance but it's not recommended that you purchase them. Manifested pallets show you exactly what you're purchasing and are a better option overall.
If you are a new seller, you should start by purchasing pallet locally to lower shipping costs and learn the process firsthand. As you gain more experience, you can use liquidation websites like Bulq and Direct Liquidation to purchase pallets easily and stress-free.
It is recommended that you have a storage space to unload the products, sort and order them, and test them before listing them on your platform of choice. To maximize your profits, new products are best suited for Amazon FBA and open-box products are better sold on eBay.
Conclusion
Buying liquidation pallets at bulk prices and reselling on eBay or Amazon is a worthwhile business model worth exploring. It can help you save money and gives you a wide range of products to sell.
You should focus primarily on market research and minimize storage and handling risks. Selling on different e-commerce platforms is a great way to maximize your retail business' profit potential. Keep learning and keep winning.
FAQ
Can you make money flipping liquidation pallets?
Yes, you can make money pallet flipping. If you have a knack for flipping and have some liquidation pallets lying around, you may be able to turn a profit. However, in order to find a market for your pallets, you'll need to do some research. Check with local recycling centers and see which ones are selling pallets off their inventories. You can also search online for private or commercial liquidation sites. ?
Are Amazon return pallets worth it?
When thinking about selling pallets, it's important to consider what you are selling and what the buyer is expecting. Amazon Return Pallets are a great option for buyers who need pallets fast and don't have time to go through a long list of options.
The downside of using Amazon Return Pallets is that they may not be as desirable as other options for buyers. For example, if you are selling wood pallets, buyers may prefer to buy new wood rather than used pallets from Amazon.