Dropshipping pet supplies is a big business. In the US alone, the pet supplies industry is estimated to be worth 99 Billion USD (as of 2020). The pet supplies industry is expected to have an annual growth rate of 5.4%.
If you want to start a profitable online store and dropshipping business, you might want to look into selling products for pets.
In this guide, you will learn more about the top pet dropshipping suppliers from Aliexpress.
We make it easy for you to dropship pet products with the best pet dropshipping suppliers that can offer wholesale prices and several pet products to choose from – from pet toys, pet food, beds, pet furniture, grooming products, custom pet products, and more essential pet products.
Check out the list of the top 5 pet product suppliers for your pet dropshipping business.
How to Find the Best Pet Dropshipping Suppliers on Aliexpress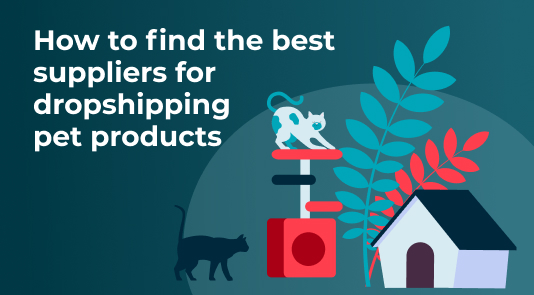 Before you dive into the list of the best dropshipping supplier for pet products, first let us take you into the steps for how to find these suppliers on Aliexpress.
Follow this step-by-step guide to discover the best pet product supplier in the pet niche.
Step 1: Find suppliers in the pet niche.
Go to the Aliexpress homepage. At the homepage, you will find a variety of categories of products to choose from.
Go to the search bar and type in the specific niche that you are searching for.
You will be shown the best products that matched your search for pet products.
Step 2: Filter out the best suppliers.
To help you filter out the suppliers that appear on your search, go to the filter options and choose suppliers that are rated four stars and above.
This will automatically filter your selection of the top-rated pet dropshipping suppliers on Aliexpress. You can look at the individual pet dropshipping supplier pages so you can determine the best option when you dropship pet products.
Step 3: Identify the best pet dropshipping suppliers.
You can use the following criteria when you evaluate pet supply drop shipping companies. There are many of them in the pet product industry so you have to select the best to make huge profits for your online shop selling pet products.
The first criterion is the years of experience that the pet dropshipping supplier has. Ideally, your chosen pet supplier must be in business for at least one year.
This will give you the assurance that they are a quality pet product supplier and had been supplying products to many other ecommerce store owners.
The next criterion is the feedback score of the pet product supplier. When comparing pet dropshipping suppliers, you should aim for at least 95 feedback score.
You should also check the seller rating. Anything above the score of 4.5 is a good choice for your dropshipping store. We also like to choose suppliers that have fast shipping with a reasonable shipping cost.
Step 4: Evaluate the product data
You can use the ZIK Analytics tool to gather and analyze the product data for the pet supplies and pet products that are available through your chosen pet dropshipping suppliers.
The tool will provide you with valuable insight to determine if the supplier has profitable products in their product catalog.
You need this information before you start selling to ensure that you are getting high quality products and the purchase inventory is an indicator that you can sell online fast.
Now that you know how to find the best dropshipping suppliers for AliExpress, why not check out our guide on how to dropship on AliExpress to eBay to find out how to sell all the new products that you've found!
The Top 5 Pet Product Suppliers on Aliexpress
Now, let's get onto the actual list of the best 5 pet dropshipping suppliers on Aliexpress. Build your own dropshipping store selling pet products through these dropshipping suppliers.
1. 520MAO Store
The 520MAO Store is one of the top suppliers of dropshipping pet supplies products on Aliexpress. This store opened in 2020 so it means that they have been around for at least two years (as of this writing).
This store has a positive feedback rating of 96.1%, which makes it a good option for anyone looking to start their own business selling pet products.
In addition, the detailed seller rating is 4.7 for communication, shipping speed, and the accuracy of the items described on the website. The score of4.7 indicates that the supplier is above average in its overall rating.
This pet product supplier on Aliexpress offers a variety of dropship pet products to add to your store. They offer essential pet products such as pet bowls, dog collars and leash, pet grooming products, and pet toys.
Meanwhile, they also offer unique products if you want to focus on selling pet supplies that are not readily available in other pet stores.
These unique products include a cats scratching board, pet shower bag, pet hammock, pet drinking bottles, and a car pet separator.
The store also has a dedicated section where you can find all of their best-selling items. You will want to focus on this section if you want to stock up on pet supplies that will sell fast.
Moreover, you can easily find their sale items if you are looking to boost your profit margin with sale items and wholesale prices.
2. Leewince Store
Next on the list of the top pet dropshipping suppliers on Aliexpress is the Leewince Store. This store is based in China and it first opened in May 2014.
This is one of the oldest dropshipping suppliers on this list as they have been around for 8 years (as of 2022).
In the past 6 months, the store has gotten an overall positive feedback rating of 95.9%. The detailed seller ratings indicate a score of 4.7 out of 5.
It performs better than other stores in this category when it comes to shipping, communication, and the quality of the products.
Leewince Store started out as a furniture brand. They focused on the selling of minimalist furniture before branching out into supplying products in other categories, which includes pet supplies.
This store offers so much variety in the pet supplies dropshipping business. Their products include aquarium products like an automatic fish feeder, aquarium air pump, fish tank cleaner, aquarium LED lamp, fish tank sponge filter, and aquarium plants and fish ornaments.
They also offer products for small animals, such as those looking to build an ant farm. You can find a variety of ant farm nests that are made of wood, acrylic, and bamboo.
There is also a dedicated section on the store page for cat and dog products, such as pet toys, cat beds and mats, and furniture and scratchers.
Leewince Store shows you the top selling products over the past few months. This will give you an idea on which pet supplies and products to add to your online store.
You can also check out the New Arrivals if you are looking for new pet supplies for your dropshipping store.
3. Furrybaby
If you want to make a profit selling products for your furry friends, then you should check out Furrybaby on Aliexpress. As one of the top suppliers of wholesale products for pets and animals, this is something you have to consider for your pets online store.
The owner of this pet supplies store is an animal lover. Therefore, they want to provide the best quality products to ensure that the fur babies in the family are comfortable and well taken care of.
Furrybaby is one of the top-ranked pet dropshipping supplies store in Aliexpress with a positive feedback score of 96.2%. The store has been around since March 2021 so they have been in the pet industry for more than a year.
The seller rating for shipping and item description is 4.8 out of 5. Meanwhile, they earned a score of 4.7 out of 5 for seller communication and customer service.
Aside from offering reasonable shipping costs, Furrybaby is one of the top wholesale suppliers for pets supplies because they provide free shipping and offer fast delivery, too.
The store offers a wide selection of pet products including pet toys, pet supplies, pet grooming, pet feeding and watering supplies, and beds. Check out their New Arrivals section if you are looking to add new products to your dropship store.
4. BORUIT Boutique Store
The BORUIT Boutique Store is one of the best sources of pet supplies dropshipping products on Aliexpress. This store has an overall positive feedback rating of 93.7%.
The overall seller rating is 4.7 out of 5 for its shipping, high quality, and communication.
BORUIT Boutique Store opened in 2014, which means they have 8 years of experience in the pet industry.
Unlike other pet dropshipping suppliers on this list, this store is not exclusive to selling products for pets.
However, they do provide great quality for their pet products which includes electric dog training collar, waterproof and foldable dog cage, pet smart odor purifier, pet nail clipper, and a dog car seat cover.
As you can see above, they have specialized pet products that you won't find in other stores. Hence, this is a good source of pet supplies and products for those looking to gain competitive advantage over other pet supply dropship companies.
5. PetLifeWell
The PetLifeWell store completes this dropshipping supplier directory on Aliexpress. The store started its operation in December 2020, which means it has been around for nearly two years now.
The positive feedback score of PetLifeWell Store is 94.8%. The detailed seller rating is 4.7 out of 5, which is impressive if you are looking for the best pet product supplier.
Aside from fantastic quality, PetLifeWell boasts of a vast selection of pet products that are not available in other pet stores. Their catalog of products for pets include pet carrier bag, pet clothes, pet beds, pet shoes, pet combs, leash and collar, and other daily pet supplies.
The store has a dedicated page for New Arrivals, which you can check regularly to add new products to your pet stores and dropshipping store.
Looking for other dropshipping suppliers? You can check out our other helpful guides below
Conclusion
Selling products for pets online through your dropshipping store is a good and profitable business idea. Your target customers are pet lovers who want to give their best for their pets.
Therefore, the demand for pet products and supplies will continue to grow; in fact, it has an impressive annual growth rate.
Carve out your share of this profitable business idea when you start a dropshipping store focused on pets. When you pick out the top dropshipping and wholesale pet supplies and focus on product quality with an excellent customer service, you can earn legitimate income through dropshipping services.
Frequently Asked Questions
Is pet products a good niche?
Yes. Pet products are one of the top-selling categories for ecommerce. Therefore, it is a good idea for anyone looking for a profitable dropshipping business.
Pet supplies such as pet food, pet furniture, and grooming products are in demand all year round. The best part is that the pet industry offers a good profit margin for ecommerce store owners.
What pet products are in demand?
There are several pet products to choose from for your own store if you want to start a dropshipping store. The most popular pet products are pet food, pet furniture (such as dog beds), cat treats, dog vitamins, and dog toothpaste, among other things.
How profitable is a pet supply store?
The net return on drop shipping pet supplies is around 44 percent. This makes being a drop shipper for pet items online a highly profitable business idea.
What do pet owners buy most?
Pet food ranks as the main product that pet owners get. It attributes to about 43 percent of total sales for pet products. If you want a foolproof idea to dropship pet supplies, you can always start by selling pet food and treats.
How do I sell pet supplies online?
The first thing you must do is to identify what pet products to start selling in your own store.
Once you find a product that you want to focus on, such as pet beds, dog collars, pet accessories, or custom pet products, you can look for and compare multiple suppliers.
Focus on suppliers that offer free shipping, quality pet items, and those that offer the top brands.
Once you have chosen your products and supplier, you can set up your online store and start selling.
Is the pet industry competitive?
Yes. While there is a high level of demand for pet accessories and products, you will also find that you have plenty of competition.
Therefore, you can gain competitive advantage by choosing the best suppliers that offer dropshipping services and have excellent customer service. Focus not just on the product catalog but also the product quality and the product data.
What is the future of the pet industry?
The pet supplements industry has a growth rate of 116% from 2019 to 2020. By 2025, it is projected that the pet industry will be valued at 14.5 Billion USD.
The pet niche is very promising for anyone who wishes to enter into the dropshipping business.