If you've ever tried to contact eBay for issues with your account or a recent transaction, it's understandable if you've run into some trouble figuring out how to do so.
With so many things to click on their website, it can be difficult to locate eBay contact info.
Even on their contact us page, it's not immediately apparent how you can get in touch with eBay customer support. There's no contact info shown until you click through a few buttons, and if you click the wrong buttons, you may have a hard time navigating yourself to this information.
To help you out, here are some ways you can contact eBay about customer service issues.
How to contact eBay by phone
If you search Google for "does eBay have a phone number," you'll see that 300,000,000 results turn up.
The good news is, yes, eBay does have a customer service phone number.
Here it is: 1 (866) 540-3229
If you have issues with your account or are unable to resolve issues with a recent transaction after dealing with the buyer or seller directly, this is the best way to contact them.
To speak with a human, ask the automated system for a representative. Repeat if necessary. Pressing 0 has also worked for us, but eBay may have changed this since the publishing of this article.
For your reference, here's a full list of eBay's phone numbers:
How to contact eBay via email or social media
Unfortunately, the customer service email address for customers isn't openly available.
We searched high and low for an email address to help you contact eBay. We checked on eBay seller forum, eBay's own forum, and various other contact information databases online, and only came up with a few "secret" email addresses that didn't end up working when we tried them.
When it comes to social media, however, this is a different story. To contact eBay via social media, you can message them on Facebook or Twitter, or tweet them at @eBay.
Through social media, we've typically seen same day responses.
How to contact eBay by mail
If for any reason you need to write a letter to eBay, there are two addresses you can write to.
Their corporate headquarters…
eBay – Whitman Campus
2065 Hamilton Ave.
San Jose, CA 95125
Or another one of their corporate offices…
eBay Park North
2211 N 1st St.
San Jose, CA 95131
How to contact eBay about buyer/seller resolution issues
Since eBay is a marketplace, when you have issues with a buyer or seller because of a transaction, it's best to deal directly with the buyer or seller before you try and contact eBay about the issue.
If you try and contact eBay first, they're just going to tell you to contact the buyer or seller to try and resolve it with them before they can assist you.
How to resolve issues with a seller as a buyer on eBay
If you're a buyer looking to resolve an issue with a seller through eBay, the first step is to contact the seller.
To do this, you want to go to your purchase history.
To go to your purchase history, simply hover over the "My eBay" button on the top right of the screen and select "Purchase History" in the menu.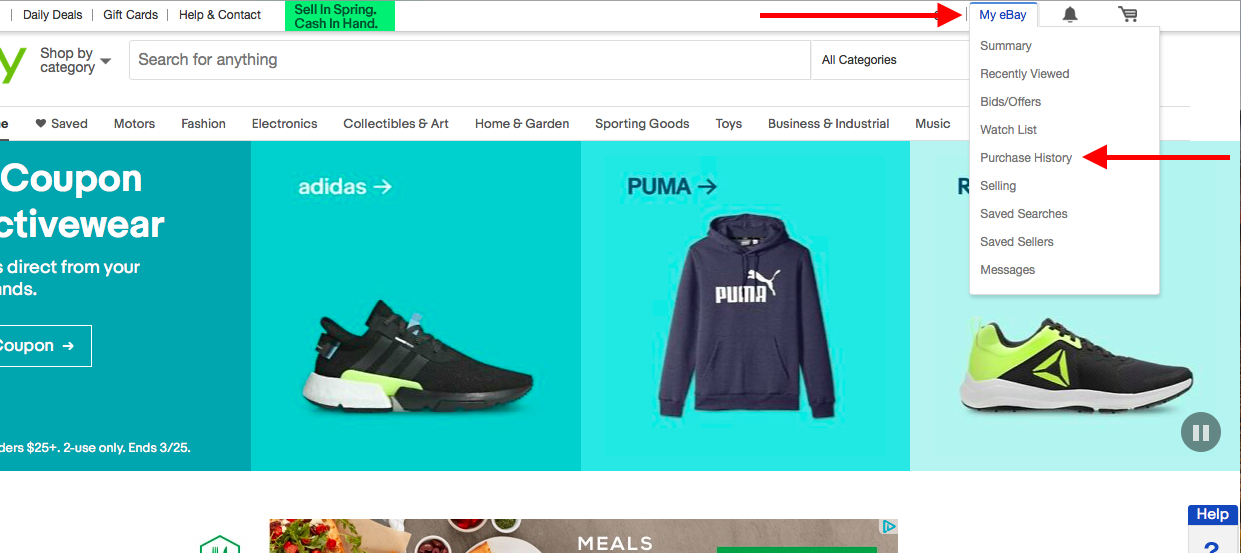 Next, select the item in question and click "Contact Seller."
When you're writing your message to the seller, explain the issue in as much detail as possible, and be polite. This may just have been an honest mistake on their part, and more often than not, they're happy to resolve the issue for you.
However, if after contacting the seller you still haven't gotten your issue resolved, you'll want to report this issue through the Resolution Center eBay.
Here's how:
After a case is submitted, you can keep track if its progress in the resolution center as well.
How to resolve issues with a buyer as a seller on eBay
Having issues with buyers can be a scary thing for eBay sellers.
However, before you jump into the ebay resolution center to report an issue with a buyer, you want to try and contact the buyer to work things out directly first.
To contact a buyer, follow the steps provided by eBay here.
If after contacting the buyer you still haven't resolved the issues, you'll need to report the issue in the resolution center.
Here's how:
After a case is submitted, as mentioned above, you can keep track of its progress in the resolution center. Sometimes you may need to take additional steps to close the case.
Other helpful resources for contacting eBay
If you need any other information about eBay or how to contact them, here are some links you may find helpful:
Is it hard to sell on eBay? It can be without the proper guides. This resource should give you everything you need in terms of contacting eBay for more support.