Are you ready to dive into the ecommerce business world but don't know how and where to start? You've come to the right place! Today, I will talk to you about two top ecommerce business platforms sellers must consider: Walmart vs eBay.
Both are big names in the ecommerce industry, there's no question about that. But which one is right for your business and goals? THAT is where your focus should be if you want to decide on the best platform.
eBay is like a bustling ecommerce platform filled with unique finds and quirky collectibles. On the other hand, Walmart is a gigantic store that offers everything and anything you're looking for, from everyday essentials to consumer electronics.
From a seller's perspective, these two are great options as they are both trusted names in the industry. Join me as I explore each platform and how they stack up against other marketplaces online to help determine what suits your business needs.
Keep reading to find out and be on your way to selling via your online store!
Article Overview
Selling on eBay: Overview
Benefits of Selling on eBay
Selling on Walmart: Overview
Benefits of Selling on Walmart
Comparison of Selling on Walmart vs eBay
Fees
Competition
Selling Tools
Shipping
Support
Summary
Selling on eBay: Overview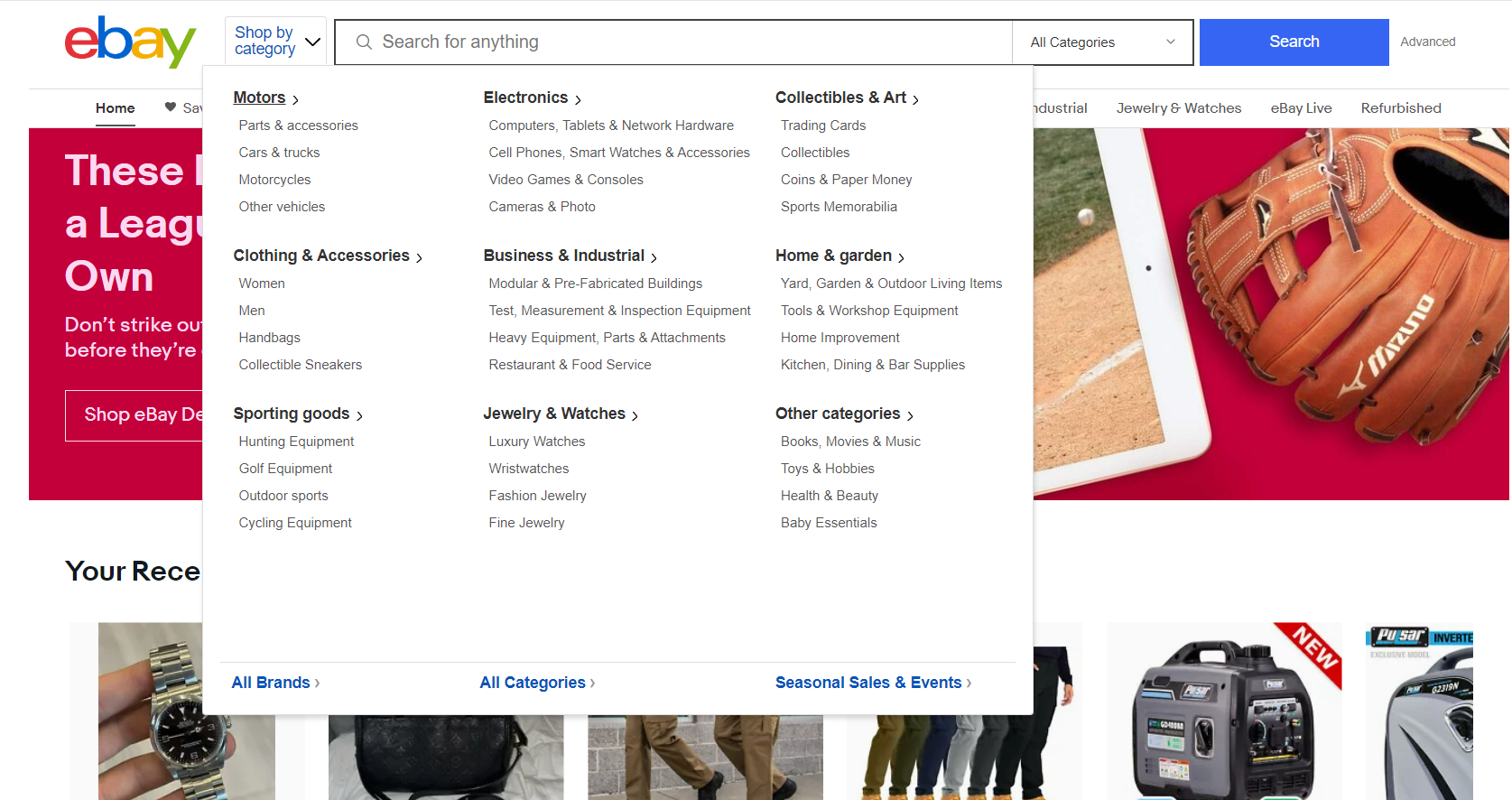 eBay is another excellent platform to sell online for aspiring sellers. It is one of the top online marketplaces, giving you access to millions of potential customers. It is a complete ecommerce solution for sellers that want to maximize their customer reach, as the website has millions of users worldwide.
eBay has a robust online presence that maximizes your potential for making sales. You can build an online shopping store without web design skills or knowledge. And yet, you can also leverage a great deal of traffic coming into the website daily or monthly.
In the next section, you will learn about the potential benefits of selling through eBay versus other marketplaces.
Benefits of Selling on eBay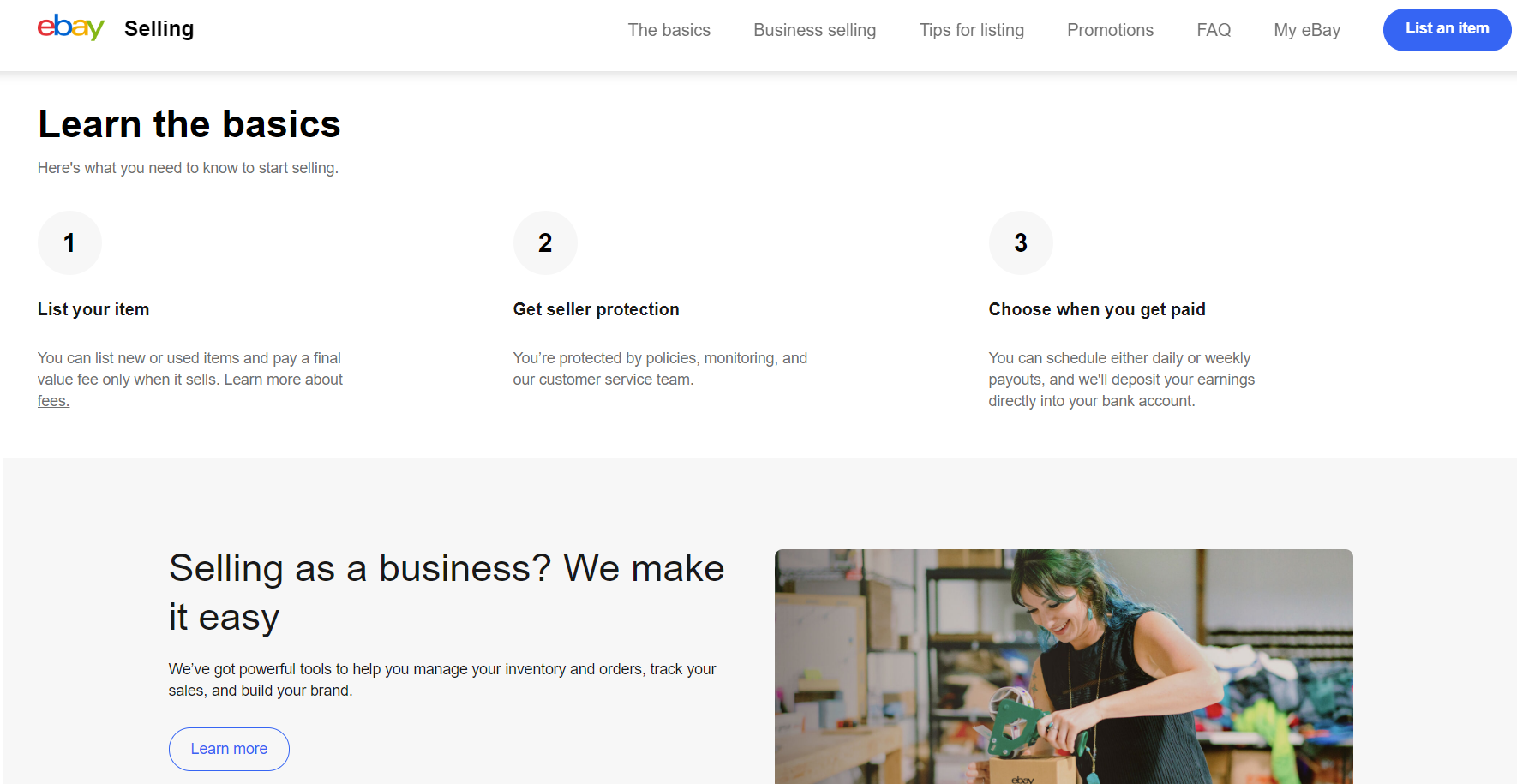 1. Increased Visibility
eBay is one of the top names among the biggest marketplaces online, alongside Amazon and Walmart. Subscribing to eBay and creating your online business through the platform increases your products' visibility. When more customers see your product on eBay, you have a higher potential for making sales.
2. Customized Storefronts
eBay provides sellers with the ability to customize their storefront and make it stand out from the competition. You can also access all the selling tools you need to manage and optimize your listings online via the Seller Central. You can add custom headers and cross-selling banners on your eBay store.
3. Flexible Pricing Scheme
eBay offers its sellers variable pricing schemes for store subscription levels. It benefits sellers of all levels, whether you're just starting out or looking to scale your business. There is a store level suited for you, regardless of where you are in your selling journey.
4. Marketing and Promotional Tools
EBay also provides store owners access to various marketing and promotional tools to maximise sales. These tools make it easier to be selling your items and maximize exposure for these products. You can even have promotional campaigns, such as sales and discounts, to incentive buyers to make a purchase.
Selling on Walmart: Overview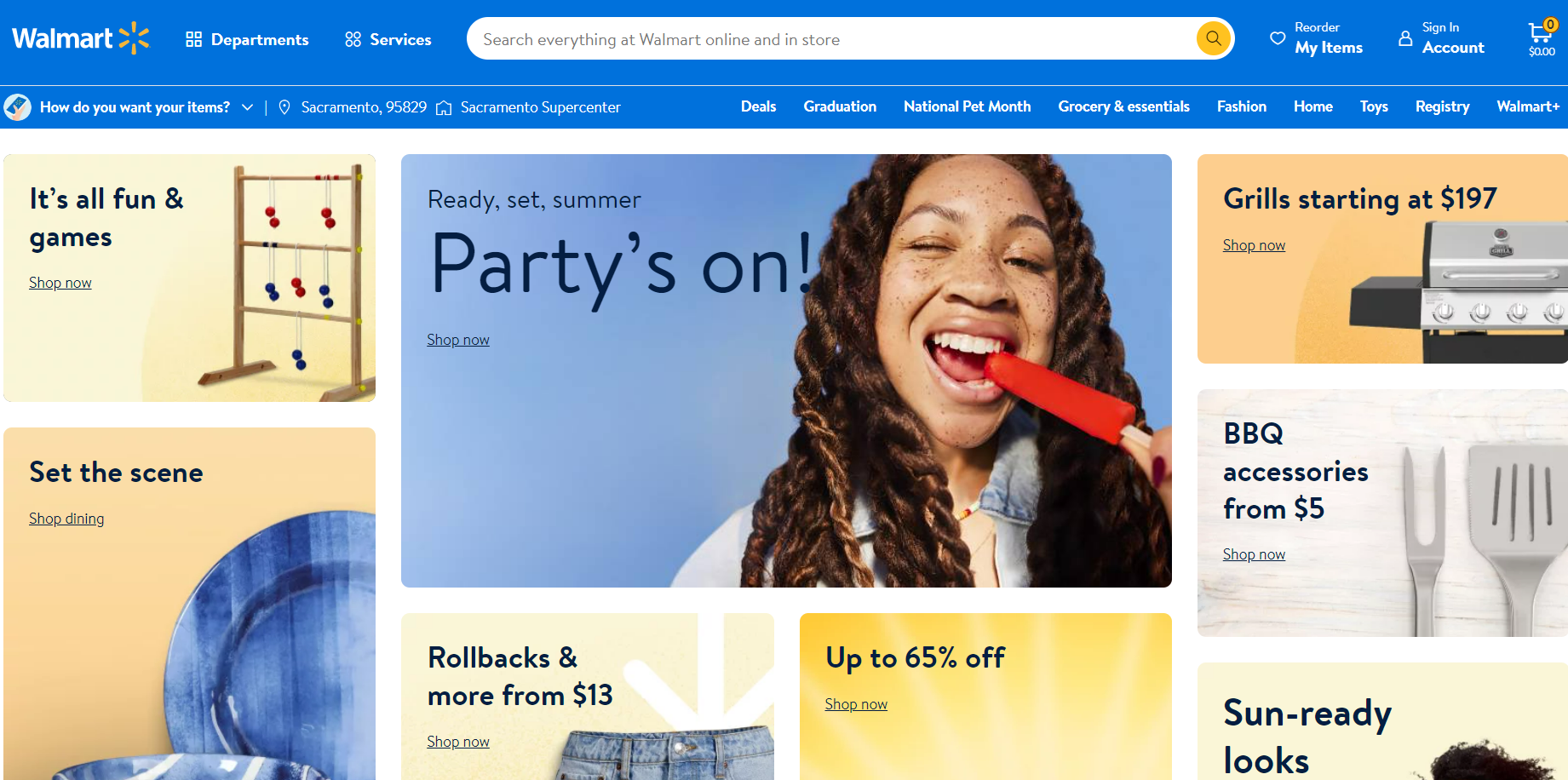 Walmart is an ecommerce giant. It's one of the biggest marketplaces online, and its growth is so rapid that it managed to surpass eBay and continues to do so today. This ecommerce platform allows third-party sellers to list their own products through the platform.
Walmart was founded 60 years ago, and the marketplace offers customers various products. Since then, it has become one of the fastest-growing online marketplaces, with an ecommerce growth rate of 79% in 2020. The website continues to grow in 2021 and has experienced a 66% increase compared to the previous year, registering 150,000 new sellers.
The brand of Walmart and its reputation can work to your advantage if you aspire to be a successful seller on this platform.
Benefits of Selling on Walmart
Why should you sell at Walmart? Here are some benefits you can enjoy as a seller on this platform.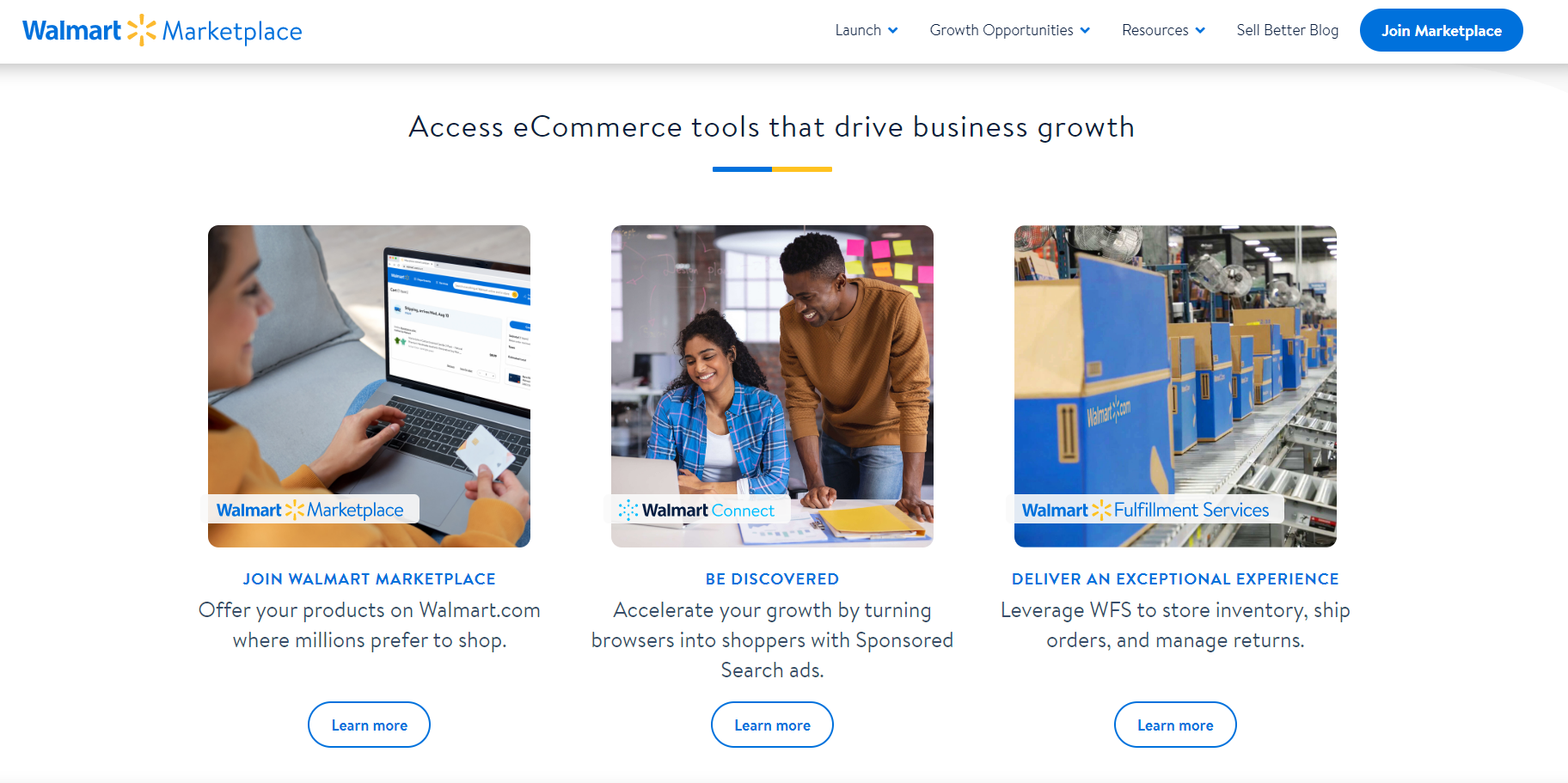 1. Expand Your Customer Base
In 2021, Walmart is the fourth most downloaded app on the Apple App Store. The website receives hundreds of millions of traffic monthly and up to 120 million unique visits.
This is a good prospect if you're a seller because you want your products to reach as many potential customers as possible. Leverage the popularity of Walmart to maximize your sales potential.
2. Walmart Ecommerce Infrastructure
Aside from having access to millions of potential customers, the Walmart infrastructure also offers several benefits to sellers. Walmart has invested in improving its supply chain technologies and automated many of its processes. These investments enable the ecommerce platform to deliver a more efficient shopping experience for its customers, which sellers can benefit from as it means long-term sales growth.
3. Streamlined Fulfillment
Walmart's streamlined fulfillment process simplifies your selling process as a seller. They have multiple Walmart Fulfillment Services that address the logistic needs of sellers on the platform.
4. Ease of Listing
Walmart's 3P ecommerce platform makes listing items for sale on your storefront easy. The user-friendly Seller Center also simplifies the management and optimization of your product listings. You can even access detailed and actionable insights about your listings through your account.
5. Competitive Rates
The simplified and transparent fee structure at Walmart makes getting paid for every successful transaction and sale easy. The simplified fee structure also lets you easily track how much you can get paid.
Comparison of Selling on Walmart vs eBay
Which is a better marketplace for online selling: Walmart or eBay? Let's inspect each factor closely to know the difference and help you make an informed decision.
Fees
The cost of setting up your online selling store is a primary consideration in choosing the top selling platform. eBay offers various pricing options for sellers, which includes a basic seller account with no monthly membership fees, but you will be charged for the insertion and final value fees. There is also a subscription-based model with pricing varying based on the number of items you can list and the fees on every sale.
On the other hand, Walmart charges monthly membership fees, referrals and category-specific fees. eBay is ideal if you want flexibility with the cost of running an online store business, but Walmart is recommended for those looking for a more predictable pricing structure.
Competition
eBay is an open marketplace that welcomes sellers of all types and under various categories. It's a promising platform for sellers of all products, but it can also mean higher competition.
With Walmart, there is a stricter seller requirement, and they focus on established brands. Therefore, Walmart is less crowded than eBay, but it is also more difficult to penetrate or get started on your business.
Selling Tools
Both eBay and Walmart offer a robust array of selling tools for their sellers. From the seller accounts, you can manage and optimize your listings. You can also access data analytics and sales insights to develop strategies to enhance your sales performance.
These two marketplaces provide advertising and marketing tools for sellers to maximize exposure for their listings. Walmart highlights management and tracking of sales performance, while eBay is about flexibility and customization.
Shipping
Shipping through eBay offers sellers flexibility in choosing their preferred shipping methods so you can choose whatever speed and rates suit your customers. Some of these integrated shipping services even give you discounts on shipping fees.
With Walmart, they are partnered with multiple shipping providers through the Walmart Fulfillment Services, which simplifies the fulfillment and shipping process and efficient order processing. Walmart's streamlined fulfilment and shipping methods are advantageous for high-volume sellers.
Support
Seller support is vital when deciding on the best selling platform for setting up your store. eBay and Walmart provide excellent customer support via the help center, community forums, and seller-specific customer service. For example, eBay provides valuable resources for sellers to address common issues when selling on their website.
Walmart offers more personalized support for sellers with dedicated managers to assist you with every step in setting up your store. They even have seller-specific training and resources to ensure ease of navigation through the platform.
HOT TIP: Love both platforms, and not sure which one to choose? Then our guide on dropshipping from Walmart to eBay might be exactly what you need. Check it out here
Summary
The decision between selling on Walmart vs eBay is all on you – the seller. Each platform offers benefits and drawbacks, so consider them when weighing your options. Ultimately, it comes down to your preferences and business goals. It also depends on your product offerings and how they align with the user base for each of these two marketplaces.
If you can match that correctly, you can provide more room for growth for your online business, and you'll have more sales coming into your store!
Want to know about some other platforms that you can sell on other than eBay?
eBay VS: