Facebook has amassed nearly 3 billion users every month since its inception in 2004, making it by far the largest social media platform. It has also expanded to reach a market cap of $246.14 billion.
After so many years of being a social platform primarily connecting and interacting with friends and families, it began to open up to ecommerce business, allowing users to discover and shop for goods and services offered by sellers in their communities as well as major businesses. Hence, the introduction of the Facebook Marketplace.
The online marketplace was launched in 2016 to locally buy and sell goods and services, and much like other e-commerce sites, the online market allows sellers to list a variety of items such as used vehicles, home rentals, home services, and jobs alongside the product image and other detailed descriptions. Businesses also can advertise in the Marketplace to reach potential customers while they're actively shopping.
Facebook Marketplace is one of the many e-commerce platforms that makes it easy for anyone who wants to start selling on Facebook to open a store and list a wide variety of goods for sale. After the items are listed, interested buyers can order them and receive their purchases delivered to their doorsteps at no additional cost. Therefore, it is simple and cheap
Let's break down what dropshipping means.
What is dropshipping?
Dropshipping is a global online business model that has gained popularity around the world due to its low overhead and global reach. It is a  retail fulfillment method where a retailer does not carry goods directly but instead purchases them from a supplier that then ships the goods directly to the buyer.
You do not need to pay ahead or store any physical goods. You only need the buyer's contact and address for the supplier to send the product directly after receiving your payment, and the price difference becomes your profit.
Among the many things that Facebook has in common with other online marketplaces is the fact that it does charge its customers for shipping so sellers will break even on the listing price and make all their profit on the shipping charge.
The market value is expected to increase to $557.9 billion by 2025. Just as you can drop ship on various e-commerce platforms like eBay or Walmart, you can also do the same on Facebook marketplace.
What is the Facebook marketplace?
Facebook Marketplace Dropshipping allows entrepreneurs and small businesses alike can benefit from dropshipping because it facilitates the acquisition of low-cost inventory for sale. Its dropshipping service enables drop shippers to list products and establish direct customer relationships.
This method has been so popular because it allows new businesses or those still figuring out the best way to do particular tasks to enjoy some of the benefits of launching an e-commerce business with no restrictions.
Dropshipping is a great fit for Facebook Marketplace because of its preexisting user base of more than 750 million and the ease with which you can communicate with interested buyers. It has a fantastic peer-to-peer system that includes built-in messaging features, making it simple to get in touch with potential buyers and suppliers.
What are the requirements to sell on the Facebook marketplace?
Private sellers on Facebook Marketplace can arrange for a transaction of their items, which will be completed off the Facebook marketplace platform.
Here is a rundown of the requirements you must meet before you may list an item to sell;
Have an up-to-date profile on Facebook
The first requirement to sell on the Facebook marketplace is an active Facebook account. Facebook users can quickly find the marketplace in a prominent area of the Facebook homepage, where they can list products for sale or browse the product of other sellers.
It is easy to create an active Facebook account if you don't have one. Go to the Facebook website – www.facebook.com or simply enter 'create a Facebook account' on Google. Either way, you will be directed to a signup page where you can set up your account and be ready to go!
You can also create an account using the Facebook mobile app on your smartphone. Considering that you've come to the marketplace with the intent of making a sale, you must complete all of the required fields so that you can seem like a legitimate business to potential customers willing to buy from you.
No one will want to buy from you if your profile doesn't have a photo and some sort of biographical information. In some cases, you may not be able to begin selling until a certain period has passed after your trading account has been established. Once your Facebook profile is set up, you'll have access to the Market.
Use a supporting device to access the marketplace
Facebook Marketplace only works on recent models of smartphones, iPhone 5, and iPads, and much better on computer systems.
Minimum age requirement of 18
To sell on the Facebook Marketplace, you'll need to be at least 18 years old. The age of 18 is considered the age of majority with the legal rights and responsibilities of an adult.
Facebook terms and conditions
To sell on the Facebook marketplace, you must first accept Facebook's terms and conditions, which include the seller agreement.
Facebook also deducts the selling fee which is a 5% fee charge on all transactions.
Eligible Location
The marketplace is available only open to residents in the USA, and 50 other countries. Facebook uses a variety of methods, including the user's and the seller's Social Security numbers, to establish the user's and the seller's identities and locations.
Facebook Marketplace will restrict your ability to list items and put a hold on your payouts if you cannot provide this information. A US bank account is also required to complete the signup process. Facebook, however, also allows for transactions to be completed via Payoneer.
If you change your location to a country that is not eligible for the Facebook Marketplace, you will be limited to listing items for local pickup only, rather than the multiple shipping options available to people in the United States.
To prevent Facebook from becoming overrun with fake international sellers, the platform implements restrictions. However, sellers who stay in none eligible countries can also run a Facebook dropshipping store with other e-commerce stores.
Deter from selling prohibited products
Facebook Marketplace set strict rules on selling products. There are 25 products and services that are explicitly forbidden by Facebook's Commerce Policies. Some of these items are aimed at an adult audience, alcoholic beverages, live animals, gambling, used cosmetics, tickets, gift certificates, and vouchers.
There are rules in place for products on the Facebook Marketplace that drop shippers should abide by. Sellers that don't comply, may be banned.
Fast Response Time
You should be able to respond to customers' questions about your products within two working days.
Minimal Capital
To start Facebook Marketplace Dropshipping, you can begin with a little working capital. Though no official you can staff with a low budget range of $150 to $300.
As with all sellers on the marketplace, payment won't be released until a few days after the customer receives the item they bought.
That's why you can place an order with a relatively small initial investment. This will guarantee an early steady flow of funds
Shipping requirements
Facebook requires a shipping time of two to three days for all items sold. As a dropshipper willing to work on the marketplace, it is important to have a reliable supplier that'll ship out the products on time.
Steps to start Facebook marketplace dropshipping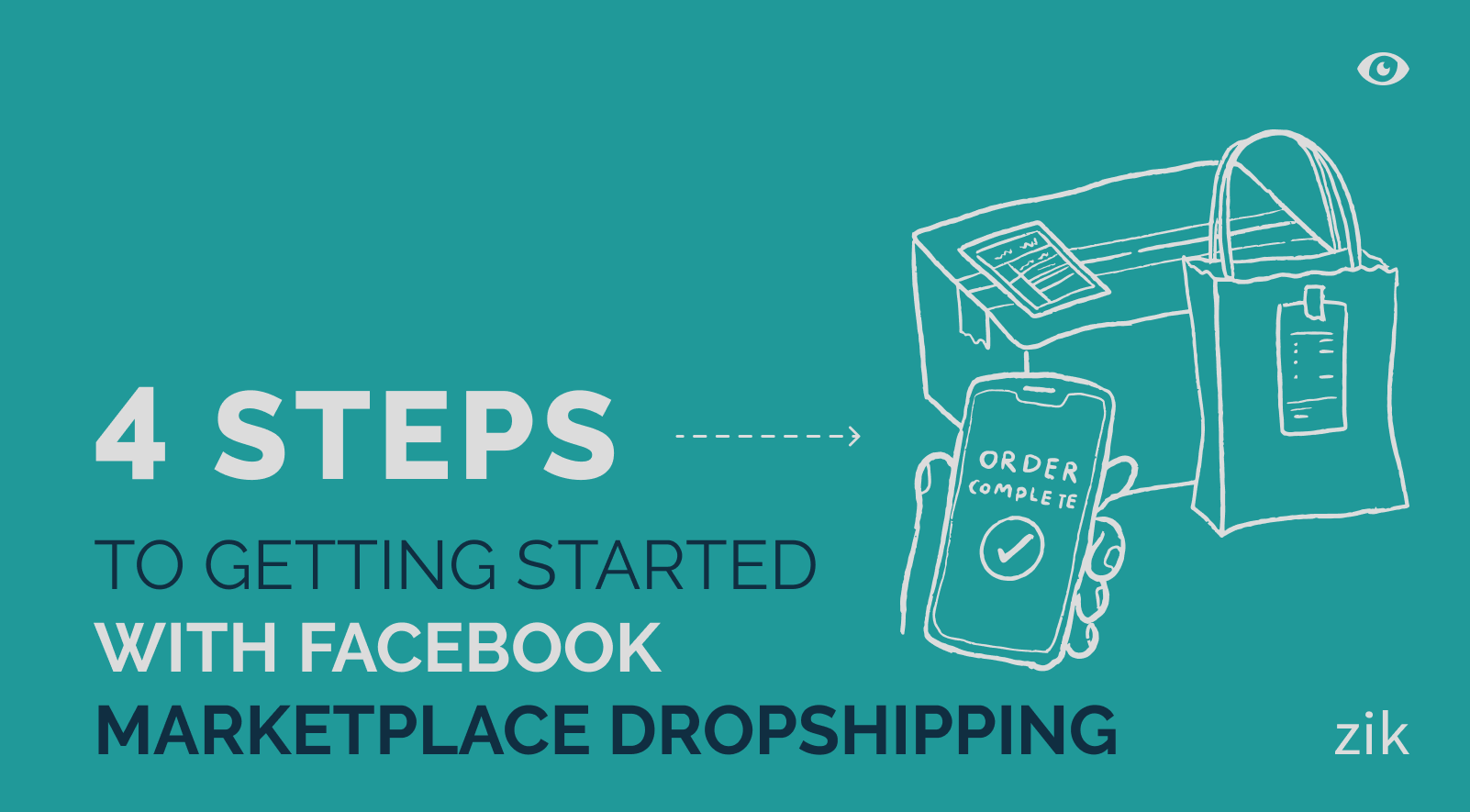 In the first quarter of 2021 alone, Facebook reported more than 1 billion monthly global users of Marketplace. It has a lot of advantages that drop shippers can benefit from. Not only, but it has also only caught the attention of a few drop shippers making it one of the best online platforms to sell with a huge customer base.
Let's go through some necessary steps to start your Facebook marketplace dropshipping.
Create a Facebook store or page for your business
Having a Facebook store with so many details for interested buyers to know more about you and what you are selling is so important. You can create a content flow by posting pictures and details about the products you offer.
It is a great way to manage your business and it also helps your organic reach. A Facebook page also has many low-cost advertising options that can be used and invested in to help your business grow.
It's not just about the storefront though, it's also about what you put out there in the first place. If you have any products to sell or services to provide, then it's an important part of the overall marketing strategy.
Choose a category to sell
You can choose up to three different business categories when setting up your Page. Adding a category may not be possible if it is a broad category that already exists in the narrowed-down option you've chosen. Only use the most applicable and specific tags.
If you choose the Clothing & Accessories category, anyone who wants to buy clothes will search for it and most likely find your Facebook marketplace listings.
You can increase the visibility of your business by claiming a category so that it appears in Facebook search results for relevant searches. Potential buyers can know more about what you sell.
Moreso, your page's features may vary depending on the category you select so you have to be more specific.
Here are the benefits of having a business category;
Buyers will have an easy time grasping the services you provide.
People will find your products more easily when searching on the Facebook
Your facebook business page will be recommended to people who have shown an interest in the services or products you offer.
When people in your area search, they will see your Page. So it's also expedient to add your location.
Find items that you can sell
To find items you can sell, those items must have been selling other e-commerce platforms. If an item is trending and selling massively on Walmart for instance, there is a high possibility it will also sell when you add it to your Facebook marketplace listings.
However, to know more about getting viral items, you have to make product research.
List your products and provide all the necessary information for the items.
If you're selling something online, you need to include at least one high-quality image in your listing to help your buyers feel comfortable buying from you.
Product pictures are great to catch the attention of potential buyers who are searching for products to buy and also provide them with more detailed information about your product.
Facebook Marketplace Product research
The Facebook marketplace is yet to be fully exploited like eCommerce marketplaces like Amazon or eBay, as the sheer number of users means that any given seller can find at least one product that is sure to be a hit.
Most people that want to start an online business know the challenges of finding a product and developing a product to sell online.You need a Facebook marketplace dropshipping software. With the Zik Autopilot, you can find hot products that customers are eager to buy and upgrade your dropshipping business.
How To Automate Facebook Marketplace With ZIK Autopilot
The ZIK Autopilot feature is a huge time saver and relies on eBay data, it proves to work very well on Facebook Marketplace and when you combine both into one place you can easily scale your Facebook Marketplace Business massively!
Here is a step-by-step guides you can easily automate your Facebook store using the ZIK autopilot tool.
Go to the ZIK Autopilot Tool
The ZIK automation enables you to use the data from eBay to validate demand and make sure that you are listing hot items. You can focus on the sales history, categories, and selling price. The return on investment is not necessary.
In the filter section, choose the Facebook marketplace since that's where you wish to start selling.
Choose your supplier
The drop shipping automation requires you to have dropshipping suppliers which may be from other e-commerce marketplaces. However, Walmart is great for Facebook dropshipping. And that's the supplier.
Choose your category
You can include all the categories. You may not know which product sells best.
However, excluding Walmart for business. Walmart buyers tend to leave fewer reviews than on the products so, you can also leave the review count empty and the average rating off.
Include similar items
Adding similar items will bring you a more unique variety of items. ZIK provides items that are similar to the top-selling Walmart items but with different brands, colors, and models. This way you can create a competitive advantage by listing unique or even one-of-a-kind items.
Select sold by Walmart
Since the supplier is Walmart, also, check sold by Walmart on the ZIK autopilot tool.
Include Sales
For minimal sales, you can either put 2 sales for the last 7 days for the sales data range or 4 for the last 14 days, or 21 days.
Check the filters available on the ZIK tool to find more results and come up with a great listing.
Include the Pricing
Price is very important while listing your products. Keep in mind that you'll also get a free shipping fee so place a minimum of $35 to get products starting at that price. Since you want to sell the products on Facebook, the return on investment, sew-through, and success rate is not so important.
Add the number of products you wish to research
It is ideal to list 10 items a day, so choose about 20 or even 30 items to look for to create a margin and filter out the viral and top-selling items that might come up in the results.
Scan the result
Once you set up your filters, scan for the result.
View products
If you choose to search 30 products, you'll see the results with the eBay photo, the supplier photo, eBay title, supplier title, eBay price, supplier price, sell-through, successful rates, sales competition profit, and return on investment.
The essence of selecting the higher amount of products to scan is to have the access to a lot of viral items and filter them out to come up with the perfect 10 listings.
Upload the products
Also, you can simply upload all the products to your lister or you can individually select the items and upload them directly to your listers.
Select your lister, the marketplace, the source, and the store. You can also exclude your Brands automatically and restricted keywords. This way, you are safe to upload this listing without any risks of getting your account suspended.
Export the results
You can export the scanned result to CSV files. It is either you export them all at the same time or just choose selected items to export.
The ideal listing per month is about 300 items. To effectively list them, optimize the listings as much as possible
Optimize the titles, the photo, the prices the descriptions, and every other important detail about the item.
However, you can make use of ZIK's title builder to upgrade the title with one or two new keywords, and then you can ride owners' competitors' success but of course with a better title using better keywords.
Conclusion
There you have it! You may have tried to start your own dropshipping business before and experienced difficulties to stand out from the seemingly crowded marketplace that huge markets like eBay or Amazon provide, here's your chance to build a successful dropshipping store.
The Facebook marketplace is a promising online platform to automate your Facebook dropshipping business. It is as simple as using available tools like the ZIK Autopilot to catch trending products on popular marketplaces like Walmart and listing them on your Facebook marketplace store.
Without a doubt, it is hassle-free to join, start making great profits, and build a successful Facebook dropshipping store. Once you successfully carried out your product research and listed your products on your Facebook shop, you are good to start dropshipping on the Facebook marketplace.
FAQs
How Many Products Should I List On The Facebook Marketplace?
Usually when starting as a newbie seller on the Facebook marketplace is great to only list a few items a day but after that, you can increase the number of listings per day without a problem.
It's much more preferable to have 300 listings a month especially if you're dropshipping from Walmart. Stick to items with free shipping which is over 35 dollars Walmart price.
Also as a new seller, do not list items that cost over 150 dollars until you are more comfortable with Selling on Facebook.
Is Facebook marketplace dropshipping worth it?
Based on Facebook marketplace stats, there are about one billion people who make use of it every month and a single Facebook Marketplace advertisement can reach 562 million people.
Having so much organic and paid traffic coming to view your tore and buying from you is a great profit for every drop shipper.
Is Facebook marketplace dropshipping profitable?
Facebook Marketplace dropshipping is profitable because it's easy to set up, and it has a low barrier to entry.
You don't have to worry about inventory, which is one of the biggest costs for most businesses. Instead, you can buy products from a supplier and have them shipped directly to your customer.
You also don't have to worry about marketing or advertising—you can focus on growing your business as you learn from your customers and iterate on how you do things.
A lot of money can be made through this platform. It all depends on how much time and effort you put into building your business: if you want more sales and more profits sustainably, then we recommend focusing on building great relationships with customers so you can have them coming back to buy from your store.